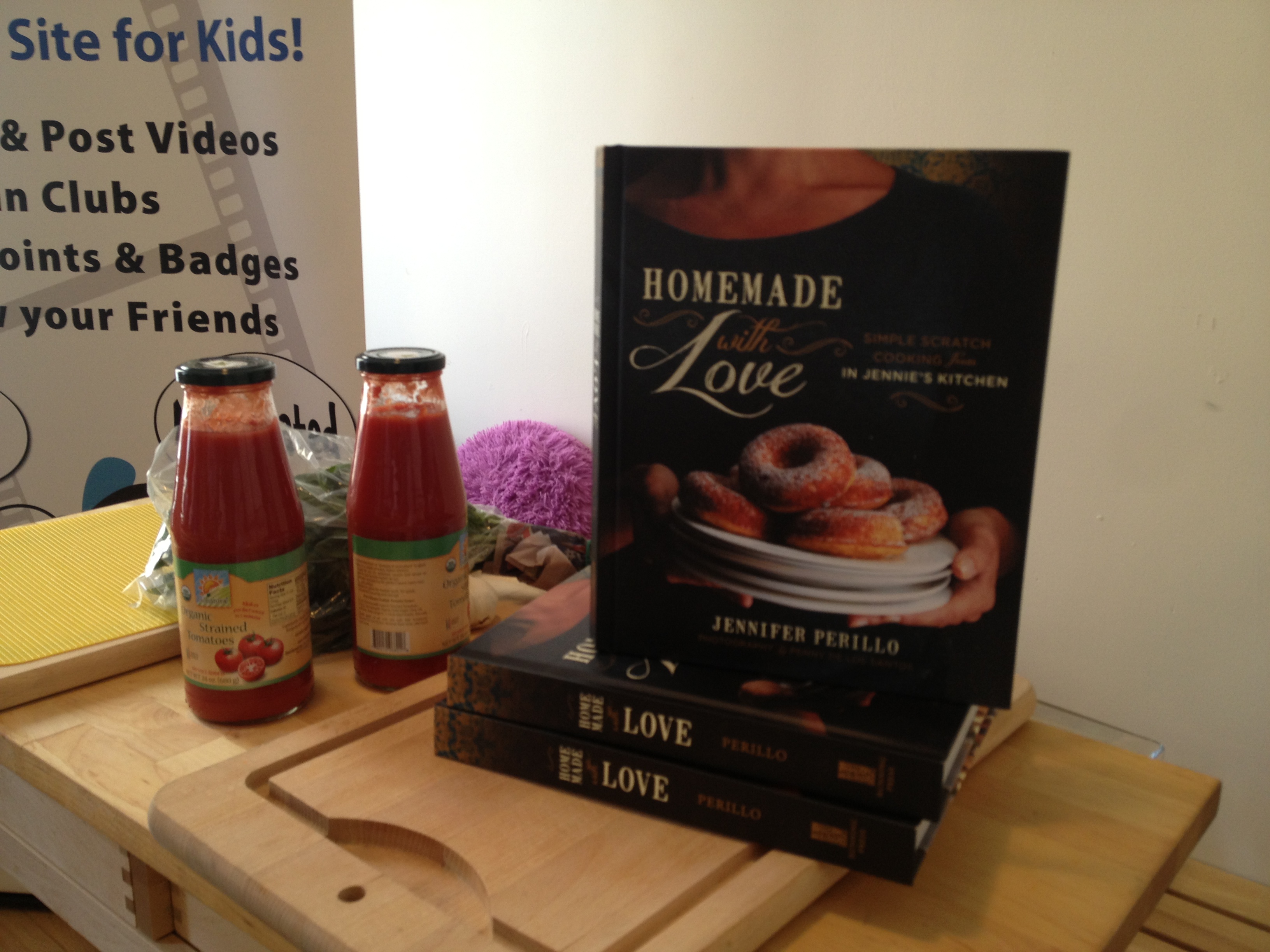 To celebrate the launch of Jennifer Perillo's amazing new cookbook, Homemade with Love, my daughter and I were invited an exclusive cooking party hosted by Kidzvuz and Chef Tony's Cooking Adventures on the Upper West Side of Manhattan.
Well before meeting Jennie in real life, I had been a dedicated virtual fan of Jennie's blog, In Jennie's Kitchen, for a long long time.  When you follow a blog like Jennie's online, it feels as if you've been granted permission into someone's personal diary.
Combing through Jennie's recipes, reading her passionate words, it was impossible for me not to feel an immediate connection.  So, I couldn't think of a better way to spend an afternoon with my kid- measuring, scooping, pouring, creating, baking- all in the name of scratch cooking!
As I witnessed, every pancake flipped, waffle poured, and cupcake baked was certainly homemade with love.
Budding cooks taking direction from Jennie
Homemade with Love's underlying tone is so inspiring and true, "if you want to cook, then you can." When my own mother died and I was confronted with her treasure trove of hand-written recipes, I knew I had a story to tell. At that time, I didn't know what an avocado looked like, I couldn't boil water, and my oven was simply a way station to store other pots and pans.  Yet, I realized I had Mom's culinary legacy to keep alive and a family desperate to be connected through home-cooked meals.
And so, at age 40, I set off on my uncharted culinary journey!
Like Jennie attests, I "started with the basics."  And, slowly over time gained more comfort and then confidence in the kitchen.  I now know how to navigate my way through a supermarket, my pantry is always stocked, and I'm just starting to cook on the fly.  And boy, it is BEYOND rewarding to host your family around your table to enjoy food that you hand-created.  It's nourishing to taste and to your soul.
In our special Homemade with Love cooking class, the children had a blast as they made (from scratch) Jennie's All-Purpose Baking Mix.  We then used the mix as the base for Orange-Scented Waffles, Fluffy Buttermilk Pancakes and some of Jennie's sinfully tasty Deep Chocolate Cupcakes.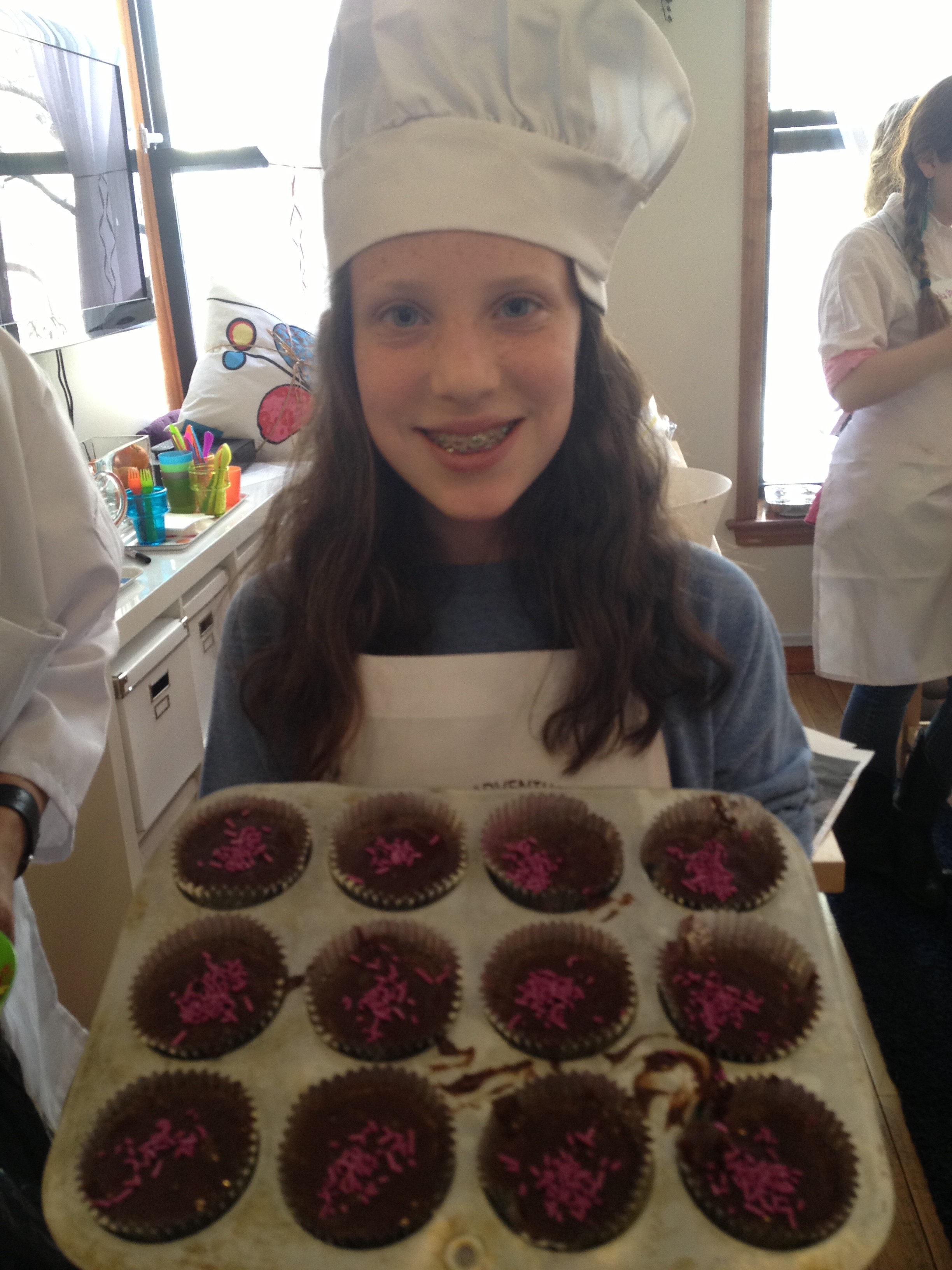 My daughter's Homemade with Love's Deep Chocolate Cupcakes
The best part of our day was sampling our finished products.  There's nothing better than being able to reap (and eat) the benefits of some hard work in the kitchen.
I now understand first-hand the integral, grounding role home cooking can play in our frenetic lives.  Where mealtime was once non-existent for my family, now it's a time and place for us to come together, to eat nourishing food, to share stories and, to create lifelong memories.
We've been thumbing through our copy of Homemade with Love since we left the cooking class.  It's safe to say that almost every single page is leaf-eared by some member of my family.   From Jennie's Drop Biscuit Pie recipe to her Golden Vanilla Birthday Cake to her Tomato Jam and Spinach Panini, we've all got some fun scratch cooking ahead of us!
Not to mention, I'm finally going to learn how to make Perfectly Poached Eggs!
So, go on, check out Homemade with Love and, if you're not already, I guarantee you'll be inspired.
Disclaimer:  I was not compensated for writing this post. I did receive a copy of Homemade with Love. All opinions expressed are (as always) my own.