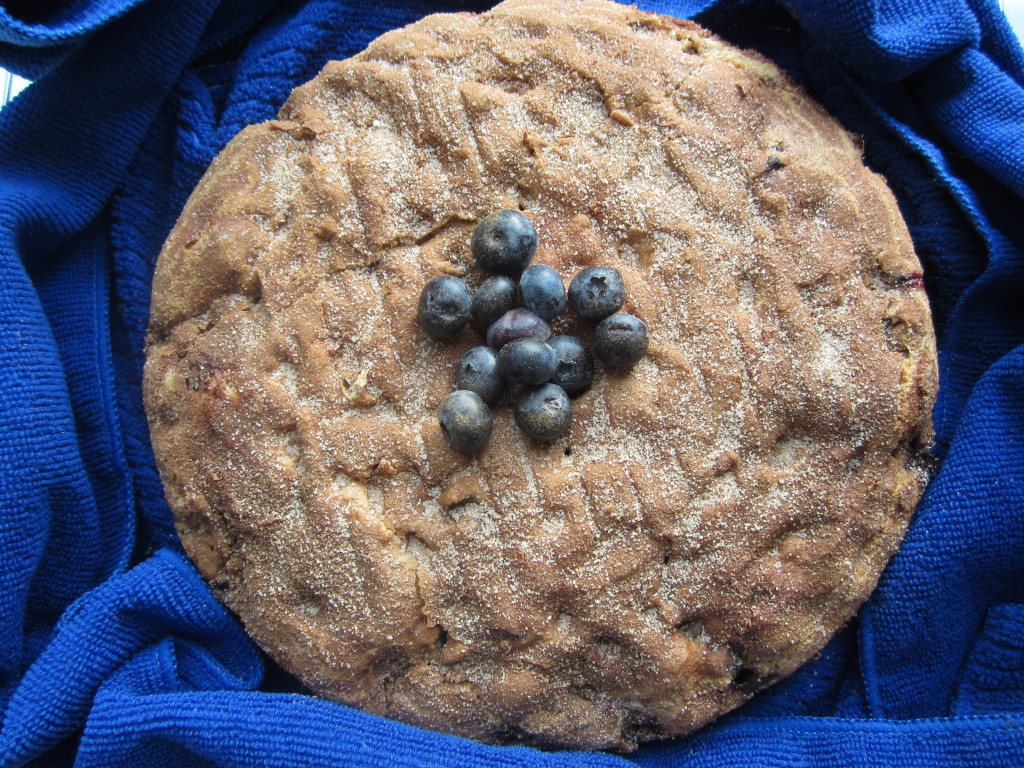 Ah, Mom's Blueberry Brunch Cake!
That smell.  That pungent smell of blueberries baking in the oven still transport me back to any given Sunday when my family would gather together for brunch after a long morning at Sunday school.  And, to think that I couldn't find that  recipe in Mom's vast handwritten recipe collection.  So many Sunday brunch memories are woven throughout that cake; they're as integral as its key ingredients.
How undeniably fitting was yesterday's article, Playing Kitchen Detective, in the Food & Dining section of the Wall Street Journal:
"As people become more accustomed to cooking in their own kitchens, they start looking for [the dishes] they have fond memories of"
"Fueled by nostalgia, legions of eaters are returning to the kitchen to recreate fond dishes from their childhood made by older relatives."
My son was only 3 years old and my daughter 6 years old when my Mom passed away.  Most of their visceral memories of her alive are only drawn from  final week(s). Through my cooking, she's been resurrected. With the aromas and comforting heat from the oven, the sounds from the stovetop and the beautiful creations served on the table, she's very much alive and vibrant and continues to nourish us all.
Mom spread her love through her food.  She took time and patience creating dishes that wowed the masses and made indelible imprints on every beneficiary.
The absence of that Blueberry Brunch cake recipe left a whole in my heart.  A lifetime of memories and tastes and smells contained in that one 9″ cake.
Can you imagine the huge wave of relief that washed over me four months ago when I received a random email out of the blue, entitled, "Blueberry Brunch Cake?"
The email was sent from the mother of a very good friend of mine from grade school (we're talking MANY years ago).  She told me she recently made Mom's Blueberry Brunch Cake to take to a friend convalescing from surgery: "I enjoy making  this cake all the time for book club.  I received it from your mom many years ago.  I miss her so much and think of her often."
Even to this day, almost 3 1/2 years later, people are still touched by Mom and spreading her love…
INSERT LONG SIGH HERE
So, back to the cake.
Don't be fooled, it is SWEET.  Don't take it lightly.  The cinnamon-sugar topping makes a strong case for BRUNCH– the kind where you're prepared to sit at the table and eat and talk for hours.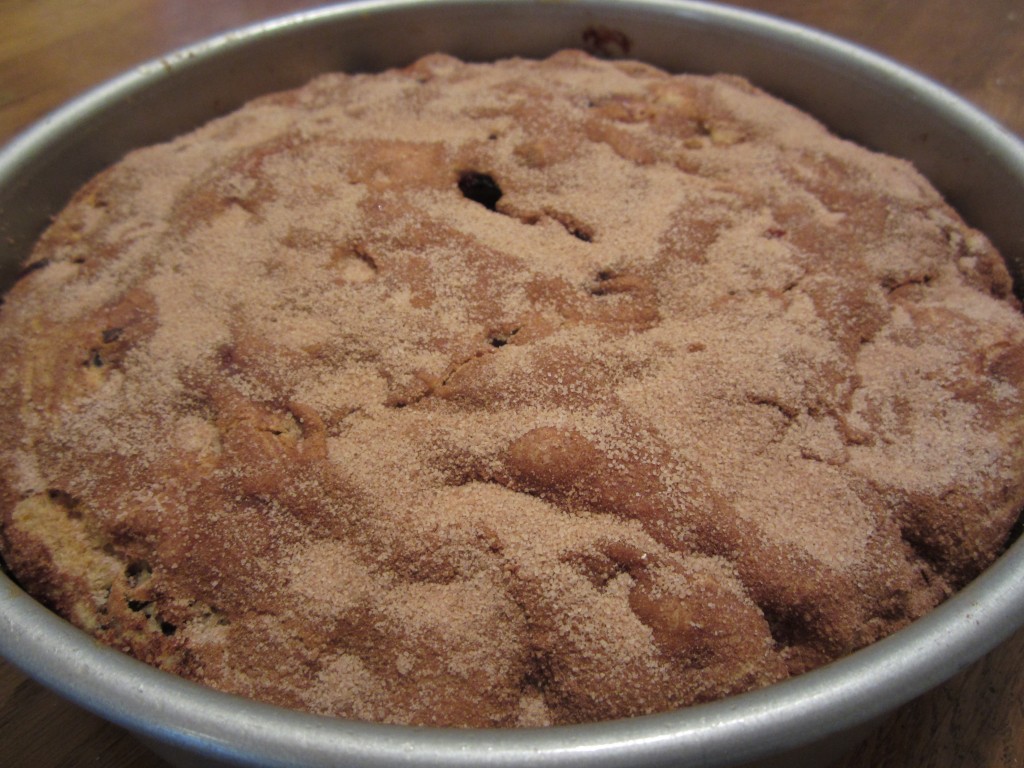 Cinnamon and sugar baked into the cake
But, the sweet flavor of the baked blueberries contrasted with the perfectly moist, fluffy cake is a must for apres dinner too.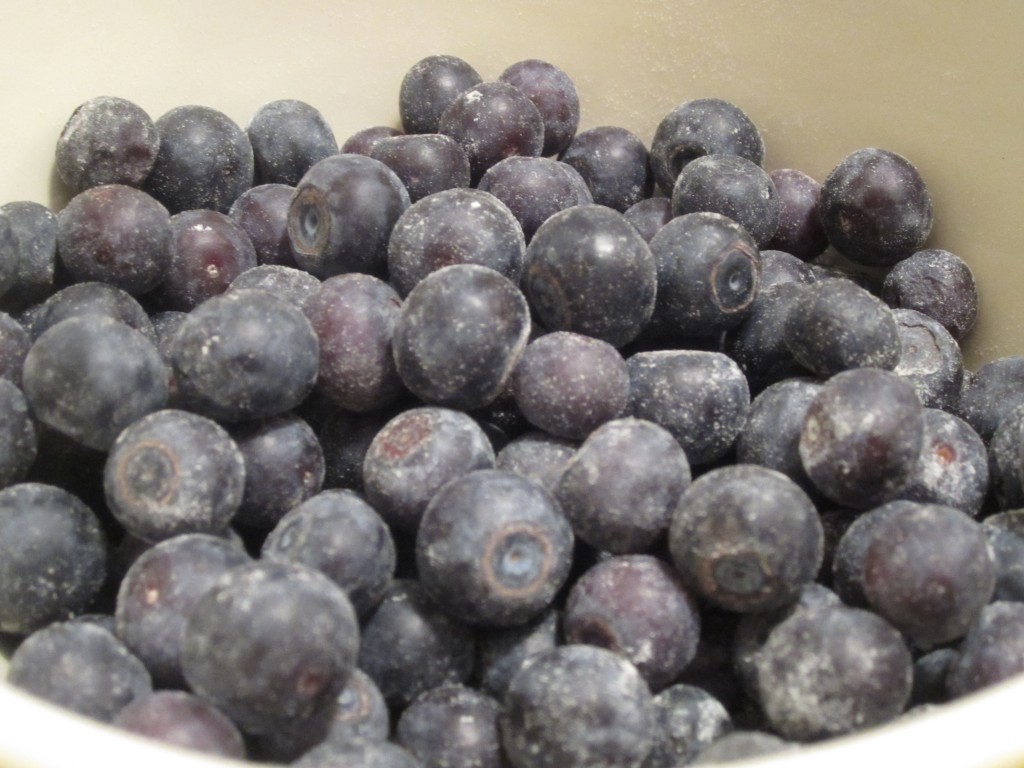 Fresh blueberries lightly dusted with flour (to prevent them from sinking to the bottom!)
Therefore, don't be fooled by the name either.  This cake is so good, you can eat it all-day-long!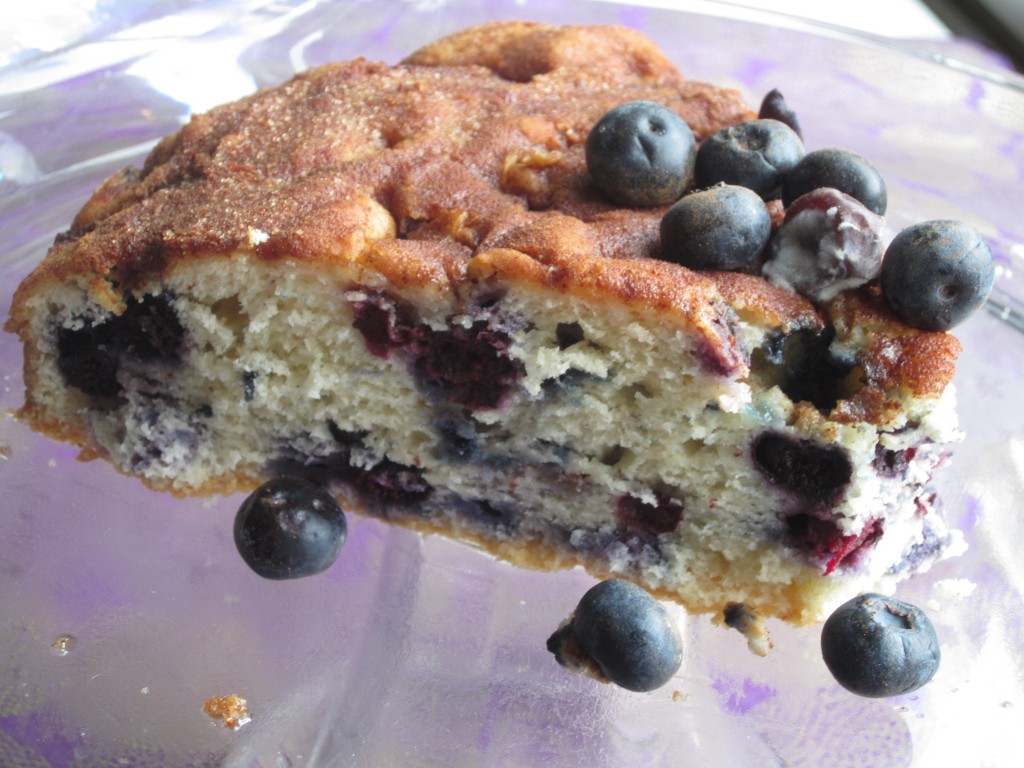 Betcha can't just have one slice
Blueberry Brunch Cake
serves: 8

Ingredients: 
2 cups sifted flour
4 tsp baking powder
1/2 tsp salt
1 &1/2 tbsp butter
3/4 cup sugar
2 eggs
1/2 cup milk
1 tsp vanilla
2 cups blueberries (shake with l tbsp flour to keep from sinking)
Topping:
3 tbsp sugar

1 tsp cinnamon
Instructions:
Preheat oven to 350 degrees.
Use greased 9″ pan.  (I use round one)
Combine flour, baking powder and salt.
Cut in butter and sugar.
Beat eggs in measuring cup, adding enough milk to make 3/4 cup plus 2 tbsps.
Beat liquid into dry (mixture will be thick). Add in vanilla.
Fold in blueberries.
Put in greased 9″ pan.
Combine topping and sprinkle on top.
Bake for 40-45 minutes or until done.
Enjoy.