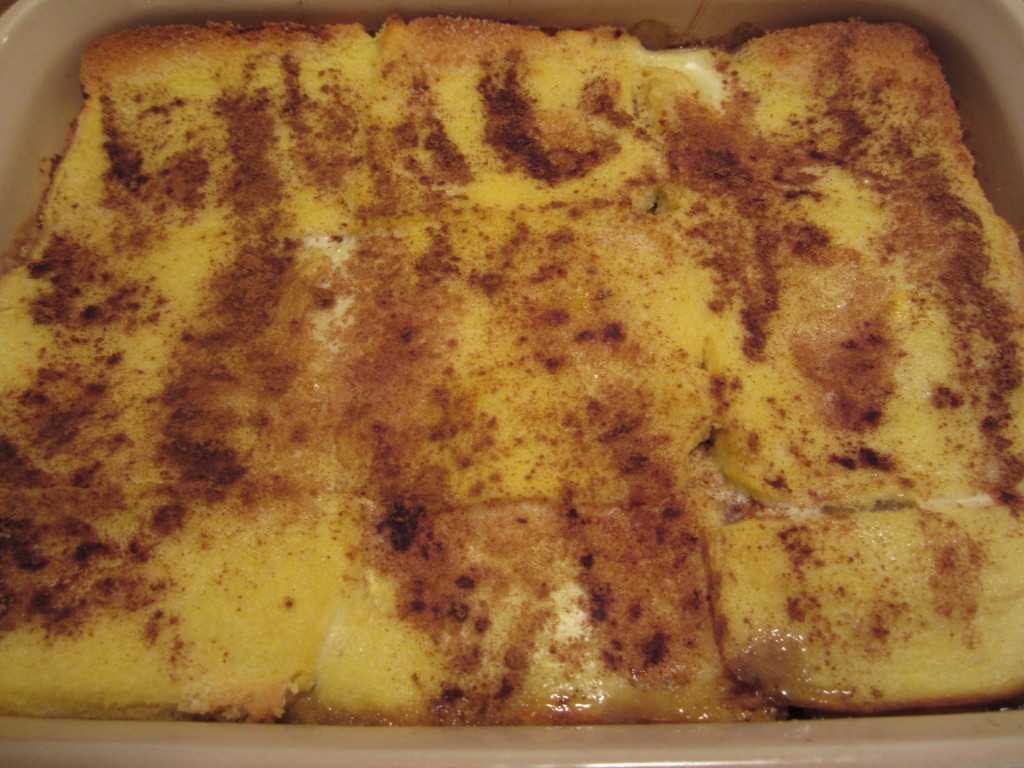 Earlier this week I was feeling light and uber healthy thanks to the Powerful Green Pomegranate Smoothie I drank and the Fat Free Sour Cream Bavarian dessert I ate.  Today, not so much.  Ever since Breakfast-for-Dinner nights have become such a hit with my kids, I've been trying to amp up my arsenal of breakfast options.  It's so easy to slump into a cereal/yogurt/bagel rut simply because it's mindless and hassle-free.  Who wants to deal with ovens and measurements and preparations for breakfast?  I'm slowly learning that many "prepared" breakfast dishes aren't as labor-intensive as they seem. In fact, their taste and presentation suggest otherwise ( read: Mom's Breakfast Egg Casserole and the Slow Cooked Steel Cut Oatmeal).  Last night for Breakfast for Dinner I unveiled a Baked French Toast dish. My kids were in heaven.
Baked French Toast is literally as simple as it sounds–French Toast that's baked in an oven and served like a casserole.  While it sounds fancy, it follows the same steps involved in making classic french toast but introduces the oven instead of the skillet!  And, of course you've got to add in other tasty, sinful ingredients like brown sugar, butter and sugar to enhance the overall wow flavor factor.  Mom does have a traditional french toast recipe in her collection which involves using a homemade challah bread.  While I do love the idea of homemade, I definitely haven't mustered up the courage to make my own challah yet.  At this point, simply making a french toast bake was a nice challenge for me.
Chances are, if your kitchen is well-stocked, then you won't need to make any trips to the market for this recipe.  Even though I had some challah on hand, I bought a fresh loaf of potato bread to use as the base for the dish.  The operative word here is thickness.  You want to bake with a bread that can really soak up the egg mixture without getting too flimsy and fall apart.  So, either a challah loaf you can cut yourself, or Potato Bread, or even Texas bread (if you can find it) are your best bets.  Resign yourself to the fact that this dish is NOT waist-friendly. Therefore, do not purchase any type of thin, low-calorie Weight Watcher-esque bread. It simply won't do anything for the dish and you'll be sacrificing flavor.
Bakers beware!  This dish is dripping with sugary sweetness as evidenced by the sweet butter and brown sugar combo that gets melted and spread on the bottom of your pan.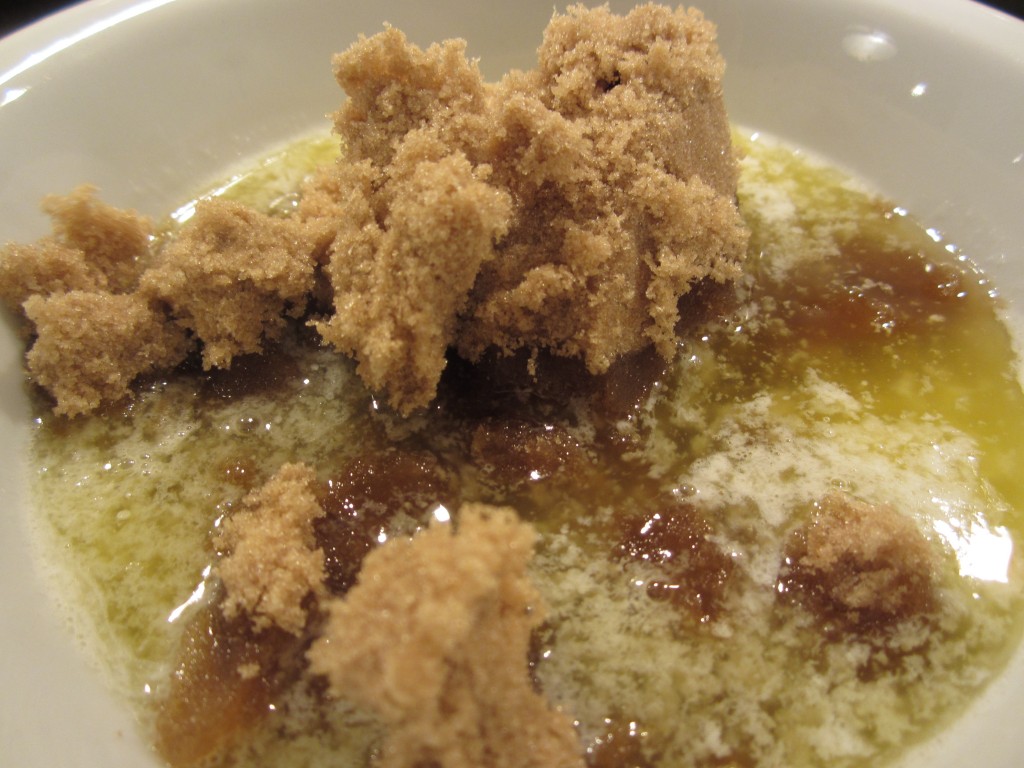 Melted butter and brown sugar – the base layer for your "loaf"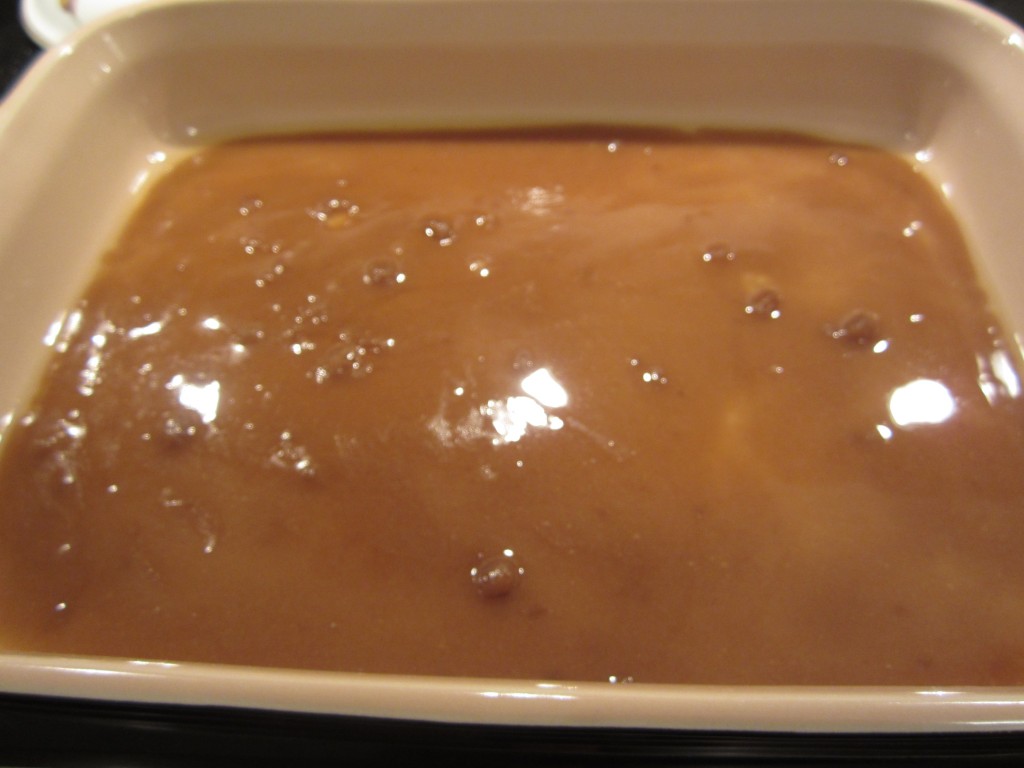 Yum!  Butter and brown sugar mixture coats bottom of pan
 Now you're ready to carefully layer on your thick, moist, fresh bread of choice.  You'll probably need to creatively cut the individual pieces and arrange them like puzzle pieces to make sure the entire pan is covered.  Cut off the crusts too, it's just easier.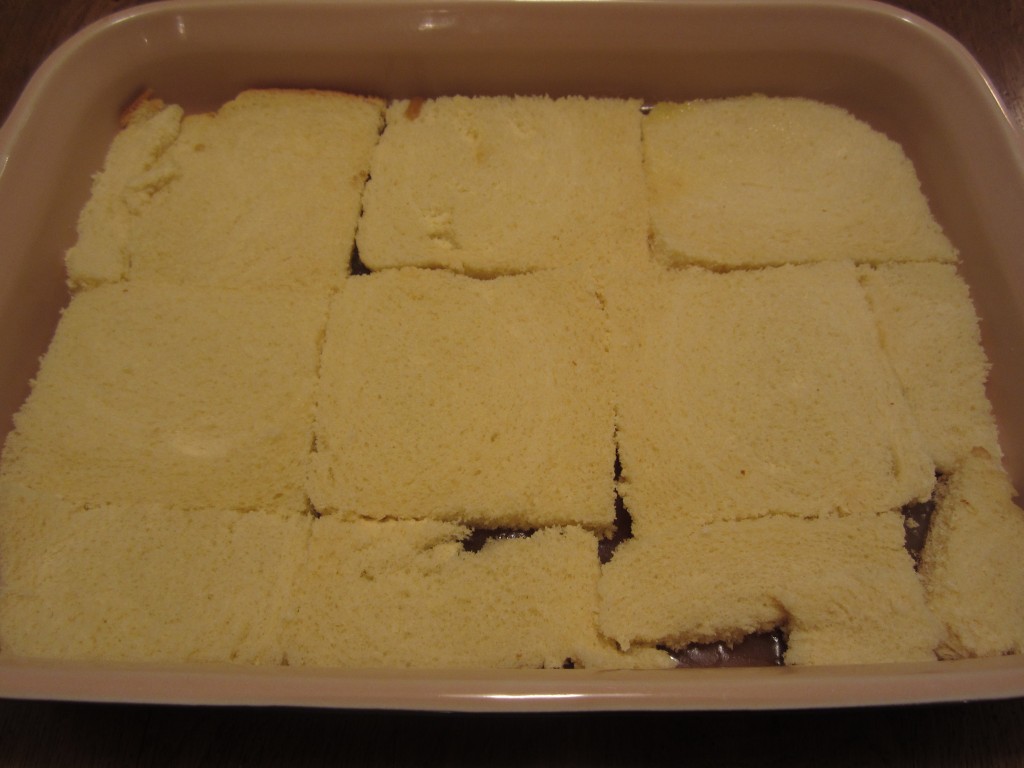 Layer 2: Potato bread cut and arranged in pan
Next comes the cinnamon and egg, vanilla, milk mixture (the same one you'd use for french toast on the skillet).  I poured half the mixture for this layer and save the rest for the next layer of bread.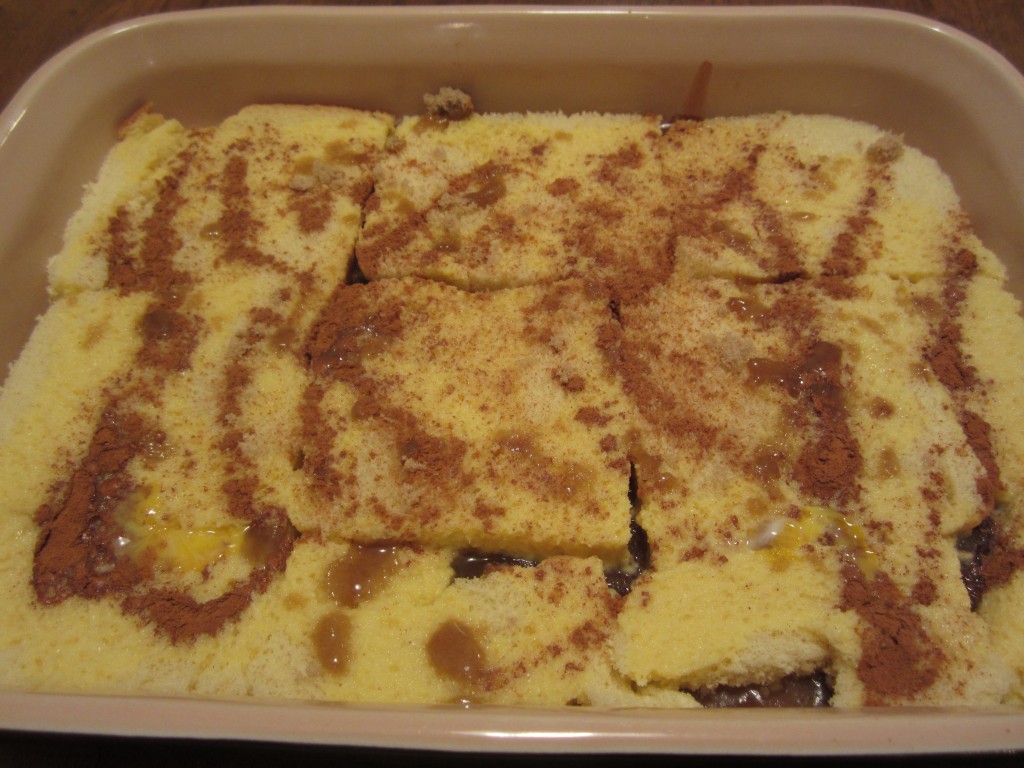 Bread coated with cinnamon and egg mixture awaiting oven

After you repeat this step for another layer of bread, you're ready for some oven time.
Within minutes in the oven your apartment or house or kitchen will be bursting with the comforting smells of baking bread and brown sugar.
Your appetites will be whet. You will not be able to contain yourself as you cut thick slices out of the baked french toast.
My kids ate two huge pieces and wanted more (I finally had to put my foot down. Remember, it's not the healthy Pomegranate Smoothie).  The dish is so delectably sweet, there was absolutely no need for any butter, syrup, jelly, powdered sugar.
And, you know the best part about Breakfast for Dinner nights?
Having leftover Dinner for Breakfast the next morning!  I cut the remaining pieces up into sticks and we had french toast sticks (that seems more breakfast-appropriate).
Oven-Baked French Toast
serves 6-8
Ingredients:
1/2 cup melted butter (1 stick)
1 cup brown sugar
1 loaf thick bread (Challah, Potato bread)
4 eggs
1 1/2 cup milk
1 teaspoon vanilla
Cinnamon and sugar to taste
Instructions:
Preheat oven to 350 degrees.
Melt butter in the microwave.  Add brown sugar until it's completely mixed.
Pour butter/sugar mixture into bottom of greased 9 x 13 pan making sure it's covering the bottom of the pan.
In a mixer, beat eggs together with the milk and vanilla extract.
Cut bread pieces and layer them on bottom of the pan making sure that it is completely covered.
Pour 1/2 of the egg mixture onto the bread layer.
Sprinkle a generous amount cinnamon/sugar over top the bread.
Add second layer of cut bread pieces.
Pour over top bread the remaining egg mixture.
Sprinkle more cinnamon.sugar mixture over top the bread.
Cover and let set and chill in the refrigerator for a few hours prior to baking.
Bake at 350 for 45 minutes
Enjoy!