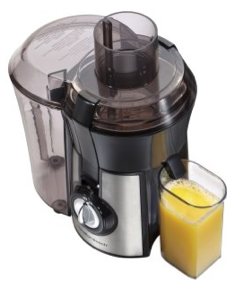 photo courtesy of Amazon.com
How many of you eat breakfast?
And, that doesn't constitute a cup of coffee.  It means having something relatively healthy.  I've always been a proponent of breakfast; probably because before I learned how to cook, I ate cereal 24/7!
My kids don't go a single morning without at least a tall glass of juice and some yogurt. I try to buy freshly squeezed juices but, we're a pulp-free family so sometimes they're difficult to locate.
We also love Greek yogurt, and our hands down favorite brand is CHOBANI!
photograph: courtesy of Robyn Lee
With its wide selection of 16 flavors, ranging from Raspberry to Blood Orange to Passion fruit, there's something appealing for everyone. Just one taste of this yogurt and you can tell it's made the authentic way: never adding any thickeners, gelatins, or stabilizers. Instead, the yogurt is strained to remove excess liquid. That's why Chobani is so thick, creamy, and packed with protein.  We like to add in slivered almonds, dried fruits, and some granola.
Since it's important to start your day the right way, we're thrilled to host our Jumpstart Your Day Giveaway where one lucky winner will receive their very own Hamilton Beach Big Mouth Juice Extractor AND a variety case of Chobani Greek yogurts!
I'm not exaggerating when I say your whole world will change with your new juicer.  Forget about your every day orange juice.  You now have the opportunity to expand your horizons  and experiment juicing with everything: apples, carrots, grapes, cucumbers, lettuce, parsley, spinach, kale, ginger, lemons, oranges, limes, tomatoes, bananas, and pears.  Not to mention the amount of money you'll be saving by making your own fresh juices.
Your Big Mouth (I'm not talking about you, I'm talking about the juicer) boasts the following product features:
Yields up to 24% more apple juice than leading competitor.
Fits whole foods for less pre-cutting, extra wide mouth and pushing tool for easy juicing.
Extra large pulp bin lets you juice longer without extra cleanup.
Easy to assemble and store. Comes with instructions booklet and cleaning brush.
Powerful 800 watt motor for ease of use.
Dishwasher safe parts.
And, if that's not exciting enough, you'll get to compliment your fresh juice with a variety case of Chobani yogurst.  How timely!  You'll be able to watch the Olympics while literally enjoying one of its proud sponsors (that is, if you don't finish the whole case before the opening ceremonies)!  And, the yogurt is perfect for recipes too, like No Bake Cherry Cheesecake Pie.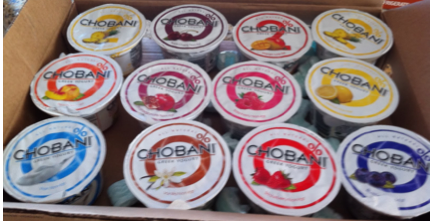 You will receive a variety of 12 6 oz. containers of this high-quality yogurt:
Made with only natural ingredients. No preservatives. No artificial flavors.
Made with milk from cows not treated with rBST: No rBST-treated milk.
Includes 5 live & active cultures, including 3 probiotics.
Made with real fruit.
Two times more protein than regular yogurt.
A good source of bone-building calcium.
Gluten-Free and Kosher-Certified.
Naturally low in lactose: 95% lactose free.
So, what are you waiting for….JUMPSTART YOUR DAY today…..
Giveaway Details:

One (1) lucky winner will receive a Hamilton Beach Big Mouth Juice Extractor and a variety case of Chobani Greek Yogurt!
How to Enter
To enter to win, simply leave a comment in the post letting telling me what you'd like to make with your new appliance and what's your favorite yogurt flavor. That's it! You're entered to win!
Additional (Optional) Entries
To up your chances of winning, you can receive up to FOUR additional entries to win by doing the following (these are optional, not required):
1. Subscribe to My Judy the Foodie by RSS. Come back and let me know you've subscribed in an additional comment.
2. Become a fan of My Judy the Foodie on Facebook. Come back and let me know you became a fan in an additional comment.
3. Follow My Judy the Foodie on Pinterest. Come back and let me know you've followed in an additional comment.
4. Follow @myjudythefoodie on Twitter. Come back and let me know you've followed in an additional comment.
The Fine Print
Deadline: Tuesday, July 24th 2012 at 11:59pm EST.
Winner: A winner will be chosen at random using Random.org and announced at the top of this post. The winner will also be notified via email and the My Judy the Foodie fan page on Facebook; if the winner does not respond within 48 hours, another winner will be selected.
My giveaways are listed on Contestgirl
Disclaimer:
I was not compensated for hosting this giveaway.  However, Chobani graciously offered to award one My Judy the Foodie reader with a case of their yogurts.  As always, all opinions expressed in this post are my own.