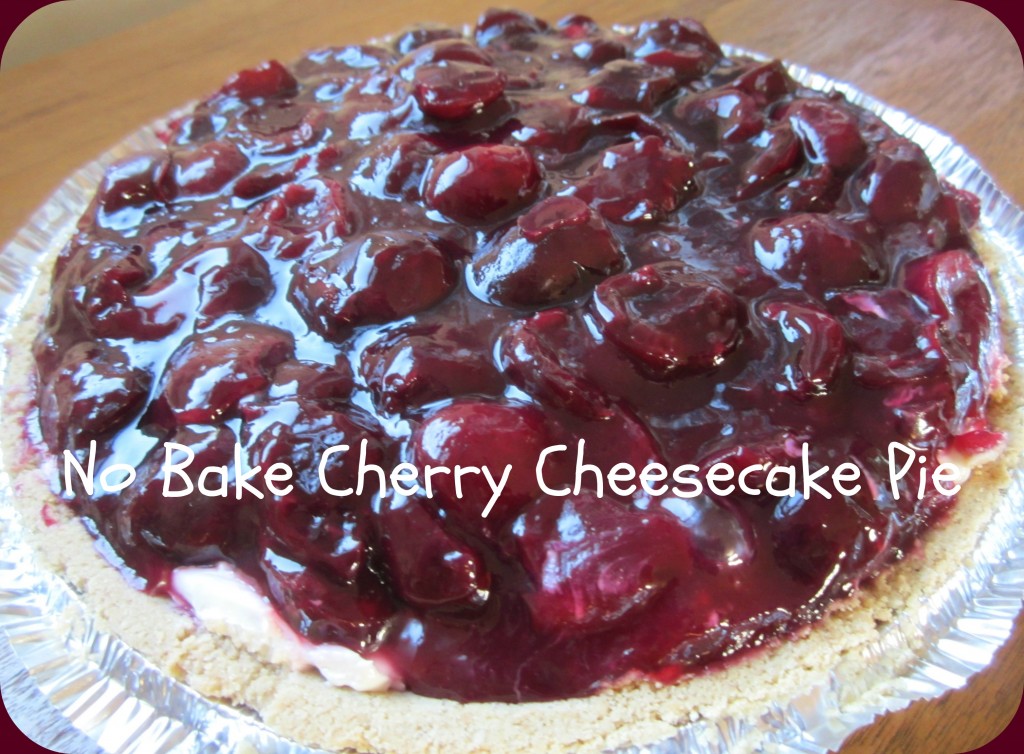 It's hard to stomach using the oven when the outside temperatures are reaching mid 90 degrees.
That's why any recipe that contains the words "No Bake" in the title should be your go to dessert.  After much success with my No Bake Chocolate Pie, I've now come to learn that No Bake is synonymous with No Hassles and NO HEAT!  That usually means that the dessert will be served CHILLED!
Doesn't that sound nice?  Wouldn't you want to have a light and airy, refreshing piece of No Bake Cherry Pie?
It's important to take advantage of cherries since they have a very short growing season–summer is their peak.  With so many bountiful farm stands in my neighborhood, it wasn't hard to pick a nice, succulent bunch of ripe cherries.  I also decided to use sour cherries to produce a brighter red topping.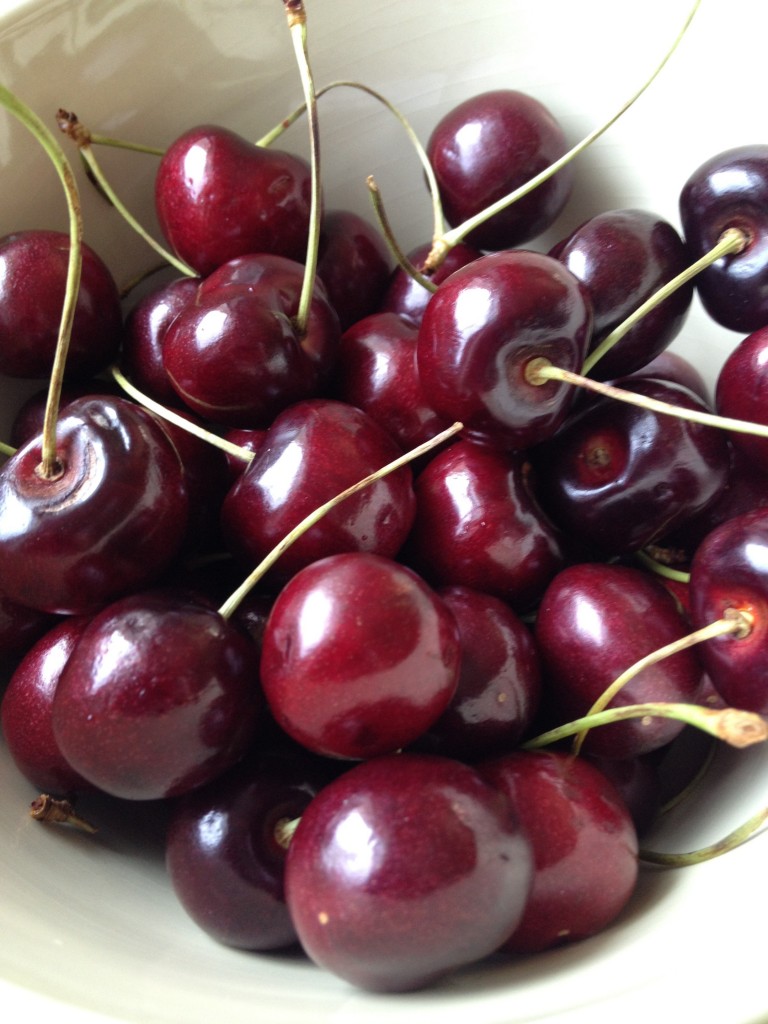 Freshly-picked cherries
But, I have to admit, my motivation for making the No Bake Cherry Pie came from the awesome OXO Cherry Pitter I received in the mail.  Not only had I never used a cherry pitter, I had never seen one!  I was definitely intrigued and determined to use it–immediately.
OXO Cherry Pitter ready for use
Since the cherry pie recipe calls for halved, pitted cherries, I  spent about 10 minutes pitting 2 cups of cherries.  It was fun but a little bit messy.  I can only imagine what it would be like without this handy tool which actually protects most of the cherry juice from splattering all over the place. Note: you might want to wear clothes you don't mind messing up.  I wore my favorite white t-shirt and it now looks like a cherry-stained Jackson Pollack painting.
When the cherries were ready, it was time to make that familiar syrupy topping.  I had no idea it's as easy as boiling the cherries with some sugar and cornstarch.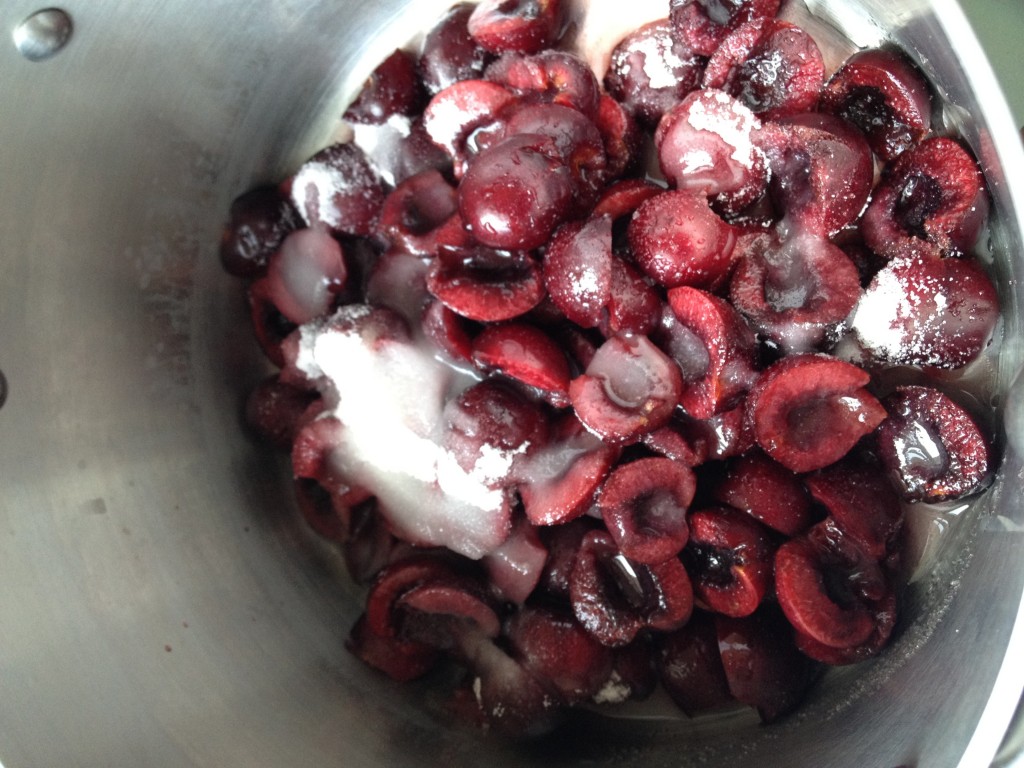 Birds-eye view of the cherries, sugar and cornstarch pre-boil
The filler for the pie is a simple mixture of my favorite plain Greek yogurt — Chobani- cream cheese and confectioner's sugar.  Just mix them together and you're ready to spread it within your pie crust.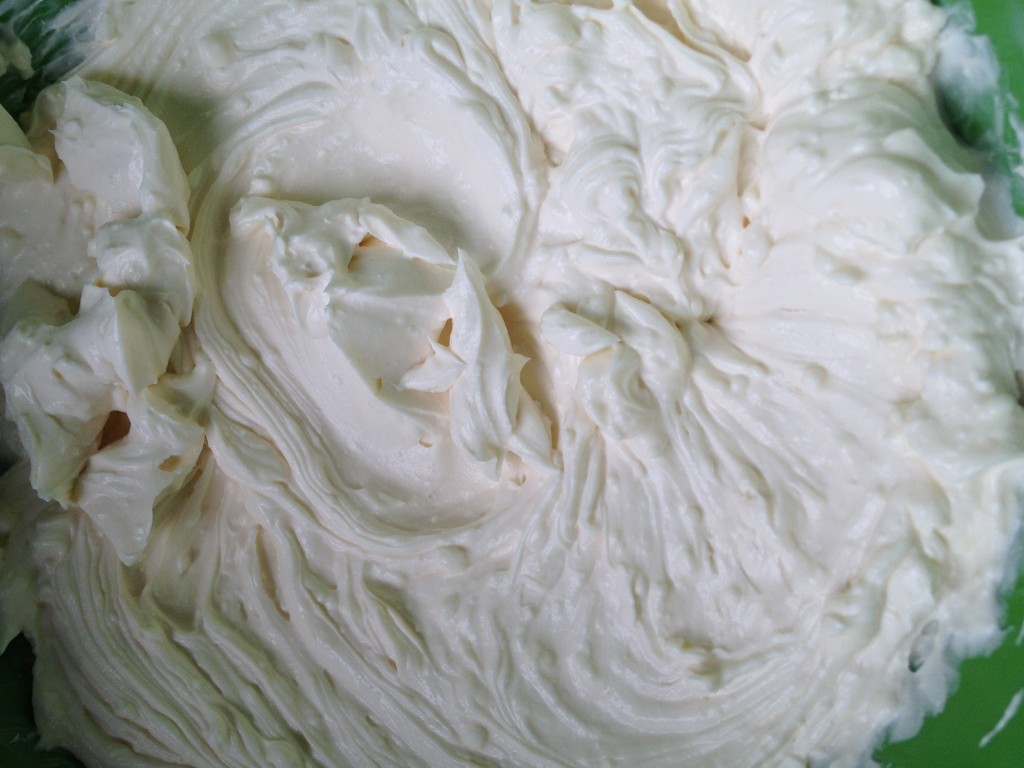 Whipped Cherry Pie filling = creamy goodness
Oh yeah, I forgot to divulge that I took my favorite shortcut and used a ready-made graham cracker pie crust.  Making a crust from scratch isn't difficult but, I wasn't in the mood, nor did I have the added time.
Once you spread the filling into the crust, then you just layer on the cherry topping and set it into the fridge for about 3 hours to chill!
Yes, it's that quick and easy.  It took me about 25 minutes to prepare, that's it!  And, the only ingredient I didn't happen to have on hand was fresh cherries.
I was certainly impressed,  mainly with the fact that something so easy to make can look like it took hours to complete. And, it tastes even more decadent.
This pie is the perfect summertime dessert.  It's light and refreshing and very flavorful.  But, don't get fooled.  It'll also fill you up, quickly.
My son complained that he apparently doesn't like cherries but, one bite in and he was sold.
Two pieces in and his enormous sweet tooth was satisfied.
No Bake Cherry Pie
adapted from Eating Well Magazine
Ingredients:
4 cups halved pitted sour or sweet cherries, fresh
3/4 cup granulated sugar, divided
1/4 cup plus 4 teaspoons water, divided
2 tablespoons cornstarch
1 pre-made 9×13″ graham cracker crust
2 8-ounce packages reduced-fat cream cheese, softened
2 cups nonfat plain or vanilla Greek yogurt (Chobani)
6 tablespoons confectioners' sugar
1 teaspoon vanilla extract
Instructions:
Combine cherries, 1/2 cup sugar and 1/4 cup water in a large saucepan and bring to a boil. Combine cornstarch with 4 teaspoons water, then stir into the cherry mixture; return to a boil. Reduce the heat to medium and cook, stirring constantly, until the liquid thickens and looks syrupy, about 1 minute. Remove from heat.
Beat cream cheese, yogurt, confectioners' sugar and vanilla in a medium bowl with an electric mixer until smooth, scraping down the sides as necessary. Spread over the crust.
Spoon the cherry mixture over the top. Cover and refrigerate until cold, about 3 hours.