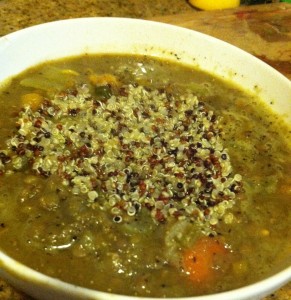 It's Seriously Soup day today, featuring one of my favorite bloggers, Serena, who authors a blog called Seriously Soupy.  Serena started Seriously Soupy as a creative outlet for herself after her first daughter was born, which combined her passion for cooking with an interest in learning more about soups and soup making.  Since it started, she has given soup tours and taught soup classes and has a catalogue of over 100 soups on the site!  You can join Serena on her Soupy journey at SeriouslySoupy.com and twice a month you can find her here, at My Judy the Foodie, sharing her wisdom and helping demystify the world of soup.
Here's what Serena has to say:
While I love summer, I am really excited for the cooler temps and the change of  season. This time of year also means more soups for me. Since lentil seems to be my default soup, I decided to mix it up a bit by adding in various vegetables and topping it with protein-rich quinoa.
For this recipe, I used a bag of dry lentils, celery, leeks, carrots, parsnips, onions, garlic, basil, bay leaves and sweet potatoes – most of these ingredients I had for the Chicken Noodle so it was great to use up wthe leftovers. As for the quinoa, I cooked it separately and then added it on top of the soup that I blended together in a bowl.
Quick, simple and healthy. I loved the comforting combination of flavors to the soup. It was the perfect way to enjoy fall kick-off.
Enjoy!
Vegetable Lentil and Quinoa Soup
Ingredients:
1 leek, chopped (white part only)
1 bag of dry lentils
3 garlic cloves, minced
1 red onion, chopped
3-5 bay leaves
1 sweet potato, cut up
2-3 carrots, diced
2 parsnips, diced
2-3 pieces of celery cut up
3-5 cups of water
1 cup of quinoa
2-3 sprigs of fresh basil
salt and pepper
Directions:
Soak dry lentils for 2-3 hours.
When soft, boil the water and add in the garlic, basil, onions and bay leaves. Add in the lentils and chop up the vegetables (carrots, parsnips, celery, and sweet potato) and add them in the pot and cover.
Let cook for 45 minutes and then start another pot of water for the quinoa – follow the directions on the package (generally takes 15 minutes to cook).
Check on the soup periodically and salt and pepper as you taste.
In about an hour the soup should be done. Place it in a bowl, and add the quinoa on top. Enjoy!