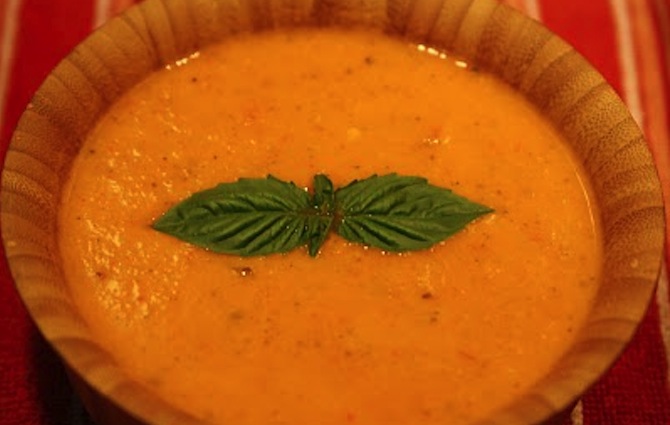 Today's post is from our resident soup expert Serena, aka Seriously Soupy. Serena has given soup tours and taught soup classes and has a catalog of over 100 homemade soups. We're happy to have her here once a month sharing her wisdom and helping demystify the world of soup.
Here's what Serena has to say about her latest creation:
It may be hard to believe, but spring is just around the corner. With the change of the weather, I enjoy lightening things up a bit in the kitchen to create a variety of soups that are bursting with nutrients and seasonal flavors. For spring, this includes a lot of fresh herbs and local vegetables.
To kick-off the soon-to-be-warm weather (!!), I created an revised tomato soup that infuses elements of the traditional soup along with new flavors from  peppers, basil, and lemon thyme. It's a wonderfully easy soup to try that I hope you will enjoy.
Creamy Bell Pepper and Orange Tomato Soup
makes 4 cups
Ingredients:
4 cups of vegetable broth, approx.
1 clove of garlic, chopped up
1/2 red onion, chopped up
2 red bell peppers
1 yellow pepper
3 orange tomatoes
bunch of fresh basil
bunch of fresh lemon thyme
pinch of cinnamon
pinch of salt and pepper
1/2 cup of Greek yogurt – I used FAGE
Instructions:

Add the vegetable broth to a medium-sized pot and turn on a low flame.
 Chop up the onions and garlic and add them to the pot.
Chop up and
 add the tomatoes and peppers, along with the fresh basil, lemon thyme, 
cinnamon, salt and pepper.
Let the soup cook on a low flame, checking 
on it periodically.
After 30 minutes (or until ingredients soften) 
taste the soup — you may need more cinnamon or salt. Turn off the
flame, let cook and the soup contents to a blender.
Scoop out a 1/2
cup of yogurt (approx) and add it to the blender, liquefy and pour
into a bowl. Enjoy!