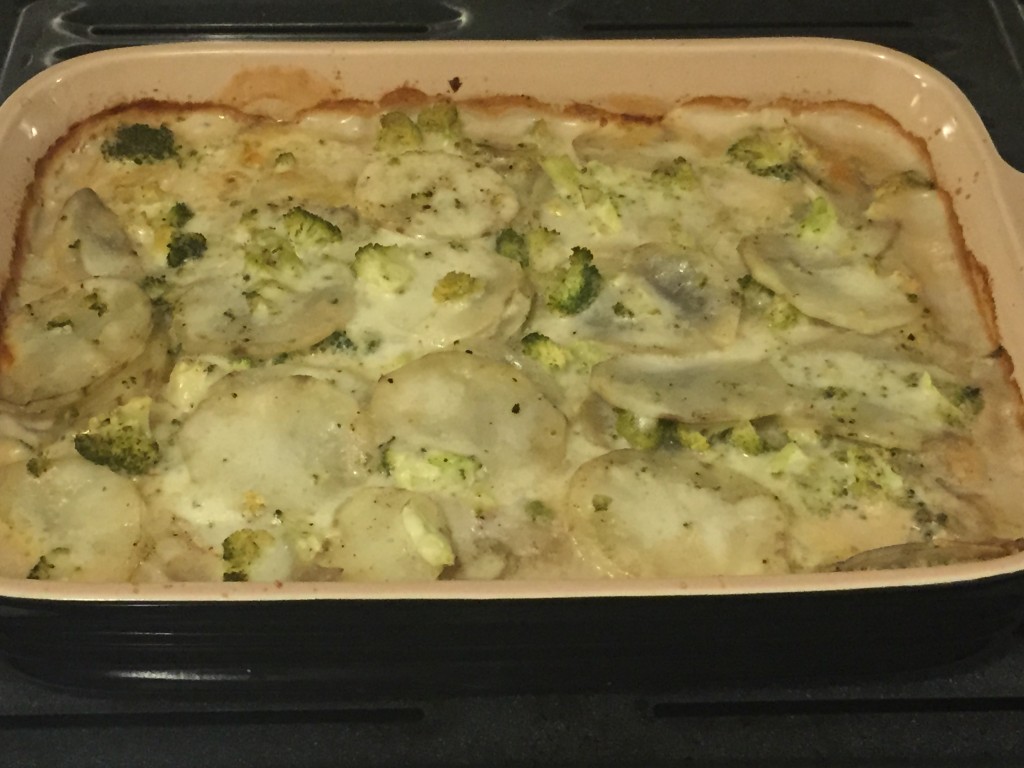 Disclaimer – I was compensated for writing this post by Prego®. However, all opinions expressed within are, as always, my own.
Dinnertime can be daunting.
What should you serve?
How do you vary your dishes without feeling like a short order cook?
How do you get your family excited about mealtime?
Often, there are new and interesting dish opportunities right under your nose, or should I say, right behind your pantry's door.
Last week I was in a major chicken rut. I felt like every other day I was serving something that included chicken. And, while my kids weren't necessarily complaining, I know they weren't very excited either.
I truly believe that something new on the table at every meal will peak your family's interest. And, it doesn't have to be the main dish. Sometimes I like to keep the intrigue with my sides.
Last night I served a homemade Chicken Caesar salad.  I was determined to add an interesting side dish.  Sometimes I like to challenge myself and open the pantry or refrigerator and create a dish solely from the ingredients that are sitting on the shelves right in front of me.
In my pantry challenge, I found a jar of Prego Alfredo Sauce and decided to make a dish that didn't include its requisite partner- fettuccine.
I'm sure at some point we've all tasted Fettuccine Alfredo made with thick fettuccine noodles drenched in the rich, creamy sauce. But, how many times have we tasted Scalloped Alfredo Potatoes? NONE!
I found a recipe for Cheesy Potatoes and tailored it to include a can of the Alfredo Sauce. The dish is super easy to prepare and doesn't require a litany of ingredients. In fact, the sauce itself takes the place of the cheese and spices as its base contains a strong blend of cream and garlic and Parmesan cheese.
All you need are some potatoes and milk alongside the sauce, and you're set. I also added in some chopped broccoli because, why not? Never underestimate an opportunity to add vegetables whenever you can. And, how could broccoli with Alfredo Sauce not taste divine? If you're feeling extra saucy, you can add some cubed turkey meat or chicken, at which point your side dish can be transformed into a main.
I stuck with the side dish, and it was a hit…for everyone at the table! Just don't forget that it potatoes take a little while longer to cook since they're raw. But, wouldn't you rather have a dish that takes longer to cook than to prepare? Make sure you avail yourself of at least 1 hour 20 minutes to bake this tasty side/main.
Hope you enjoy. I know you will.
Alfredo Potato Bake
Yields 6-8 servings
Ingredients:
1 jar (14 ounces) Prego Alfredo Sauce
3/4 cup whole milk
3 pounds potatoes, peeled and thinly sliced
5 tablespoons grated Parmesan cheese, divided
Salt and pepper to taste
3 cups chopped broccoli
2 cups (8 ounces) shredded Mozzarella cheese, divided
Instructions:
In a large bowl, combine the Alfredo sauce and milk. Pour a fourth of the mixture into a greased 13-in. X 9-in. Baking dish. Layer with potatoes so the bottom of the dish is covered; sprinkle with 1 tablespoon Parmesan cheese, salt and pepper.
Add broccoli and 1-1/2 cups Mozzarella cheese to the Alfredo mixture; spoon a third over potatoes. Repeat layers twice. Top with remaining potatoes. Sprinkle with remaining Mozzarella and Parmesan cheeses. Spread with remaining Alfredo sauce mixture.
Cover and bake at 400° for 45 minutes. Reduce heat to 350°. Bake, uncovered, 30 minutes longer or until potatoes are tender. Let stand for 15 minutes before serving.