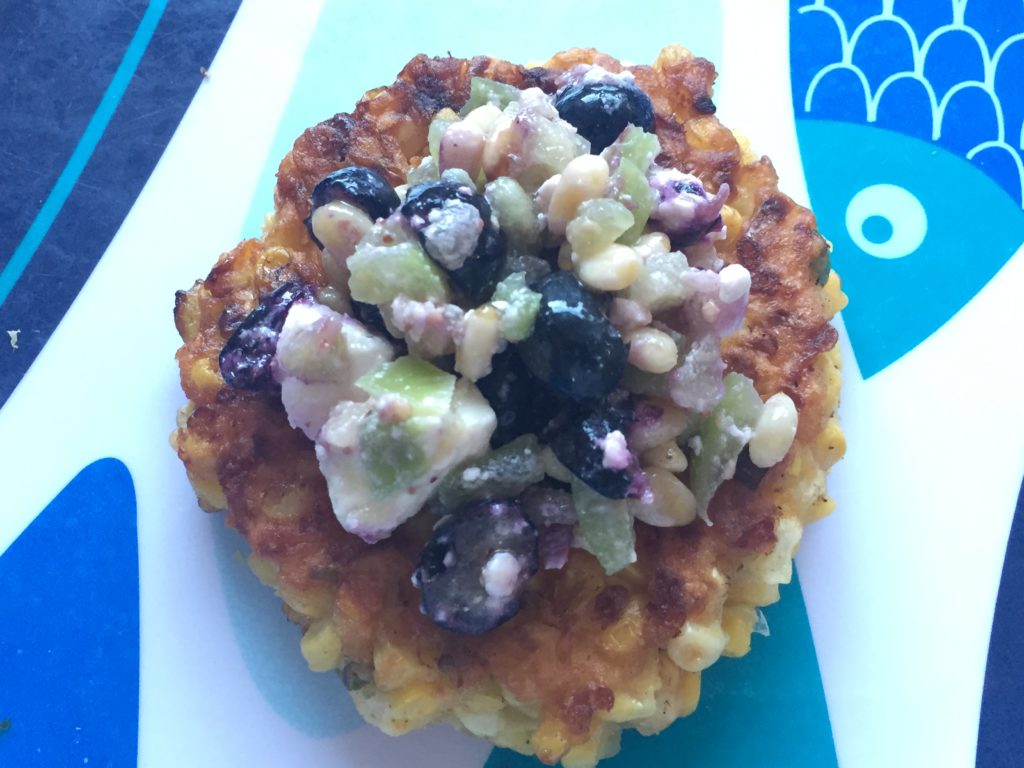 August is my favorite month because all of the once barren corn fields are now bursting with lush green stalks boasting some terrific ears of corn.
We eat corn at least 3 times a week in the summertime so, I am constantly looking for inventive ways to get those kernels onto the dinner table.
Luckily, my friend came to visit this weekend and brought along a tasty recipe for Corn Cakes with Blueberry and Tomatilla Salsa so we blocked out an hour to get cooking.
These cakes are quite easy to make.  The only real time involved is boiling the corn (6 minutes) and cutting the kernels off the ears and slicing the tomatillos.  The rest of the work simply requires mixing ingredients in a bowl.
Make sure when frying the cakes, you don't put the temperature on your stove to high or else the oil will burn and subsequently your corn!  I learned the hard way when my stove top became engulfed with smoke.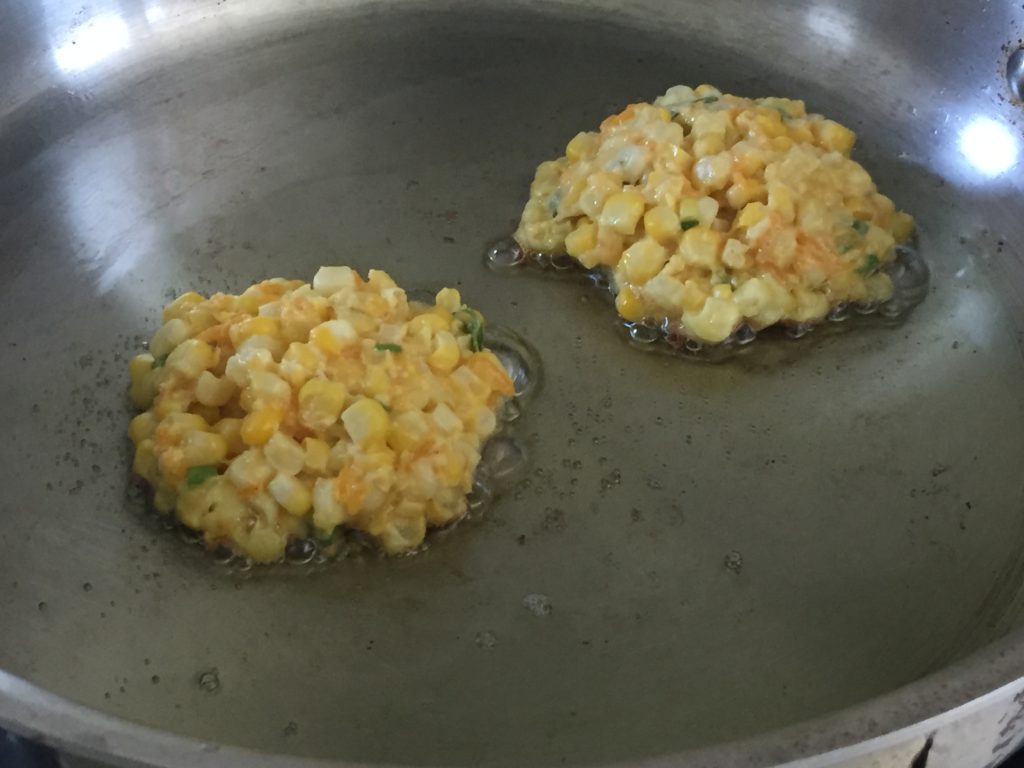 While the cakes we made certainly didn't look as pretty as the ones in the original recipe (do they ever), we agreed that the cakes were a bit bland and MUST BE eaten with the salsa on top.  We made certain to chill the salsa while cooking the cakes so by the time we were to combine both, the coolness and fruity flavor of the blueberries mixed well with the warm corn.
Only addition we'd add to the recipe would be even more salt (gulp) or other salty seasoning. Honestly, these cakes would taste amazing with any topping- pesto, sour cream, tomatoes.  Next time around, we'll continue to experiment but, in the meantime, enjoy!

Corn Cakes with Blueberry and Tomatillo Salsa
Author:
adapted from Nikki Dinki
Prep time:
Cook time:
Total time:
Inventive way to integrate corn into your menu!
Ingredients
Salsa:
⅓ cup blueberries, halved
2 small tomatillos, cored and finely chopped (approx. 6 Tbsp.)
3 Tbsp. pine nuts, toasted
2 tsp extra virgin olive oil
¼ tsp. kosher salt
Corn Cakes:
⅔ all-purpose flour
1½ tsp. kosher salt
¾ tsp. baking powder
¼ tsp black pepper
3 cups corn kernels (approx 4-5 ears)
¾ cup shredded cheddar
3 scallion, thinly sliced (approx. 6 Tbsp.)
2 large eggs, beaten
3 Tbsp. extra virgin olive oil, divided
Instructions
To make salsa: in medium bowl, mix together all ingredients, cover and refrigerate.
To make corn cakes: In large bowl, whisk together flour, salt, baking powder, and pepper. Add corn, cheddar and scallions, and mix well to coat. Add eggs and stir until just combined. Using damp hands and about ⅓ cup corn mixture for each cake, firmly pack together 8 (3"-wide) patties.
In a large skillet, heat 2 Tbsp. oil over medium heat. Place half of the corn cakes in skillet and cook until golden brown, about 4 minutes. Carefully flip cakes and continue cooking until deep golden brown and cooked through, another 4 minutes. Transfer to a paper towel-lined platter. repeat process with remaining 1 Tbsp. oil and 4 corn cakes.
Arrange corn cakes on plates and spoon salsa over top.
Save
Save