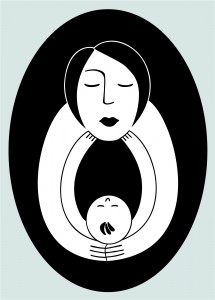 "The moment a child is born, the mother is also born.  She never existed before.  The woman existed, but the mother, never.  A mother is something absolutely new" Rajneesh
I never needed my mother more than the very first day I became a mother.
The day I delivered my first child, I worked from 8:00a-6:00p and complained of cramps from 8:00a-6:00p.  How was I supposed to know I was in labor?  It was two weeks before my due date and I had never had labor pains before.  It was also the hottest day on record for April 17th, 2002.  The mercury rose to 92 degrees and unfortunately for me, I was only outfitted in maternity clothes appropriate for winter and early spring. So, stretching a regular-sized small tank top over my 9-month pregnant belly was not an easy task.  Hence the cramps all day, right?
Fast-forward to 11:35p (that same day). I was holding my very healthy, beautiful, blue-eyed baby girl. And, one day later, I headed home panicked that I had a beautiful blue-eyed baby that was MINE.  MINE to bathe.  MINE to feed.  MINE to console.  MINE. MINE. MINE. MINE. MINE.  Help.  I was the youngest of three.  I was always the one babied.  Even when I was leaving for college, my mom packed with/for me (ask my sister if she packed for her).  Reluctantly I took my baby out of the car in her little snap-n-go, traveled up to my apartment carrying the "unwieldy load," opened the door, and in that moment everything calmed.  I was engulfed by the sweetest smells. The music playing. The nursery set and read-to-go–and Mom in the kitchen.
Thanks to Mom –Mommy Poppins—I felt coddled, comforted, safe and more primed to face my newest challenge: motherhood.  She committed herself to be my confidante, post-partum punching bag, chef, shoulder-to-cry on, stroller walking partner, dirty-diaper changer and much more for my first two
weeks home.  Two weeks of advice, comfort, wisdom and companionship with a very healthy newborn.  For those two weeks I felt more like a very lucky daughter than a new mother.
It's strange to think that certain food smells can be reassuring.  I remember the sweet tomatoes and garlic wafting from the stove and how they immediately made me sense Mom's presence the moment I crossed the threshold of our door.  These smells confirmed to me that I was going to be okay—at least for the two weeks Mom was staying with me. Mom's Shrimp with Feta and Tomato Sauce was all we needed for our "first meal." It preempted  any type of potential stress associated with parenthood.  That night, we only relished in the good food being served rather than on the fear associated with the parental unknown.  That civilized meal earmarked our first night home as new parents about to begin our uncharted journey.
I decided to cook Mom's Shrimp with Tomato and Feta dish for our first weekend night home alone as a family of three without my daughter (who's at sleep away camp).  We've all been tip toeing around her absence this past week and it's been an exhausting process.  I needed to cook something soothing and obviously this dish came to mind.  I was thrilled that I had all the ingredients on hand except for the shrimp.  The prep time was a breeze but equally emotional as I envisioned Mom prepping this meal in my apartment kitchen anticipating my arrival from the maternity ward.
It wasn't until I was staring down at my own skillet bubbling full of the familiar ripe tomatoes, garlic, shrimp and wine sauce that I felt transported back to April 2002– when I first crossed into my apartment not just as someone's daughter but as a mother too.
I now realize how sometimes I'm desperate to just be Mom's daughter and how damn hard it is for me to be a mother without having my own mother.
Lucky for me, the shrimp dish was received with two thumbs up from my son. (If only my daughter were around to give me her vote of reassurance too).
Judy's Shrimp with Tomato and Feta
Ingredients:
1 lb shrimp, raw and cleaned
4 tablespoons extra-virgin olive oil
4-5 medium minced garlic cloves
1 teaspoon grated zest of1 lemon
salt and ground black pepper, to taste
1 small vidalia onion diced medium
1 (28 ounce) can diced tomatoes, drained (save the extra juice for later)
1/4 cup white wine
2 tablespoons fresh parsley, chopped
2 tablespoons fresh dill, chopped
6 ounces crumbled feta cheese
Instructions:
Combine shrimp, 1 tablespoon oil, 1 teaspoon minced garlic, lemon zest, 1/4 teaspoon salt, and 1/8 teaspoon black pepper in small bowl.
Heat 2 tablespoons oil in 12-inch skillet over medium heat and add onion, 1/4 teaspoon salt and stir.
Cover skillet and cook, stirring occasionally for up to 5 minutes.
Uncover and continue to cook add remaining 4 teaspoons garlic and cook about 1 minute.
Add diced tomatoes and  juice, dry white wine to skillet.  Reduce heat to medium and simmer, stirring occasionally.
Stir in parsley and salt and pepper.
Add shrimp and stir to distribute sauce evenly.
Cover and cook until shrimp are cooked throughout…approximately 5 minutes.
Remove shrimp and tomato mixture from skillet and add in feta.
Garnish dish with dill.
Serve immediately over pasta or jasmine rice.  Enjoy!
Has your role as "mother" and "daughter" ever been blurred?