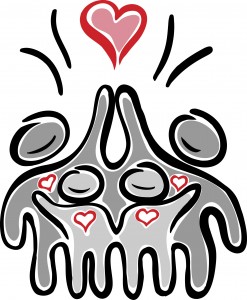 "To be in your children's memories tomorrow, you have to be in their lives today"   – Anonymous

Last week, I received an invitation from Moms and the City to attend a preview screening of Sarah Jessica Parker's new movie, "I Don't Know How She Does It," the story of a career-driven mother who constantly deals with the balancing act that accompanies the fast-paced life of a working mother.   Afterwards, the audience was able to query both Sarah Jessica as well as Alison Pearson, the author of the best-selling book.
Save a few dad bloggers, the audience aptly represented a wide range of women from: mom bloggers to journalists to stay-at-home moms to retired grandmothers to soon-to-be moms to the young worker-bee devotees who shudder at the thought of even having children.  As I listened to the crowd, I felt as though I had a unique vantage point.  I have been on both sides of the spectrum.  I was once that career-driven executive who missed my child's bake sales and field trips because of business trips and meetings and deadlines (and I walked around cloaked in guilt all-the-time).   My life was very hectic.  In fact, BOTH times I went into labor, I had worked an entire day. I delivered my babies within mere hours of leaving the office.  Now, my life is much more manageable. I'm lucky to be home with the kids, working on various projects, affiliated with different organizations and volunteering for causes near and dear to my heart.  Regardless of whether I was working 50 hour work weeks or whether I stay at home, I use my bond with Mom as the barometer to a healthy, effective mother-child relationship.
My mom juggled many jobs.  She achieved everything from launching businesses to grading papers to filing clients' taxes.  Guess what? Somehow she managed to master all of these trades while also raising three kids (and a dog).  The best part?  I really don't remember her complaining about the constant tug-o-war that takes place between work life and family life.  I just remember her maximizing whatever free time she had and it was always turned into quality time.  I'm not saying that every moment we're with our kids has to be a teachable moment but, we should be present.  Whether Mom could cheer from the sidelines at our games or simply help us late night with homework assignments, I remember her being 100% present all the time.
There are certainly times where I do feel like I was a better mother when I was a full-time working momma.  Why?  Because my time was so limited, when I was with my kids, I knew I had to savor and appreciate and cherish and stretch every single moment, every single second.  I had to make the best of my time with the kids.  Since I am now afforded the opportunity of "working" from home, I have much more time with the kids and have definitely not always taken advantage of that togetherness.  In fact, since it's more of the norm for me to see my kids a decent amount over the course of the week, I'm wondering if I no longer value the time as "precious" when we're together? Shame on me.
I'm learning one of the most important aspects to parenting is spending QUALITY time with the kids. It's not the QUANTITY of time that's spent together.  A working mom could only have two weekend days to spend with her kids and get more out of those 48 hours than a mother who is at home and chooses to spend countless hours in the gym or cyber-surfing or shopping while she dumps her kids on myriad babysitters and play dates in lieu of quality bonding time.
Late afternoon today, I was wasting time on the computer when I noticed my 6-year old had stopped his lego building session of a new addition to the theme park Six Flags.  Instead he was just rolling around on the carpet, not really doing anything. While I'm a proponent of kids having their down time and independent time, he did look like he was festering on the floor. I knew there was quality mother-son time that could be captured.  I also knew that I promised to cook one of my Mom's simple baked chicken recipes for dinner- the perfect project with my son.
No sooner had I mentioned this cooking project had I witnessed my son eagerly jump up to put on the rubber yellow kitchen gloves, only to help me figure out how the heck to even handle a raw slimy chicken.  You see, he had never handled a chicken and neither had I.   We laughed and squealed like kids as we treated the bird prep like a game of operation.  Beyond having a ton of fun we both actually learned a lot along the way (umm, I had not one clue what Giblets meant).  We both took such pride and celebration when we feasted on our finished product – a tender and juicy baked chicken as flavorful as we had hoped and as I had remembered.
I took major relief knowing that I had created quality time with my son.
Time both he and I would remember.
Judy's Baked Rosemary Chicken
Ingredients:
4 lb. whole chicken
1/4 cup chopped rosemary
1 small vidalia onion cut into quarters
olive oil
salt and pepper
2 garlic cloves
Instructions:
Preheat oven to 450 degrees
Clean out chicken (neck, giblets) and wash thoroughly.
Pat chicken dry.
Baste chicken entire chicken with olive oil and salt and pepper.
Stuff chick with onions and rosemary.
Place in pan and cover loosely with tin foil.  Bake in oven for 20 minutes.
After 20 minutes, remove foil and lower heat to 350 degrees.  Cook chicken at new temperature for approximately one hour (or longer) depending upon chicken's weight.  Internal temperature should read approximately 180 degrees on meat thermometer.
Remove from heat, add salt and pepper to taste.  ENJOY!