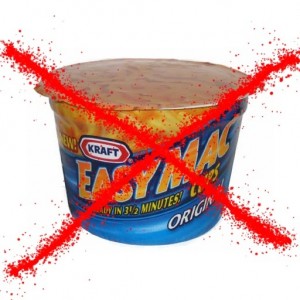 Not too long ago I would aimlessly wander down the grocery aisles grabbing for any packaged meal to alleviate my dinner stresses. The all-to-familiar box of Kraft Mac and Cheese always found a comfortable place in my shopping cart and on my dinner table in college.  Fast forward twenty years and that same box still has a reserved spot in my pantry.  It gets worse.  I started using Kraft Easy Mac – the microwaveable alternative to the stove top Mac. Yes, even with two young kids I was still willing to sacrifice taste and nutrition (HELLO SODIUM) to decrease my meal prep time.  For years my kids happily ate the fluorescent orange cheesy noodles.  Finally, out of guilt, I decided to go organic and I purchased Annie's Mac and Cheese -that tasted like dirty socks (and I still got to pay lots extra for it).
Bottom line, nothing made directly from a box really tastes that good.
Because of my recent cooking experiments, I'm now opting more often to take the homemade route.  It's a lot healthier and noticeably tastier, although admittedly, more of a time suck.  And, you can't argue against knowing each and every ingredient in a recipe.  So, when I was cleaning out my pantry, or should I say, my way station of boxed meals and canned spaghetti and meatballs, I decided I'd try homemade mac and cheese in my new slow cooker!  After all, this is my week of slow cookery. I couldn't think of a better experiment. And, benefiting all day long from the smells of fresh baking cheese isn't too bad either.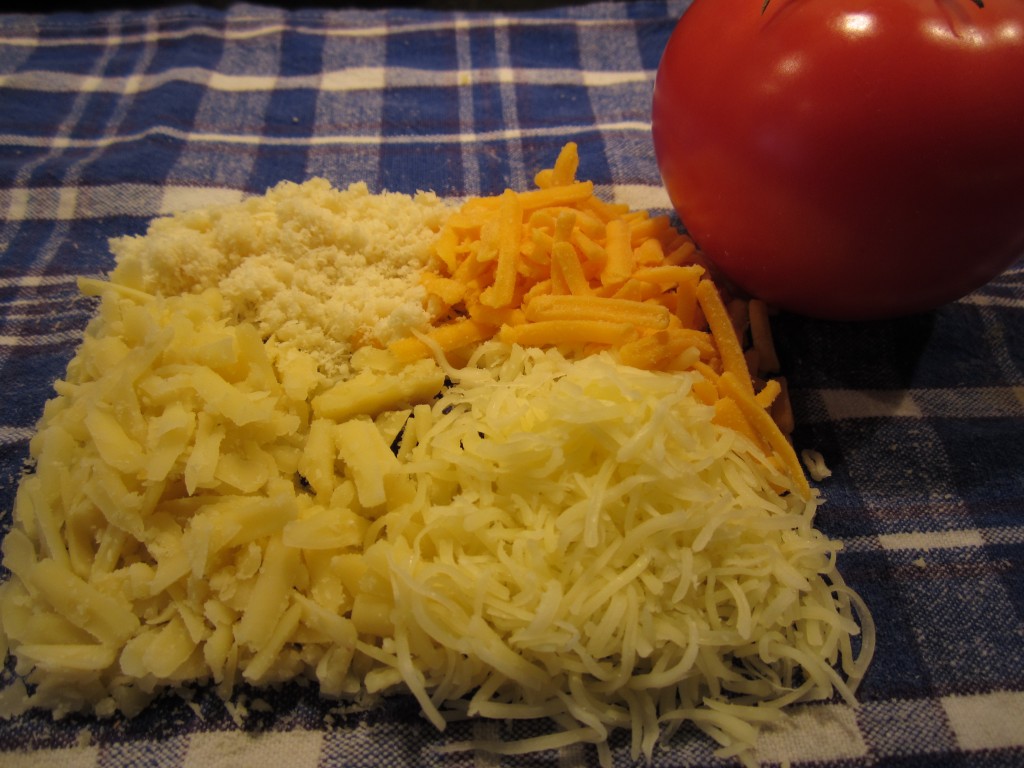 Fresh Gruyere, Fresh Mozzarella, Fresh Parmesan, Fresh Cheddar – beats the boxed version
Crock Pot mac and cheese is a fun Sunday morning activity with the kids. And, guess what? By the time it's finished cooking, you've got a hearty meal for dinner that everyone will love.  Have you met any kid that doesn't love mac-and-cheese?  Lucky for me, I had most of the ingredients on hand, except for evaporated milk.  I thought perhaps I could substitute evaporated milk with condensed milk. After all, how different could they be? They both come in cans.  Isn't that good enough? I now know that evaporated milk is milk which has had about sixty percent of the water removed via evaporation.  It doesn't have any sugar added like its cousin, condensed milk. Again, always learning something when you're cooking from scratch.
My slow cooker has yet to disappoint.  What I poured into the ceramic pot in the morning looked like a Kindergartner's art experiment gone wrong—just a bumpy pile of noodley mush.  What I scooped out of the cooker, after a nice and slow 5-hour cook, was a perfectly fluffy casserole-type mixture with melted cheeses and tomatoes and macaroni, oh my!
Needless to say, we gobbled up every last bit.
Just 10 minutes of prep work and a couple hours of cooking (remember, without any supervision) and we celebrated the best vat of mac and cheese (with tomatoes) ever, hands down, for all of us.
We're never going back to the box.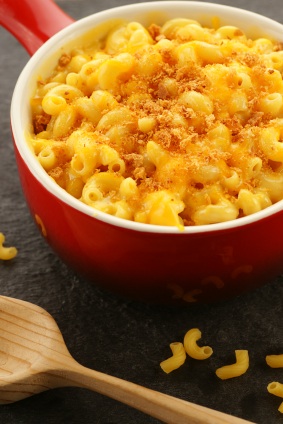 Macaroni with Four Cheeses (adapted from the Cuisnart Slow Cooker Book)
Ingredients:
1/2 pound elbow macaroni
2 tablespoons butter
2 tablespoons unbleached all-purpose flour
2 cups fat free evaporated milk, non reconstituted
1/2 tablespoon Worcestershire sauce
1/2 teaspoon dry mustard
1/2 teaspoon kosher salt
1/2 teaspoon freshly ground pepper
6 ounces reduced fat sharp Cheddar, shredded
4 ounces Gruyere (not processed), shredded
8 ounces of diced tomatoes drained (about 1 1/2 cups)
4 ounces part-skin mozzarella, shredded
1/2 cup fresh breadcrumbs
1/2 ounce freshly grated Parmesan, about 2 tablespoons
Instructions:
Parboil elbow macaroni about 5 minutes, until very al dente but cooked through. Rinse under cool water in a colander, drain thoroughly and set aside in large bowl.
Melt butter in a saucepan; stir in flour. Cook stirring constantly for 3 minutes.
Add milk; stir until it boils.
Stir in Worcestershire sauce, dry mustard, salt and pepper. Turn off heat; stir in Cheddar and Gruyere until blended.
Add to pasta and stir to combine.
Lightly coat the interior of the ceramic pot of the Slow Cooker with cooking spray.
Add half the macaroni mixture.  Spread the drained tomatoes in a layer; top with the mozzarella, then the remaining macaroni.
Combine the breadcrumbs and Parmesan; sprinkly over top.
Cover and turn unit on.
Set time to 5 hours on Low.
Enjoy!
Do you have any favorite homemade mac and cheese recipes? Or, are you still stuck on the instant pouches?