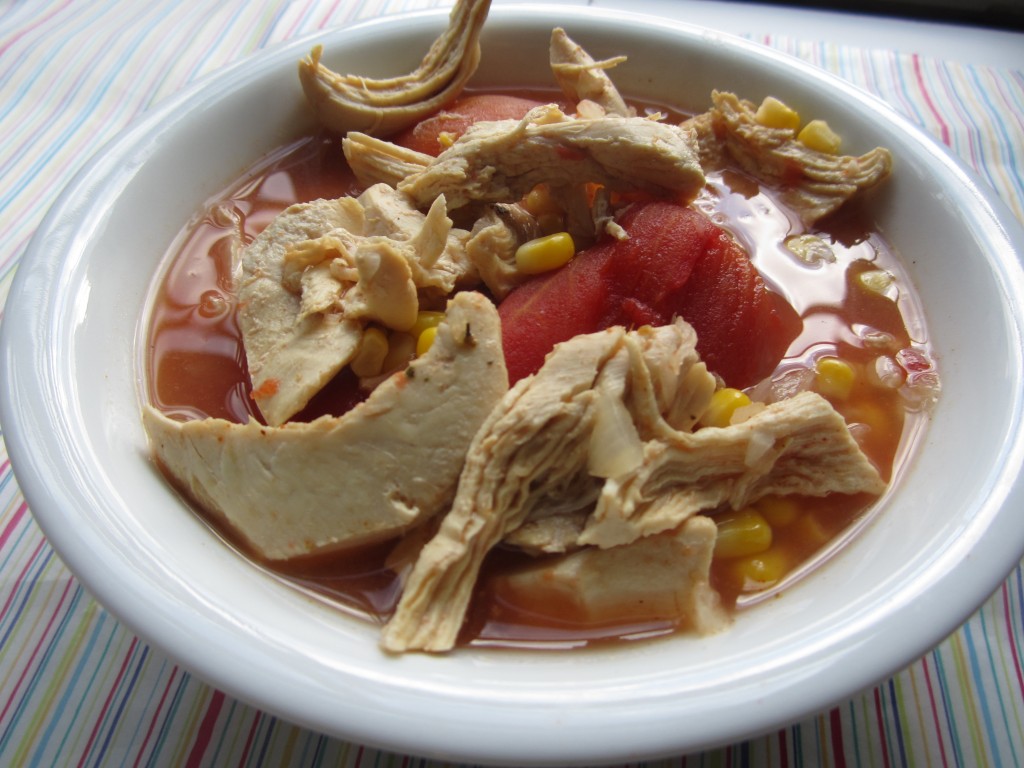 This recipe for Slow Cooker Chicken Tortilla Soup is one of my favorites.  I look forward to making it and every year, I inevitably tweak the ingredients.  That's the one big relief coming off of our successful Bake it Happen Breast Cancer Baking campaign last month.  While baking is exact, like a science, working with the slow cooker is anything but.  You can manipulate ingredients and measured amounts each time you work with the same recipe to get your desired results.
Let's face it. It's been so mild out, who's really thinking about soup? However, I had such a busy day yesterday, I knew this recipe would alleviate any stressed involved in meal prep- especially when I had no time.  I haven't used the slow cooker since my last whirl with French Onion Soup, and I was looking forward to smelling the tomato-based aromas all day long.  In my book, any dish containing chicken broth means comfort and warmth and lots of flavor.
While many will use dark meat chicken, usually thighs for their recipes as they are packed with flavor and juice, my family only eats chicken breasts.  This Chicken Tortilla Soup recipe calls for shredded chicken and I've learned that boiling chicken is the best, and fastest method to produce the perfect shreds.  With boiled chicken, you can literally tear pieces of meat off.
While this soup combines so many great flavors and spices to create a nice southwestern kick:  cilantro, garlic, cumin, parsley, chili powder, bay leaves, green chili peppers,  I decided to forego the chili peppers (since my kids never eat them), and I reduced the amount of chili powder.  I added more Vidalia onions and sprinkled in a bunch of shredded cheese to the pot right before spooning the broth into a hollowed out, sourdough bread bowl.
Hope you enjoy and don't be afraid to tweak the recipe to your liking.
Slow Cooker Chicken Tortilla Soup
Prep time:
Cook time:
Total time:
A hearty chicken soup, perfect for those cold winter months.
Ingredients
1 pound shredded, cooked chicken
1 (15 ounce) can whole peeled tomatoes, mashed
1 medium sweet onion, chopped
2 chopped green chile peppers
2 cloves garlic, minced
2 cups water
1 (14.5 ounce) can chicken broth
1 teaspoon cumin
1 teaspoon chili powder
1 teaspoon salt
¼ teaspoon black pepper
1 bay leaf
1 (10 ounce) package frozen corn
1 tablespoon chopped cilantro
7 corn tortillas
Instructions
Place chicken, tomatoes, onion, green chilies, and garlic into a slow cooker. Pour in water and chicken broth, and season with cumin, chili powder, salt, pepper, and bay leaf. Stir in corn and cilantro. Cover, and cook on Low setting for 6 to 8 hours or on High setting for 3 to 4 hours.
Preheat oven to 400 degrees F (200 degrees C).
Lightly brush both sides of tortillas with oil. Cut tortillas into strips, then spread on a baking sheet.
Bake in preheated oven until crisp, about 10 to 15 minutes. To serve, sprinkle tortilla strips over soup.
Save