Sleep.
Sex.
Food.
Water.
Did I get your attention?
Did you know your brain craves these four things (not necessarily in that order)?
Yup, we talked about this topic and much more last week when I got up close and personal with the infamous (and ranked #3 most influential celeb), Dr. Mehmet Oz, at a post show round table discussion.
The first part of my morning was spent sitting in the studio audience of his quite informative and entertaining talk show. In that one hour, I learned and retained more information than I ever absorbed in a semester-long college class on health and wellness. In fact, even though I was on set with scores of other people, I felt like I was having a personal interaction with Dr. Oz. That's what makes him so effective .
Dr. Oz effortlessly served up his sophisticated medical acumen in a very simple yet comprehensive manner on a wide variety of topics ranging from: the secrets to healthy weight loss; the hurdles women over forty face when attempting weight loss; the loss of muscle mass and what that means; how to control your sweet tooth; hair colors (and secrets) that can take decades off your life.
Did you know that for every decade, your metabolic rate decreases, so you simply can't eat the same foods at 40 years old as you can at 25 years old? I didn't. I just thought you had to stay in great shape to keep your metabolic rate high.
Did you know that the average American only sleeps 6.9 hours per night and they NEED at least 8 hours? And, if you lack sleep, your metabolism is directly affected and you can start to actually crave carbs? I didn't.
The show continues to endorse Dr. Oz's endless quest to raise health awareness among his viewers so that they take control of their lives to achieve optimum health. To get people motivated, he has partnered with Weight Watchers to create a unique nationwide contest called Transformation Nation: Million Dollar You. This season-long health challenge (you can still enter!) gives eligible people the opportunity to register to win a payout of $1million dollars – if they take charge of their life and complete seven key steps to transforming their health. And, let's be clear here, no one is being asked to climb Mt. Everest in heels without any oxygen tanks.
The 7 steps are definitely attainable and a critical part of the journey to a slow and healthy weight loss:
1. Tell a friend
2. Weigh in with Weight Watchers and Calculate your BMI
3. Connect with your Doctor
4. Learn Your Family's Health History
5. GET MORE SLEEP!
6. Assess your Stress
7. Start New Fitness Habits
The most outstanding performances in each of the 7 steps combined with the most compelling motivational essays will allow the judges to whittle the vast pool down to 10 semi-finalists. Then the public gets to vote on a winner. During the taping, we were introduced to a mere handful of the Transformation Nation contestants. We could already sense their renewed optimism, confidence and focus as they shared their new healthy lifestyles and weight loss stories as a result of this contest!
So, would you be intimidated if you could sit face-to-face (literally) with a 6-time New York Times best-selling author, Emmy-winning talk show host, Time Magazine Top 100 Most Influential Person, Harvard-educated and world renown cardiothoracic surgeon like Dr. Oz?
Chances are, probably yes.
However, whether in a small private round table group or on his TV show syndicated to millions of people, Dr. Oz is nothing but genuine and affable and very approachable.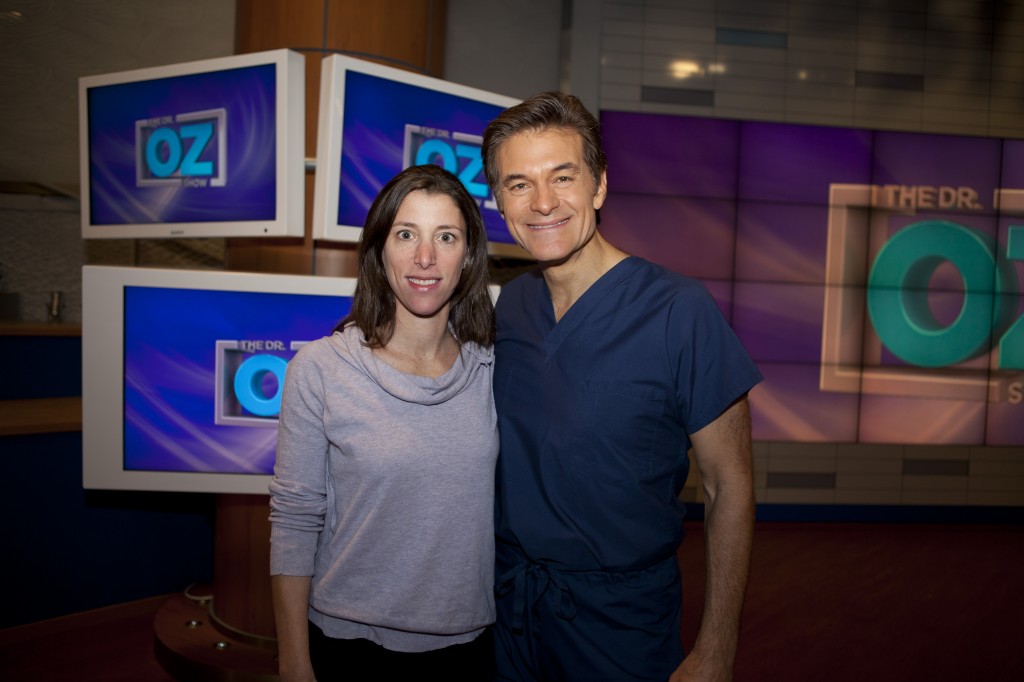 After the taping, he sat casually with our group in his surgical scrubs -no socks – without reservations or barriers. He shook hands, took pictures and made everyone feel equally important.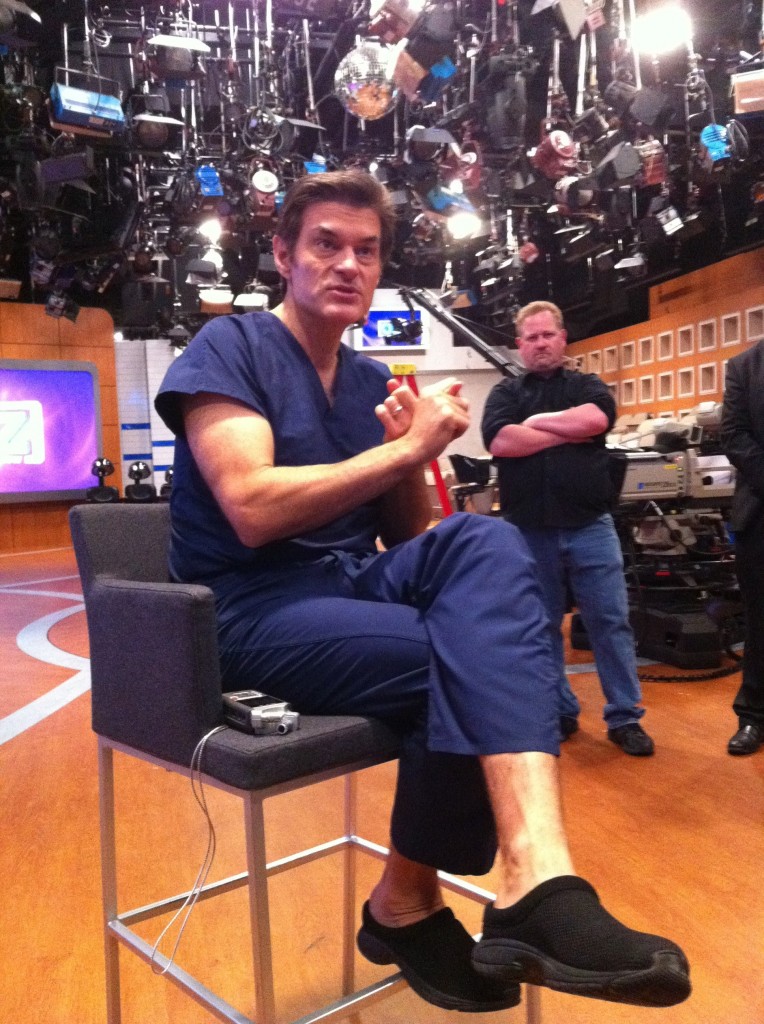 He made every query feel equally relevant. Without pause, he answered our firing squad of questions. From, "what's the biggest complaint from women in their 40's?" (and, by the way, his answer is SEXUAL INTIMACY) to "what's your stance on the HPV vaccine for boys?" Dr. Oz was ready and beyond willing to openly discuss any topic hurled in his direction. He's also not afraid to reveal his personal tricks-of-the-trade, like setting an alarm clock every night to GO TO BED, or, how he takes a cat nap during the day if he finds some stolen moments.
As I looked around the group, it seemed as though the round table discussion made (almost) everyone feel like Ariel when she reclaimed her voice.
It felt like the healthy living/ healthy lifestyle oracle had been handed down and delivered directly to us.  We hung onto every syllable, soaked up every piece of information and relevant advice.
Sheesh, I even took notes on what Dr. Oz says he eats every single day for breakfast (2% Greek yogurt with blueberries and some organic cereal).
Once a talk show skeptic, The Dr. Oz show is now SET on my DVR. Why not? It's like having your own doctor/therapist within arm's reach!
Thank you for your insights and inspiration Dr. Oz.
For general show information (or to find out when this particular show airs in your area) click here for The Dr. Oz Show website.
For more information on the Transformation Nation: Million Dollar You Challenge, click here.
Disclosure: I received no compensation for attending this event. I was able to sit in the studio audience during the taping and I did (happily) receive two of Dr. Oz's best-selling books.  The opinions expressed in this post are my own.
What are your thoughts about Transformation Nation?  Have you heard of it? Do you watch the Dr. Oz Show?