Growing up, Mom very rarely cooked Mexican food save for the highly-anticipated "taco nights" or "chicken fajita dinners."  Then, off to college in the Midwest-forget about good authentic Mexican food.  My only Mexican stint was at the drive through of the local Taco Bell to satiate those late night cravings.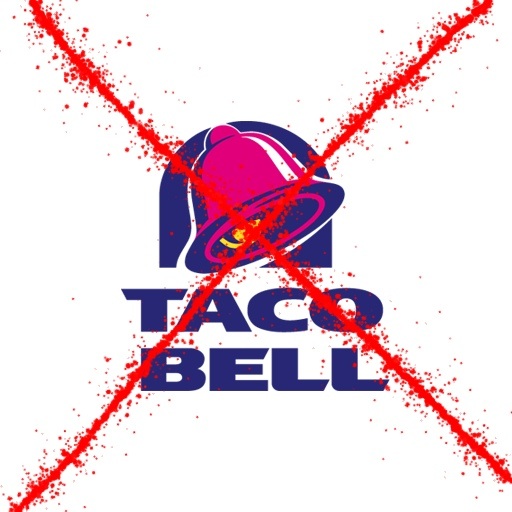 Now that I'm living in New York City I have easy access to many legitimate and not-so-legitimate Mexican groceries and restaurants.  But, what do you do when you don't feel like ordering in (we all know Mexican food does not travel well), you're not up for a trip to a restaurant, and you certainly don't feel like cooking a Mexican dish with all the hassles and clean up involved?
Well, for starters, you attempt to make Slow Cooked Chicken Enchiladas.  I did.  It's easy. There are minimal ingredients. There's no fuss.  And, when your slow cooking is complete, you've got an amazingly hearty dish bursting with a fiesta of flavors that will rival any authentic Mexican establishment.
I have to admit, I cheated a little bit.  I chose to serve this dish for the Super Bowl.  In fact, I served the dish at the very beginning of the Super Bowl, when everyone is still happy and the general excitement is at a healthy high.  Read: a primed audience on which to test a new dish.  But, honestly, how can you go wrong with tortillas, chicken, empanada sauce, cheese and more cheese?  The dish was well-received by the entire crowd and we barely had any leftovers.  That's the best sign of a successful dish, right?
The meal only takes 10 minutes to prepare after you've arranged all of your ingredients.  And, besides allotting the time for the slow cooking, there's nothing challenging to this recipe.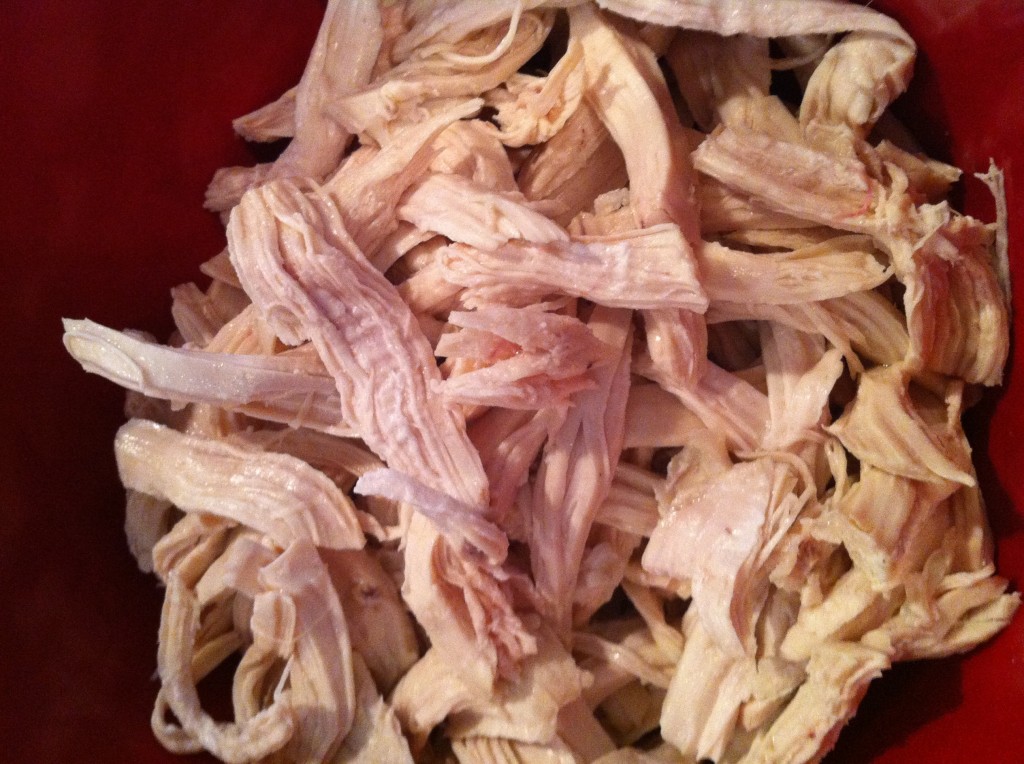 Shredded chicken for slow cooker
Layer 1: Empanada sauce and tortillas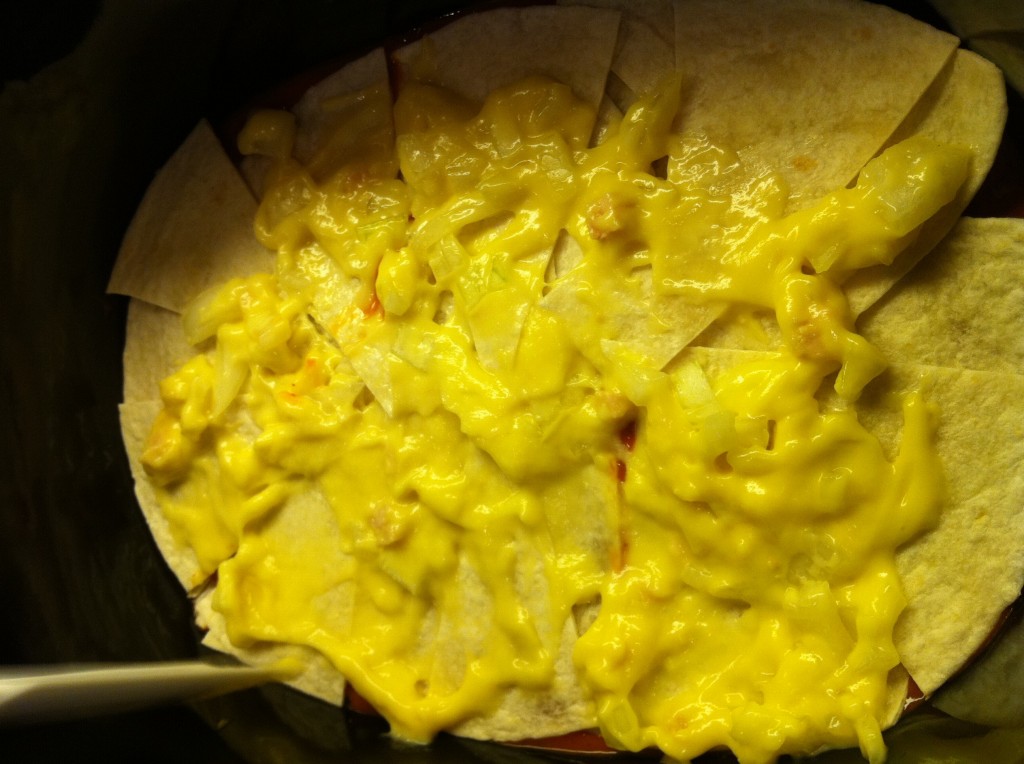 Layer 2: soup and onion mixture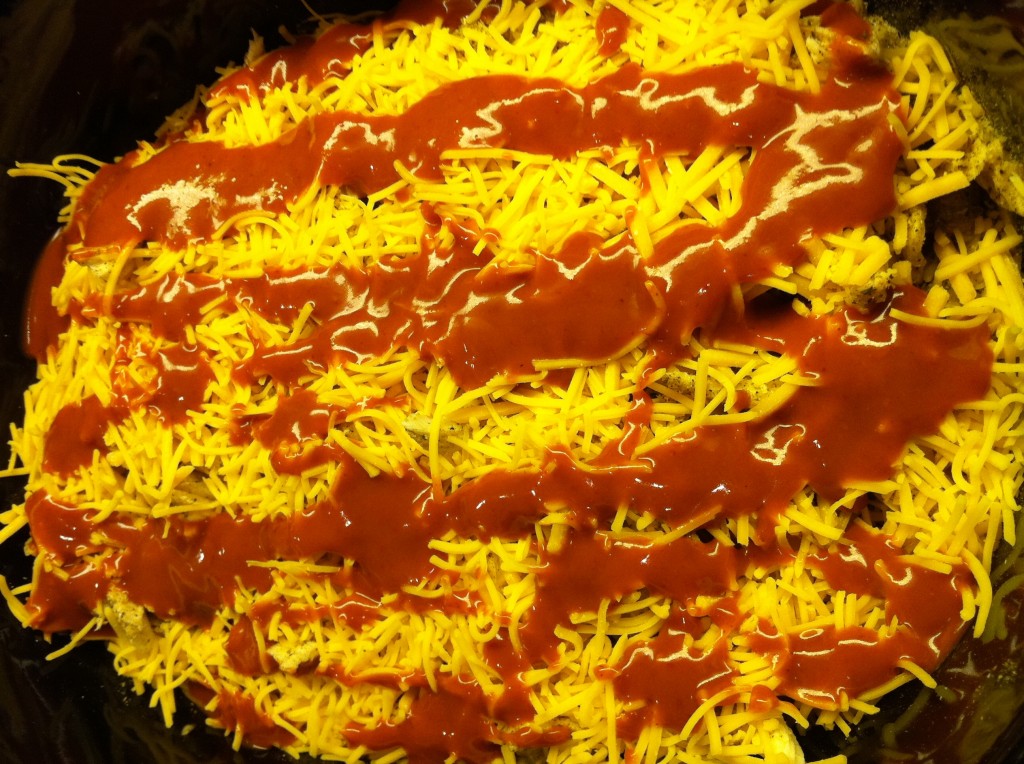 Layer 4: Cheddar cheese and empanada sauce
While this was a "first" for me, what was most memorable in this process was the opportunity to cook alongside my big sister.  Remember folks, she's the one that was born with my Mom's culinary gene, you know, the one that I'm desperately trying to cultivate (100 recipes later).  I'm not sure she ever took me seriously in the kitchen until the Chicken Enchiladas.  I usually always cook alone and, even though I like to think that Mom is spiritually helping me navigate through her recipes and ingredients, it was so comforting to have someone with whom to share the experience.
We cooked and reminisced about Mom, her meals, our memories around the table.  As we cooked, we tweaked the recipes, bouncing different ideas off each other, helping each other.  I couldn't help but think how proud Mom would be if given the opportunity to see us in action.  Well, besides the fact that she'd be utterly stunned to see me in a kitchen cooking, she'd be thrilled to watch us sharing the love.  Because, as we discussed, food is love.  To take time to create meals from scratch to feed your family provides such a wonderful sense of accomplishment.  As hokey as it sounds, in that kitchen that afternoon, we had a true partnership going.  We were working together to create something that would hopefully please and nurture the masses.  And it did.  Everyone enjoyed the meal and we both felt satisfied – literally and figuratively.  And, whenever I cook that particular dish again, I will have only the fondest memories.
Opening up take out, reheating some Chicken Enchiladas in the microwave, and serving it to your family is certainly not as fulfilling as preparing the ingredients and enjoying the smells wafting from the slow cooker as your dish cooks.
I know that nurturing feeling is what kept Mom puttering along in the kitchen, feeling alive all those years she was eclipsed with illness. I now understand from experience that food is love.
Ok, your turn to start (slow) cooking and spreading the love!
Enjoy.
Slow Cooked Chicken Enchiladas (adapted from Recipes4living)

Ingredients:
1 large can enchilada sauce
4 chicken breasts
2 cans cream of chicken soup
1 small can sliced black olives
2 dozen corn tortillas
1 chopped onion
1 pkg. sharp cheddar cheese, grated
Directions:
Cook chicken and shred.
Mix soup and onions.
Cut tortillas in wedges.
Layer crock pot in this order: sauce, tortillas, soup mix, chicken and cheese all the way to top, ending with cheese on top.
Cook on low temperature all day in crock pot.
Notes:
We boiled the chicken for 8 minutes so the chicken would shred easily.
The original recipe calls for a can of olives to be mixed with the soup and onions.  We omitted since we had no olive lovers.
We had a lot of cream of chicken soup left over.  I'd recommend only using 1 can versus 2.  It's very dense and filling – too much soup isn't a good thing.
We seasoned the chicken before layering in the crock pot as we thought it would taste bland.  Use whatever seasoning you like on the chicken.