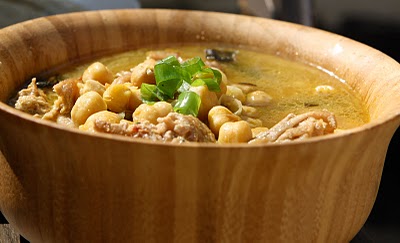 While we haven't had much snow on the east coast, it is still winter.  For my family, that translates to meals that are comforting and filling.  As you might've imagined, my slow cooker has been put into overdrive and I feel as though baking in the oven adds another much-needed layer of heat for my apartment.
There isn't a week that goes by without some sort of casserole or stew being designed.  There should be no intimidation factor here.  Most casseroles and stews are hassle-free to make.  As long as you're comfortable using a knife, you should be all set.
I love this Turkey and Chickpea stew recipe from Seriously Soupy.  It's simple and less labor intensive- requiring absolutely no chopping and dicing of the classic vegetables and potatoes.
It's best, like every stew and soup, served with a nice warm slice of bread on the side.  And, it can keep in the freezer for up to a week!!
So, maybe you'll get your stew on this weekend with your family?  This one won't disappoint.
Turkey and Chickpea Stew
Ingredients:
1/2 package of ground turkey (or whatever meat you prefer)
2 cloves of garlic, minced
fistful of scallions, chopped
2 tablespoons of olive oil
1 clove of fresh ginger root, minced
1 teaspoon of red pepper flakes — add more for a spicier soup
pinch of salt
pinch of pepper
hummus soup (broth and whole chickpeas) — don't blend.
Instructions:
Add olive oil, scallions and garlic to a frying pan, along with ginger and red pepper flakes.
Let cook for a minute or so and add the ground turkey.
Add the tahini, salt and pepper and cook – checking on the turkey periodically.
Turn off the flame and add the turkey to a bowl. Pour the broth from the hummus soup and chickpeas into a bowl — since this is a chunky stew, I didn't blend the hummus.