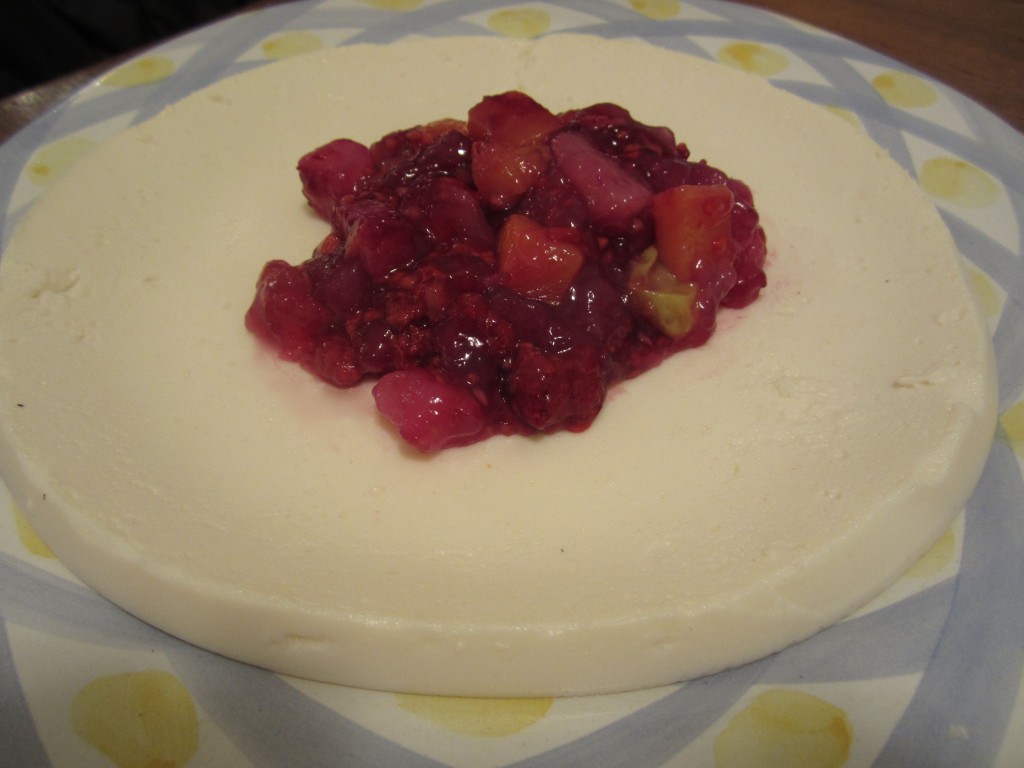 Have you ever heard of a Sour Cream Bavarian?  No idea?  I found this recipe of Mom's stuffed in between the appetizer and dinner tabs in one of her crude recipe binders. I automatically assumed it was a dip of some sort given that the main ingredient is sour cream.
However, when I perused through the other ingredients, and saw the gelatine and whipped cream, my recollections of this dish–as a tasty dessert–definitely became clearer.
This dessert is as light and refreshing as they come.  It's the ideal choice after a heavy meal and can also be eaten as a mid-afternoon snack in a cup.  It can stay in the refrigerator for days on end and still taste good, and, drum roll: IT'S FAT FREE!  That's right.  I used fat free sour cream and fat free whipping cream and the gelatine has no calories. Am I starting to convince you to try it?
If you don't like the texture of jello or the consistency of custard, this dessert probably isn't for you.  But, pair it up with some tasty fruit medley and chill it before serving and you'll be in heaven.  My kids had three helpings the first time it was served (and I didn't even mind).
I only had one regret.  I didn't have any fun shaped  molds in which to make the dessert.  M0m used to have many molds – hearts, stars, diamonds. I simply used a plain 9″ cake pan.  The dish came out very unappealing and way too thin.  The mold should create pieces that are deep and substantial.
Since you're working with a cream colored custard-like dish, any pizzazz you can add to its appearance is helpful.  So, in lieu of using frozen raspberries in syrup, I decided to use a can of mixed fruit which definitely added the right amount of color and flavor.
Well?  Try it out for yourself.  You'll be pleasantly surprised.
It's easy to make, tasty, and no one would ever guess it's fat free!
Sour Cream Bavarian
yields: 8 servings
Ingredients:
1 envelope unflavored gelatin
3/4 cup cold water
2/3 cup sugar
1 cup (8 ounces) fat-free sour cream
1 teaspoon vanilla extract
2 cups fat-free whipped topping
1 can mixed fruit in syrup (preferably sugar free)
Instructions:
In a small saucepan, sprinkle gelatin over cold water; let stand for 1 minute. Add sugar; cook and stir over low heat until gelatine and sugar are completely dissolved.
Remove from the heat. Whisk in sour cream and vanilla. Refrigerate until slightly thickened.
Fold in whipped topping. Pour into a 4 cup shaped mold coated with cooking spray.
Refrigerate until firm.
Before serving, pour fruit mixture generously on top mold and serve immediately. Add food color to fruit medley if you mixture doesn't have any vibrant colors.