I must admit, when I first heard the name "Veggetti" I nearly spit out my drink. Even as I ran around the house after my new Veggetti had arrived, screaming "I got my Veggetti," my teenage daughter looked at me quizzically and told me I was INSANE.
I wish I was on the marketing team (or at least in the focus group) as the company tested names for this genius product. That's one of its only flaws. After I got over the feeling that I had just ordered an X-rated toy online, I could not wait to get to work with my new device.
As a rule of thumb, I never purchase the "As Seen On TV" branded items. I guess I'm usually dubious of their quality and the low price points tend to scare me off. I don't like getting duped. But, apparently I am late to the game as many of my Facebook friends have already put their "Veggetti's" to good use in the kitchen. And, the endorsement of sales at Bed, Bath and Beyond and Amazon.com also encouraged my purchase. For $12.16 (it's cheaper on Amazon.com) I just couldn't refuse.
The actual Veggetti looks like a cheap plastic hourglass and functions like a small pencil sharpener — the inside of the vegetable remains in tact and the outside becomes the spiral "noodles". Since zucchini seems to be the vegetable of choice (although you can try the device with other veggies: potatoes, carrots, cucumbers, squash), I claimed straight Zucchini noodles with olive oil, sea salt and garlic as my inaugural Veggetti dish.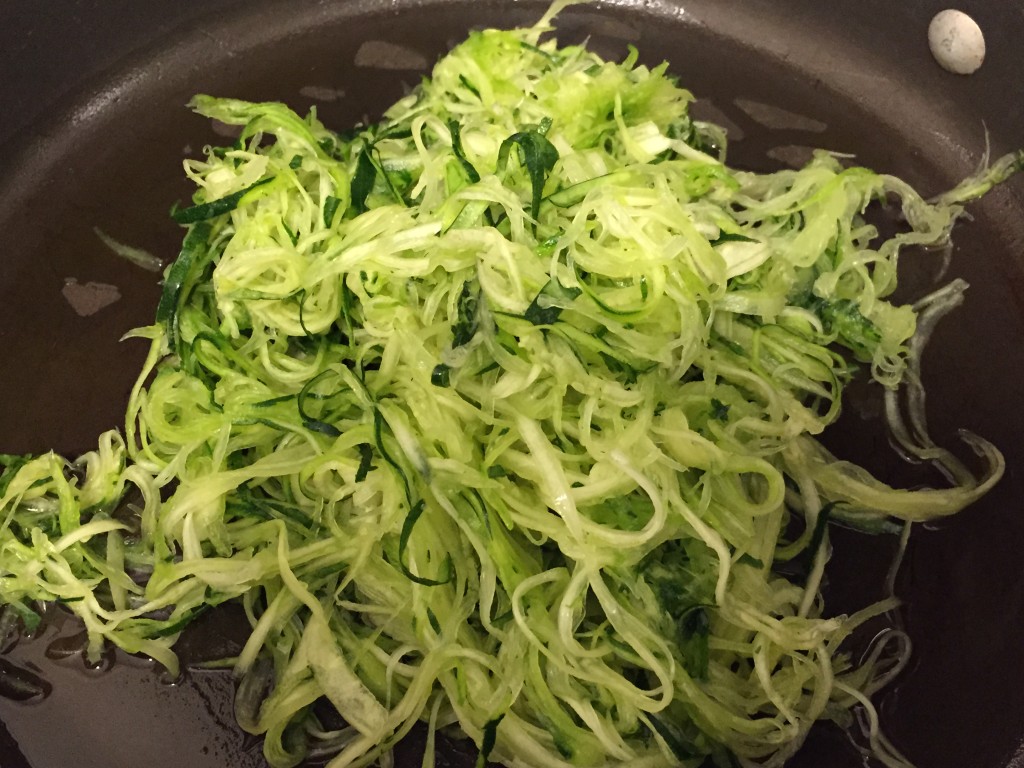 The Veggetti's ability to create a carb-free, gluten-free, healthy alternative to pasta is probably the easiest and most creative way to get your family and friends to eat vegetables. In fact, there's even a recipe sheet that accompanies your device so you can get adventurous with your dishes. You can make Spaghetti, Stir-Fries, Juliennes and much more. But, a simple zucchini sauteé seemed perfectly delicious to me, and it took less than 20 minutes from start to finish.
The most common complaint is difficulty cleaning after use. Since the Veggetti blades are sharp, it is hard to remove all of the leftover veggie shreds.  The solution is simple: let your appliance soak in warm water for a few minutes before you attempt to clean it.  Don't forget that it's also top rack dishwasher safe.
I do wish there were suctions (like the William's Sonoma Spiralizer) to affix the appliance to the counter top as I found it was a bit difficult to hold and turn at the same time.  Additionally having a better-fitting handle to spin the vegetable on the blade would help.  I made the mistake of buying zucchinis that were way too soft and thin.  I'd recommend large firm zucchinis for your Veggetti (again, this doesn't sound kosher).
Bottom line, the Veggetti is a cheap, space-saving appliance that easily creates noodles from vegetables.  If you're counting calories and you're looking to render your dishes more "guilt-free" you must check this out and see for yourself.
Enjoy…
Zucchini Noodles with Garlic and Olive Oil
4 servings
Ingredients:
3 large zucchinis with tough skins
1/4 cup extra virgin olive oil
2 tablespoons unsalted butter
3 garlic cloves, minced
sea salt and grated Parmesan to taste
Instructions:
Use Veggetti appliance to create pasta noodles from the zucchinis.  Make sure to lay noodles on paper towel and try to force out as much water as possible.
In a medium-size skillet, heat olive oil and butter on medium heat.
Add in minced garlic, Veggetti-made zucchini pasta, and cook for 5 minutes, until heated through.
Sprinkle sea salt and grated Parmesan and eat while hot.