My blending life in the kitchen as been TOTALLY TRANSFORMED ever since I received my NutriBullet!
THIS ISN'T YOUR EVERYDAY BLENDER.
Unlike everyday juicers and blenders, the NutriBullet completely breaks down ingredients into their most nutritious, most absorptive state into one delicious drink.  So, you don't lose any fiber or leave huge chucks of greens in your smoothie.
I have honestly made some of the best tasting single serving "smoothies" with my NutriBullet.
So, what's so great about it?
The NutriBullet is built with a super powerful 600 Watt Motor and comes with not one but two blades:
The all-new Extractor Blade uses bullet exclusive cyclonic action to bust open seeds, crack through stems and shred tough skins!
The Milling Blade's flat blade is ideal for milling grains, grinding fresh herbs and chopping nuts.  The blade is made of stainless steel and never needs sharpening.
The appliance really does support its claim of transforming ordinary food into superfood.
And, the best part, the NutriBullet comes with different sized cups where you make and drink right from the same cup!
There's no mess transferring your drink from a mixer to a glass.  My favorite is the short cup because I make a singe serving and can take it on the go!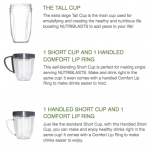 Oh and if it couldn't get any easier, the Power Base of the NutriBullet allows you to simply plug it in, place one of the cups onto the 600-watt base and press.  That's it.
There are NO BUTTONS!
There are NO CONFUSING MANUALS TO READ (yes, that's me screaming from excitement)!
And, for those of use with limited kitchen counter space, no fear, the NutriBullet takes up minimal room.  Forget about those over-sized blenders that are hard to clean.  (Wow, I really do sound like an infomercial).
If you want to see awesome footage of the NutriBullet in action, check it out here!
With your appliance you'll also receive an amazing recipe booklet.  Our family fave so far:
The Cleansing Blast:
1-2 handfuls of spinach
1 cored pear
1 banana – frozen
1 cored apple
1 cup of frozen pineapple
Just dump the ingredients into your NutriBullet and blend for like 10 seconds and VOILA!
So, have I  made you thirsty yet?
What are you waiting for?
Enter to WIN now!
Giveaway Details:

One (1) lucky winner will receive a NutriBullet- the Superfood Nutrition Extractor (A $100 value)

How to Enter
To enter to win, simply leave a comment in the post letting telling me what concoction you'd make with your new kitchen appliance.
Additional (Optional) Entries
To up your chances of winning, you can receive up to FOUR additional entries to win by doing the following (these are optional, not required):
1. Subscribe to My Judy the Foodie by RSS. Come back and let me know you've subscribed in an additional comment.
2. Become a fan of My Judy the Foodie on Facebook. Come back and let me know you became a fan in an additional comment.
3. Follow My Judy the Foodie on Pinterest. Come back and let me know you've followed in an additional comment.
4. Follow @myjudythefoodie on Twitter. Come back and let me know you've followed in an additional comment.
The Fine Print
Deadline: Tuesday, February 19th at 11:59pm EST.
Winner: A winner will be chosen at random using Random.org and announced at the top of this post. The winner will also be notified via email and the My Judy the Foodie fan page on Facebook; if the winner does not respond within 24 hours, another winner will be selected.
Disclaimer: I was not compensated for writing this post. I'm just a HUGE FAN of the NutriBullet. As always, all opinions expressed are my own.