The best part about Mother's Day, besides getting adorable misspelled hand-made cards and breakfast in bed, was the NINJA making serious noise in my kitchen!
Yep, my wish came true.  I received a Ninja, Professional Blender from my family.  And, I've already started creating an endless hit list of dishes that should soon meet the wrath of the Ninja's 6-blade technology- from gazpacho to marinades to chopped veggies to sauces to spreads.  Last year I got hot pink multi-colored Nike I.D. running sneakers and this year I got a sleek black, high-powered blender that's so big, I can't fit it in any of my pint-sized cabinets of my apartment kitchen.   But, that doesn't matter.
My new kitchen appliance is ideal for ice crushing, blending, pureeing and controlled processing with just one touch of a button.  I figured my inaugural dish should be a smoothie. We loved the Pomegranate Smoothie I made for the Secret Recipe Club so why not create another frothy, refreshing, healthy smoothie?
I decided to work with the ingredients I had stocked because I was too eager to get the Ninja working!  A nice blueberry, banana, honey smoothie with flax seed sounded like the perfect drink.  And, based on its review from my child critics, this could be a welcomed addition to our breakfast rotation.
Like any smoothie, there's no skill required for its production.  Just dump all of the ingredients together and push blend.  I used 1 cup of frozen blueberries and one banana but, feel free to increase the amount of fruit for added taste. I also added in a scoopful of flax seed because, why not? Flax seed has many healthy benefits, most notably the boost of omega 3.  But, if you have chia seeds laying around or wheat germ, or whatever, dump some in.  You should feel free to add any additional ingredients to your blender and just taste test the drink you go.  That's the beauty about smoothies, you're the mad scientist with the ability to tweak the potion.
Not surprising, both of my kids gave it the thumbs up and thoroughly enjoyed trying to slurp the clumpy drink through a tiny straw.
This smoothie is just as good as an après afternoon workout drink as it is served for breakfast in the morning.  Take your pick but, I'm sure you will  enjoy.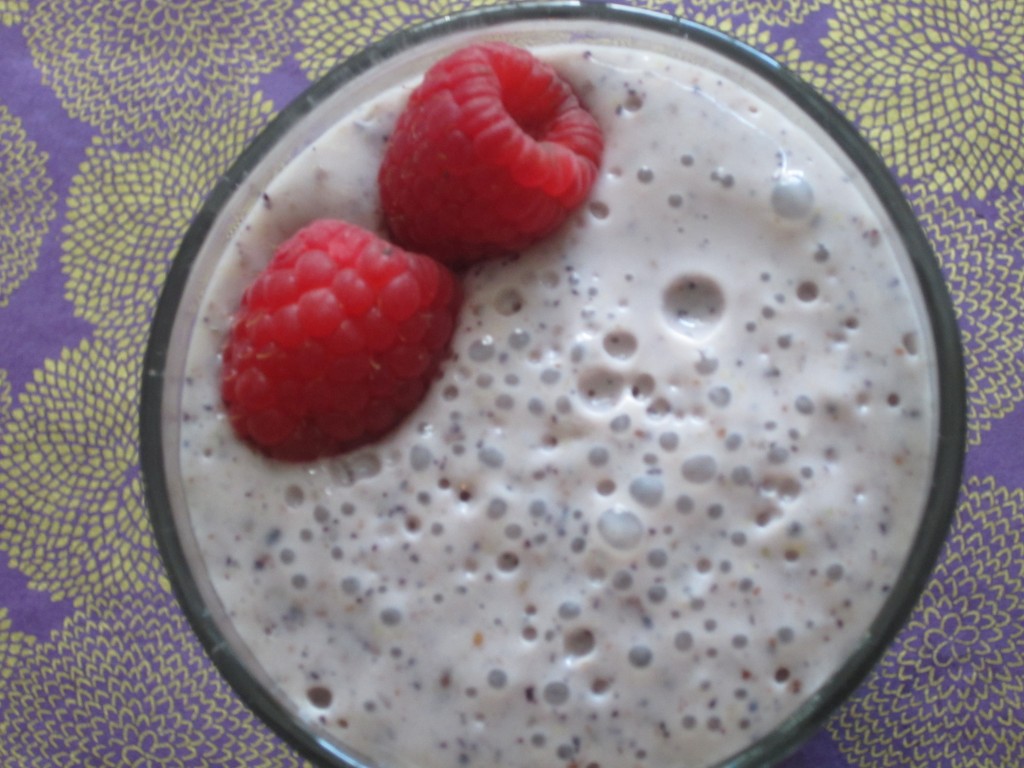 Don't you just want to dive in?
Disclaimer – This post was not sponsored by Ninja!  I'm just a happy momma who got an awesome present for Mother's Day.  All opinions expressed in this post are my own.
Blueberry Banana Flaxseed Smoothie
makes 2 servings
Ingredients:
1 cup frozen blueberries
1 banana
6 ounces plain nonfat plain yogurt
1 tablespoon of honey
3/4 cup unsweetened almond milk (can use reduced fat milk too)
1 tablespoon ground flax seeds
1/2 cup ice cubes
Instructions:
Place your ingredients in the blender and start blending on low speed and then gradually increase the speed until all ingredients are smooth.
Add another 30-60 seconds to add air which makes the smoothie lighter.