Yesterday I worked on a recipe containing 4 ingredients I've never used before:  soba noodles, chilli oil, sesame oil, and rice vinegar.  They may seem pedestrian to you but, they were new to me!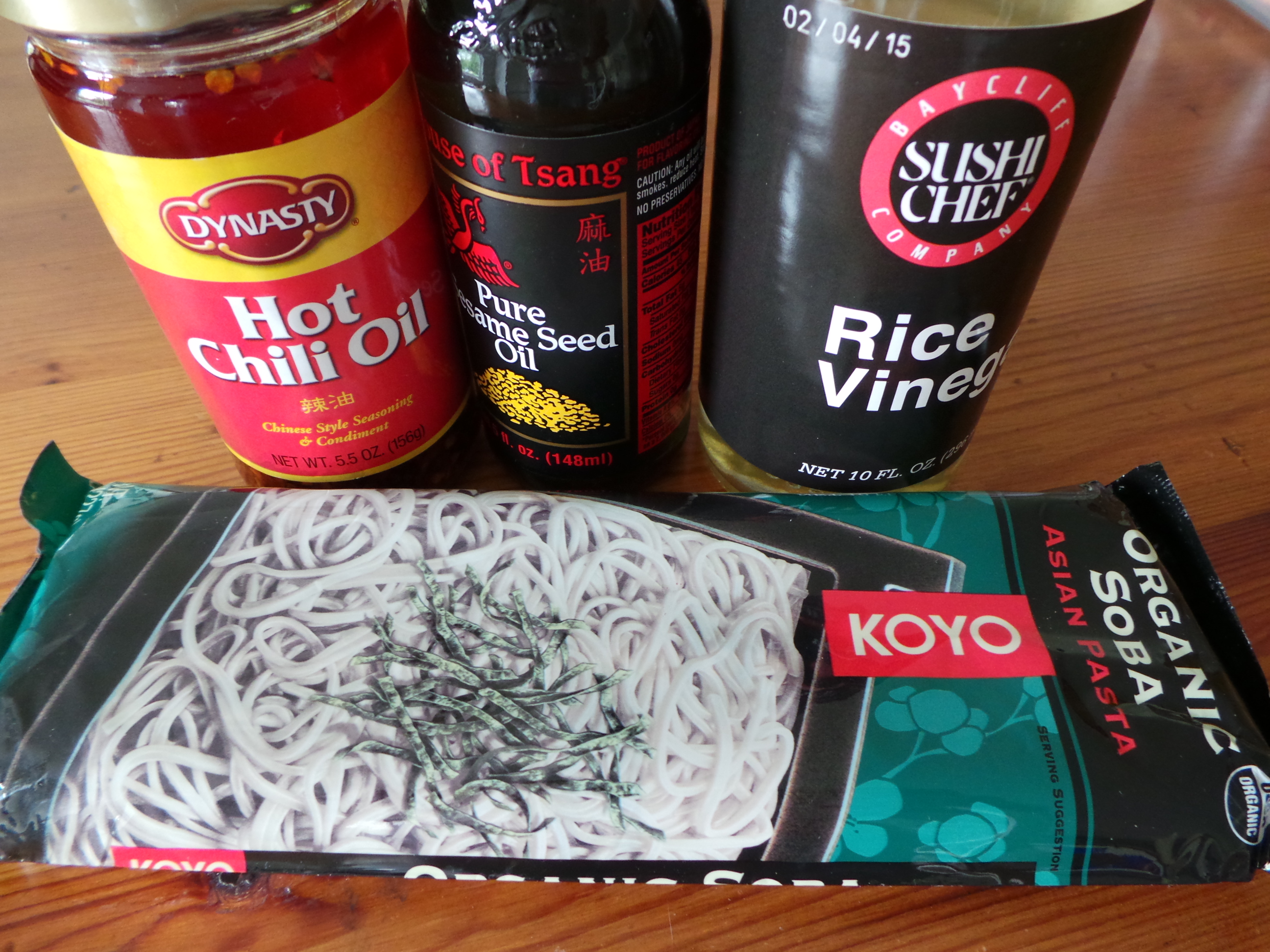 Even though I have been trying to cook new recipes at least 3-4 times per week for the past 2 years, I still don't mind when I'm directionally clueless while seeking out items in the super market; it usually turns me on to other new ingredients.  I had no sense where I'd find the oils as they weren't stocked alongside the regular canola, vegetable, and olive oil varieties.  I  found them in the "Asian Fusion" section and simultaneously got turned onto many other condiments and spices integral to Asian-accented  dishes.
I decided to make a flavorful shrimp dish since we're still overloaded from too much chicken and beef from last weekend.  I found a  Shrimp and Soba Noodles recipe from Good & Fresh magazine that I knew I wanted to adapt.  I had never cooked with soba noodles and had no clue what they were.  (I've now leaned that they're thin Japanese noodles made from at least 30% buckwheat flour and also wheat flour.)
Like most others on this blog, this recipe is super easy and takes less than 30 minute to make.
I decided I wanted to sauté the shrimp in a traditional scampi style instead of boiling them.  I also used the left over sauce from the skillet in which to sauté the broccoli heads- YUM!
The soba noodles took 6 minutes to cook and while they were boiling on the stove, my son and I made the peanut sauce –which he now claims is chief rival to my mom's flank steak marinade!
I chopped the noodles into fork-sized pieces and then added in the shrimp, broccoli and onions.  I omitted the nuts.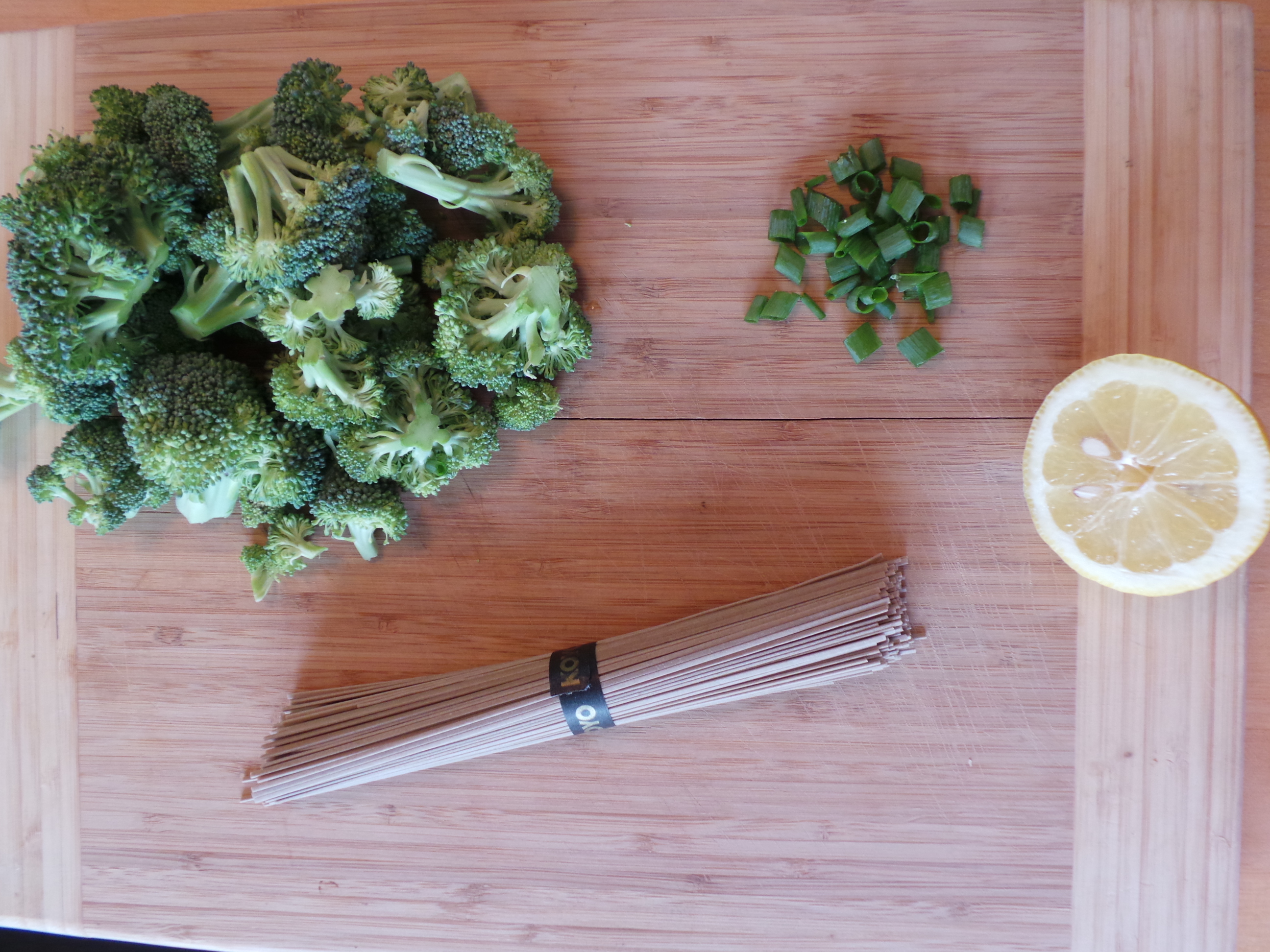 We loved our asian dinner-in-a-bowl!  And, the best part?  The cold leftovers I had for lunch.
Go on and try it for yourself.
Sauteéd Shrimp and Soba Noodles
serves 5 people
Ingredients:
2 pounds fresh or frozen shrimp
2 tablespoons olive oil
2-3 tablespoons butter
3 cloves garlic minced
1/2 cup white wine
8 ounces dried soba noodles
5 cups broccoli florets
1/3 cup cream peanut butter
1/4 cup light soy sauce
3 tablespoons rice vinegar
2 tablespoons toasted sesame seed oil
4 chopped green onions
Instructions:
Heat a large skillet on high heat. Reduce the heat to medium and add the olive oil and butter
After butter is completely melted, add the garlic. When garlic browns a little add the shrimp to the skillet, then add the white wine and stir so that the shrimp is completely coated with the oil butter and win
Increase the heat to high and let boil vigorously for 2-3 minutes.
Flip shrimp over and cook for another minute before removing from pan.  Set aside.
Bring water in a large pot to boiling.  Add soba noodles and cook for at least 4-5 minutes.
While noodles are cooking, add broccoli florets to skillet used to sautée shrimp.  Use left over wine, butter, oil mixture to sautee broccoli for 3-5 minutes on medium-high heat.
In small bowl mix together peanut butter and soy sauce.  Add in vinegar, sesame oil and chilli oil.
Drain noodles and add to bowl.
Add in shrimp, broccoli, green onions.
Pour !peanut butter mixture over top and toss to insure all ingredients are lightly coated.
Enjoy