Sweetheart Bark is the ideal candy for anyone who has experienced the gamut of emotions on Valentine's Day.
Maybe your most intense memories date all the way back to grade school when you exchanged those cheesy VDay cards in those makeshift paper bag mailboxes.
Or, maybe it was a Valentine's Day you spent broken-hearted, alone, cursing the Hallmark holiday.
Or, perhaps it was a Valentine's Day with your loved one, in a romantic place, sharing an unforgettable moment.
Or, maybe your most meaningful Valentine's Day has been as a parent connecting with your children.
Whatever the sentiment, making Sweetheart Bark appeals to the masses:
If you're angry or lonely or frustrated or jilted, crushing the candy hearts with the mallet on your kitchen table can prove to be very very cathartic.
If you're happy and fulfilled you can rejoice in the sweet smelling milk and white chocolate as it slowly melts in your boiler.
If you're sharing the day with your children, you will have a blast pouring the melted chocolate into the molds and dumping the crushed hearts over top.
This candy is kitshy, playful, fun, colorful, tasty and BEYOND easy to make.
With only 2 ingredients and 3 steps, you can't pass this up!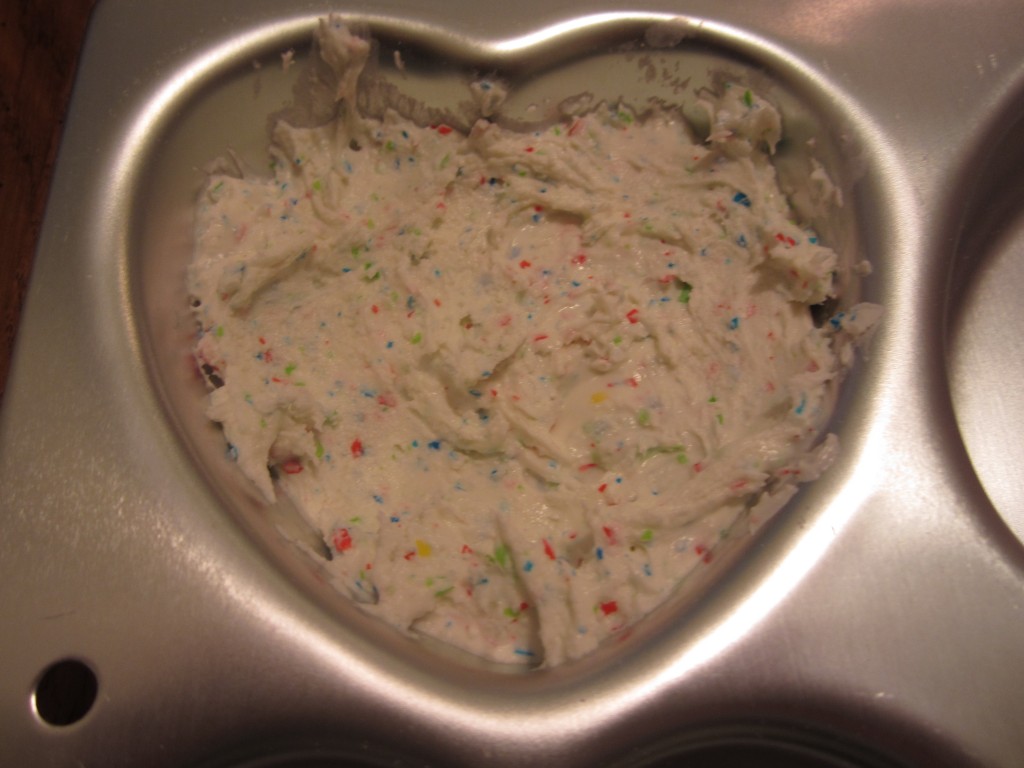 Molds filled with melted chocolate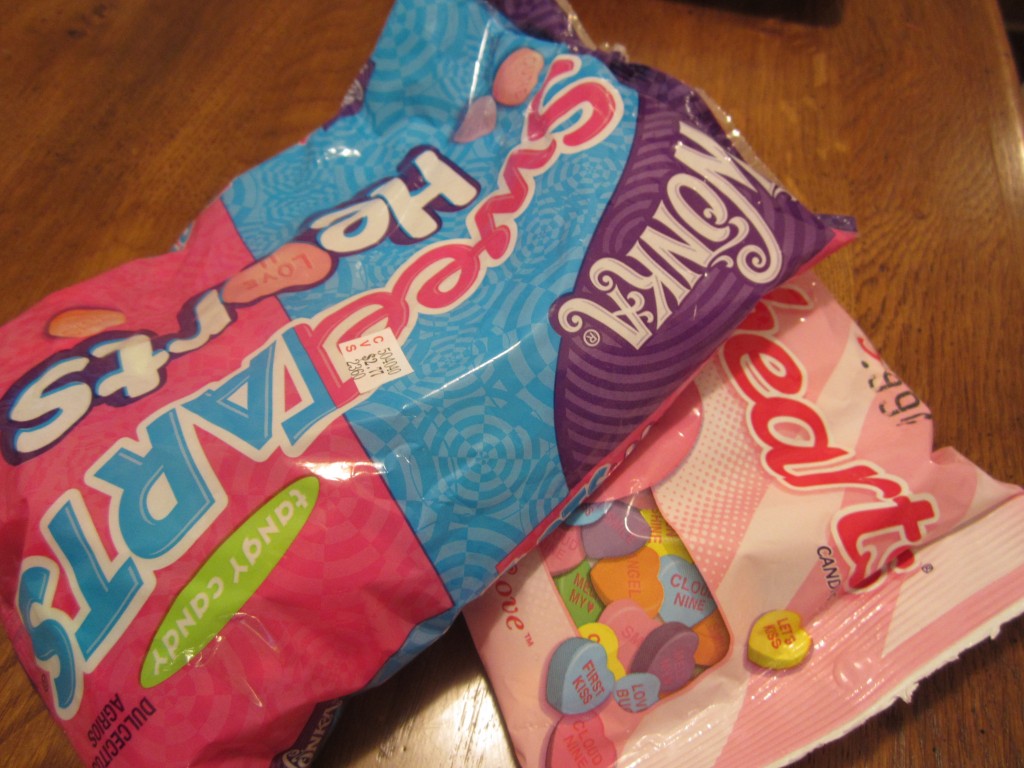 Sweet hearts before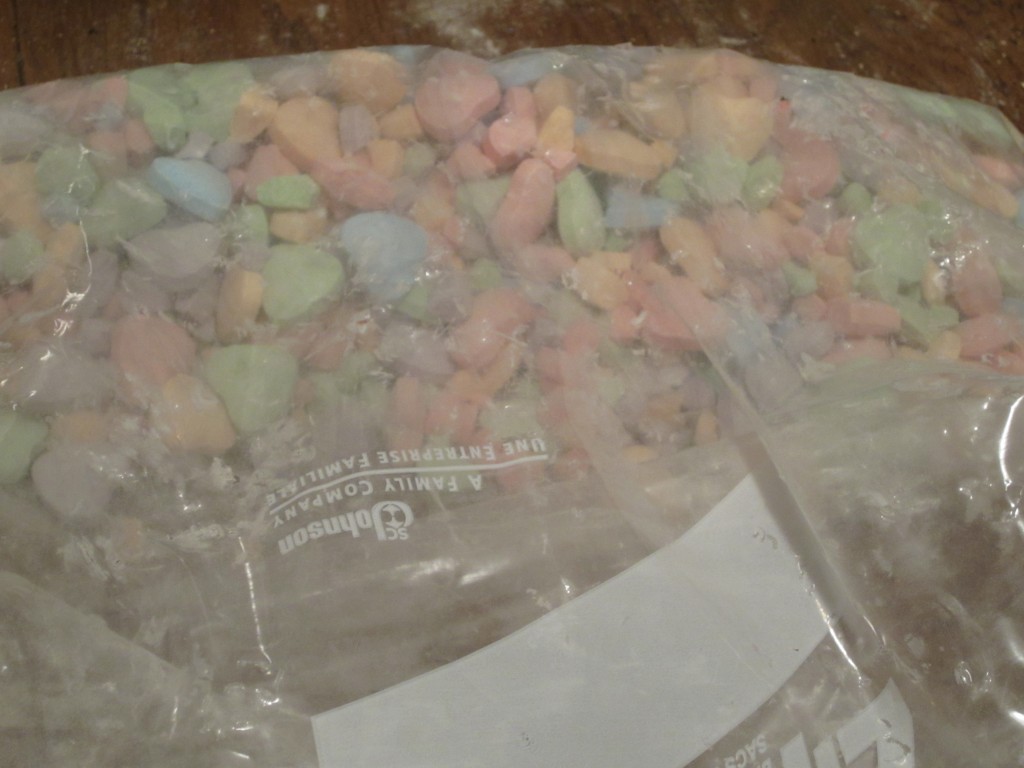 Smashed sweethearts
Valentine's Sweetheart Bark
Ingredients:
1 8 oz. bag conversation sweethearts
1 8oz. bag white and dark chocolate (the higher quality, the better melting potential)
ziploc bag
mallet
heart shaped mold
Instructions:
Empty conversation sweethearts in a ziploc bag.  Break hearts into small pieces with a mallet.
Place broken bits into heart-shaped molds.
Melt chocolate either on a double boiler on the stove top or in a microwave safe bowl in the microwave.  Place in microwave for 1 1/2 minutes, then stir and continue to melt at 30 second intervals until entire bowl is melted.
Pour melted chocolate into molds and fill to top.  Sprinkle extra heart bits on top and place in refrigerator for 1-2 hours or until perfectly hard.
Notes:
I experimented with different brands of white chocolate chips, candy melts from Michael's craft store, and then with white chocolate callets.  I discovered the white chocolate callets melted the easiest over the stove in a double boiler.  I made a make shift double boiler by placing a pot 1/3 filled with water over top the stove.  When the water reached almost boiling I placed a bowl over top the pot and stirred the candy pieces until they melted through.  I used white and milk chocolate for the different hearts but, found the milk chocolate lent a more dramatic appearance against the colors of the conversation hearts.
Make sure when you crush the candy hearts, you place a towel underneath the ziploc bag is it will definitely break and create a mess.