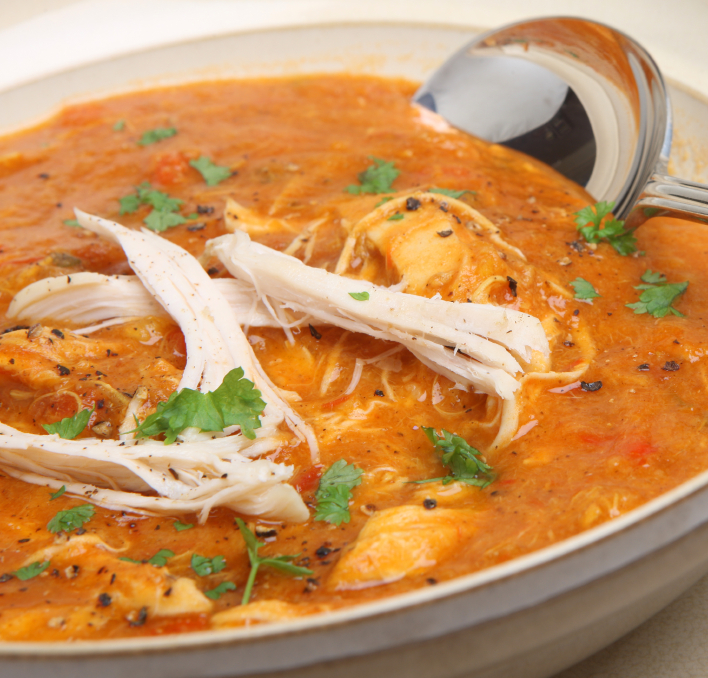 Of course Mom made her own chicken stock. She'd use leftover  bones and skin from a cooked or raw chicken carcass and add in celery, carrots, onions, parsley, salt and pepper to the old worn out stock pot.  The back freezers always had Tupperware "stocked" with her homemade soup base.
I still haven't mustered up the nerve to to make my own stock (yes, I know it looks and sounds easy).  However, I did make the most wonderful Chicken Soup with Roasted Vegetables yesterday to try to ward off another frigid day of sub-freezing temperatures.
This entire week has been so cold outside for some reason I could only find the energy to make comforting, hearty soups for dinner.  My kids never seemed to complain, probably because each soup was served with a very appealing slice of bread for dunking.
This Roast Chicken Soup recipe is beyond simple to throw together.  I adapted the recipe from Danielle Walker, author at Against All Grain.  I only used the ingredients I had on hand in my kitchen because there was absolutely no way I was going to venture outside until I was forced to pick up my kid from school.  The recipe originally calls butternut squash cubes but I substituted some butternut squash soup base in place of the cubed version, and I used two cups of crunchy kale in place of spinach.
This soup is wonderfully tasty and there were no leftovers.  Not even for me. Feel free to throw in any of your favorite vegetables.  Next time around I'm going to add in some sugar snap peas and baby broccoli florets.
Hope you enjoy.  And, don't forget a nice piece of bread too.
Roasted Chicken Soup with Vegetables
recipe adapted from Against All Grain
Serves- 4-5
Ingredients:
3 garlic cloves, minced
2 carrots, peeled and cubed
1 cup peeled and cubed butternut squash
1 cup butternut squash cubes or 1 cup cream of butternut squash soup
1 sweet potato, peeled and cubed
¾ small yellow onion, quartered
2 tablespoons EVOO
4 cups chicken stock
1 pound uncooked chicken breasts
¾ teaspoon dried parsley
1 teaspoon salt
1/3 teaspoon dried thyme
½ teaspoon rosemary
1/3 teaspoon dried oregano
¼ cracked cracked pepper
 ½ cup water
2 cups crunchy kale
Instructions:
In skillet toss vegetables in olive oil and sprinkle with salt and pepper. Roast for 20 minutes until the vegetables are soft.
Meanwhile, bring the chicken stock to a simmer in a large stockpot.  Add chicken, herbs, salt, and pepper.  Cover and cook for approximately 40 minutes or until chicken is cooked through and tender enough to shred with a fork.
Add half the vegetables to the soup and place the other half in a blender (put all the onion quarters in the blender).  Puree the vegetables with 1/2 cup of water.
Add the vegetable puree, butternut squash soup (if using) and kale to the soup and simmer for approximately 8 minutes.
Add seasonings and enjoy!