It's finally feeling like mid-fall here on the east coast – crisp cool days, fleeces, warm drinks, blankets on the beds.
November always kicks off my season of slow cookery.  If you've been following the blog, you know I've got lots of slow cooker recipes from which to choose.  From slow cooked steel cut oats to apple butter to tortilla soup, I've rolled up my sleeves and delved into the slow cooker world without fear.  I simply can't believe that two years ago I had never worked with a slow cooker, and had no idea about the time-saving benefits to this appliance.
This past week I had two families over for a casual dinner. However, it was was the end of a loong week and I was tired.  I certainly wasn't in the mood to cook so, I figured I'd just order a couple of pizza pies and throw together a Caesar salad and be done.  But, I had seen a Chicken Chili slow cooker recipe that looked so simple and tasty I had to give it a try!
Lucky for me, I was stocked with all the ingredients in the recipe except for Rotel.  I admit that I had to perform a quick internet search for the definition of Rotel—a mixture of diced tomatoes and green chilies.  When I canvassed my friends on Facebook, to see just how many were familiar with Rotel, only my true Texan friends said, "but of course."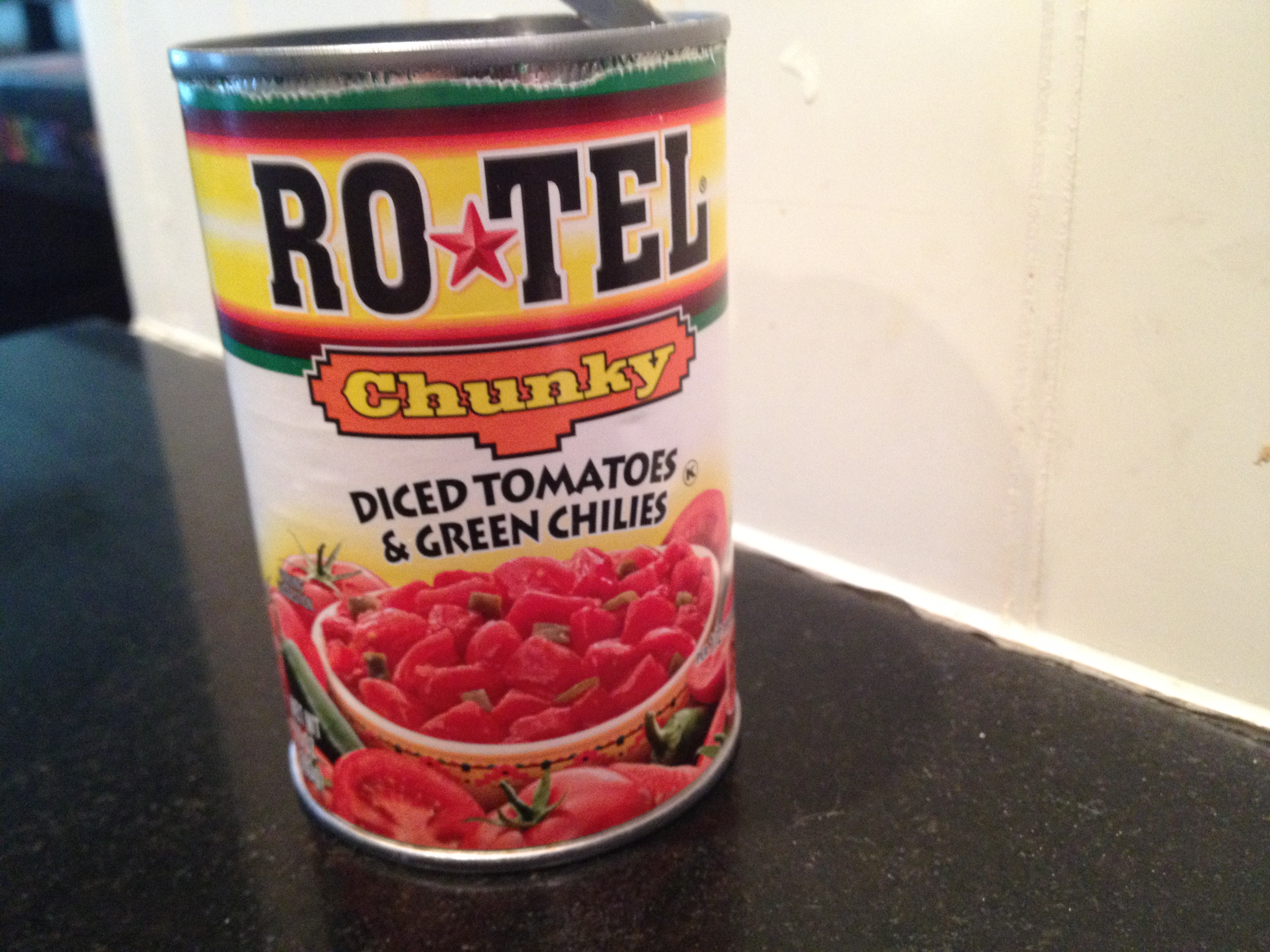 Thankfully, living in NYC, I didn't have to travel too far to find this elusive can of tomato/chili goodness but, apparently it's not available mass market so you might have to improvise and make your own.
When you read the recipe, you'll probably smile when you realize you literally don't need to do ANYTHING except throw the ingredients into your slow cooker, put it on low and go about your day.  I'm serious.  No slicing or dicing or frying.  There's nothing easier than that.  I did tweak the recipe by adding a ¼ cup of chicken broth for flavoring but, that was it.
After 6 hours on low, you'll walk into your home wafting with the comforting smells from your slow cooker only to find a completed meal waiting to be eaten.  Now if that's not hassle-free, I don't know what is.
I did enhance our Chicken Chili experience with some sourdough boule. I made soup bowls and scooped the chili in to the center for some fun single-serve portions.
My kids and husband loved this dish so much that I made it again, last night, only two days after its debut.
I hope you'll enjoy this dish as much as we did.
Slow Cooker Chicken Chili
adapted from Plain Chicken
serves 5-6
Ingredients
3 chicken breasts
1 can black beans
1 can corn, undrained
1 can Rotel, undrained
1 package ranch dressing mix
1 tsp cumin
1 Tbsp chili powder
1 tsp onion powder
1 8 oz package cream cheese
1/4 cup chicken broth (optional)
Instructions:
Place chicken at bottom of pot.
Drain and rinse black beans and pour beans, whole can of corn (undrained), rotel, and chicken broth over top.
Sprinkle with seasonings and ranch mix. Stir together.
Place cream cheese on top.
Cover with lid and cook on low for 6-8 hours. Stir cream cheese into chili.
Use 2 forks to shred chicken. Stir together and serve.