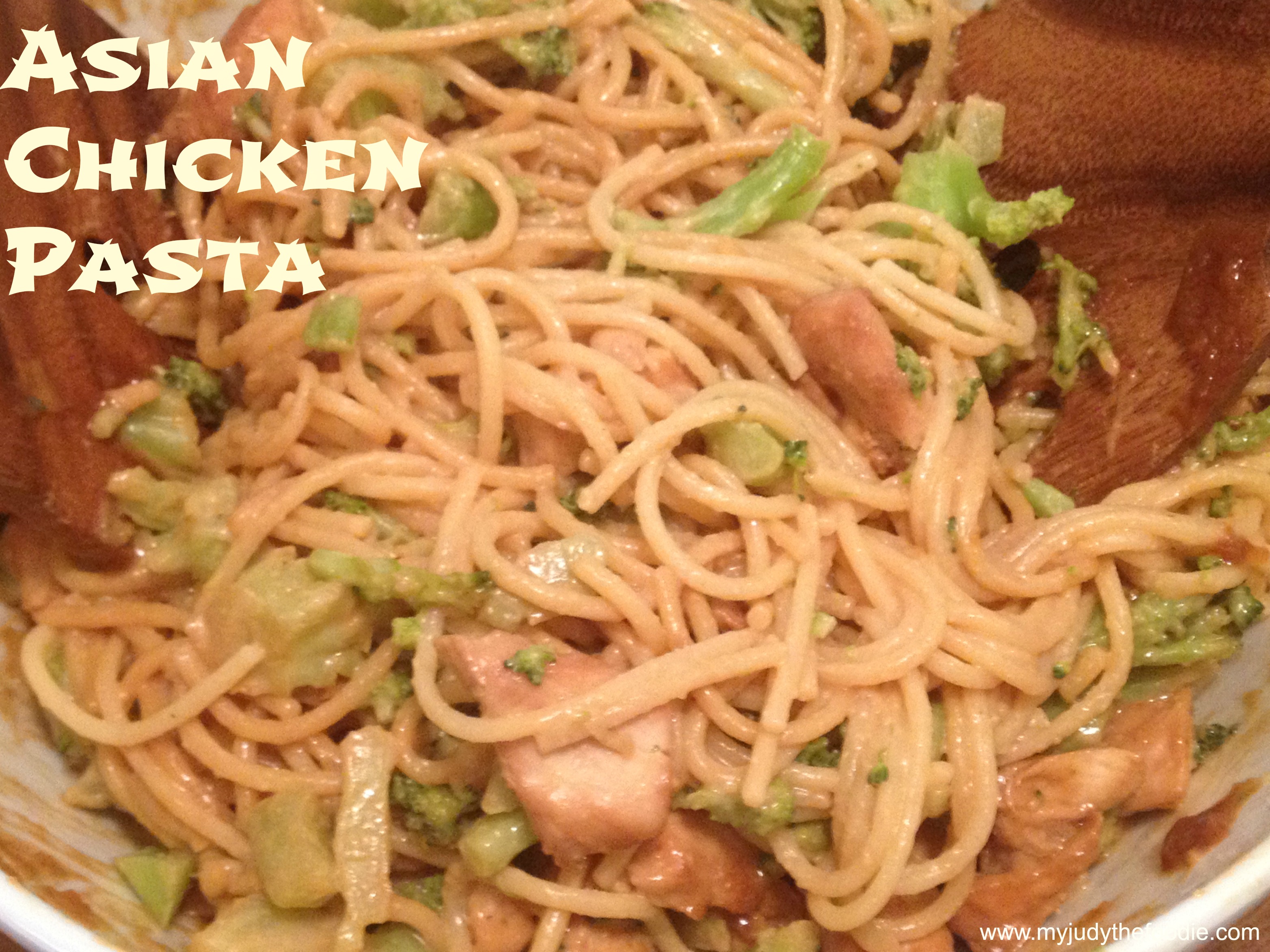 My mom was such a great cook, it felt like she was never in a bind to come up with something delicious for dinnertime.  Every dish that graced our table seemed labor-instensive, as if she struggled for the better part of the afternoon over the preparations.  At least, that's how I remember our meals.  On the contrary, mom was always working one job, and maybe one job plus a side business, so I know she was probably totally jammed after work and before dinner.  And, my dad was always home for meal time expecting a home-cooked meal so I'm certain she never really cut any corners.
Last night,  I was in a major crunch to get out the door for an event and I was desperate for a dish that I could make quickly and leave for the kids and a baby sitter for when they got home.
I'm not a huge fan of serving pasta for dinner because I have my suspicions that at least one of my kids might default to pasta for school lunch every day.  But, this Asian Chicken Pasta dish is quite tasty, very easy and definitely filling.  The bold ginger and soy flavors make it reminiscent of pad thai and, although it uses some salad dressing, it tastes like it comes out of a five star restaurant.
Definitely put this on your weekday "To Make" list.  It's wonderfully delicious.
Asian Chicken Pasta
taken and tweaked a bit from the infamous  Domestic Chicky
serves 4-5
Ingredients:
1 bag of frozen broccoli florets
1 pound boneless skinless chicken breast, cut into small cubes
2 tablespoons sesame oil
one box of pasta of your choice (I used thin angel hair spaghetti)
Sauce:
1/2 cup Asian Toasted Sesame Dressing (there are many different brands- I used Auntie Anne's organic)
1/4 cup peanut butter (your choice again but, I used crunchy)
1 teaspoon minced garlic
3 tablespoons soy sauce
1 tablespoon Siracha (optional)
Instructions:
Put pasta in a large pot of salted boiling water.  Add broccoli about 2 minutes before draining.
Saute chicken cubes in oil on heated skillet.  Mix sauce together in a small bowl and add to chicken when it's cooked through.
Combine pasta, broccoli and chicken, stirring until heated throughout.
Enjoy!