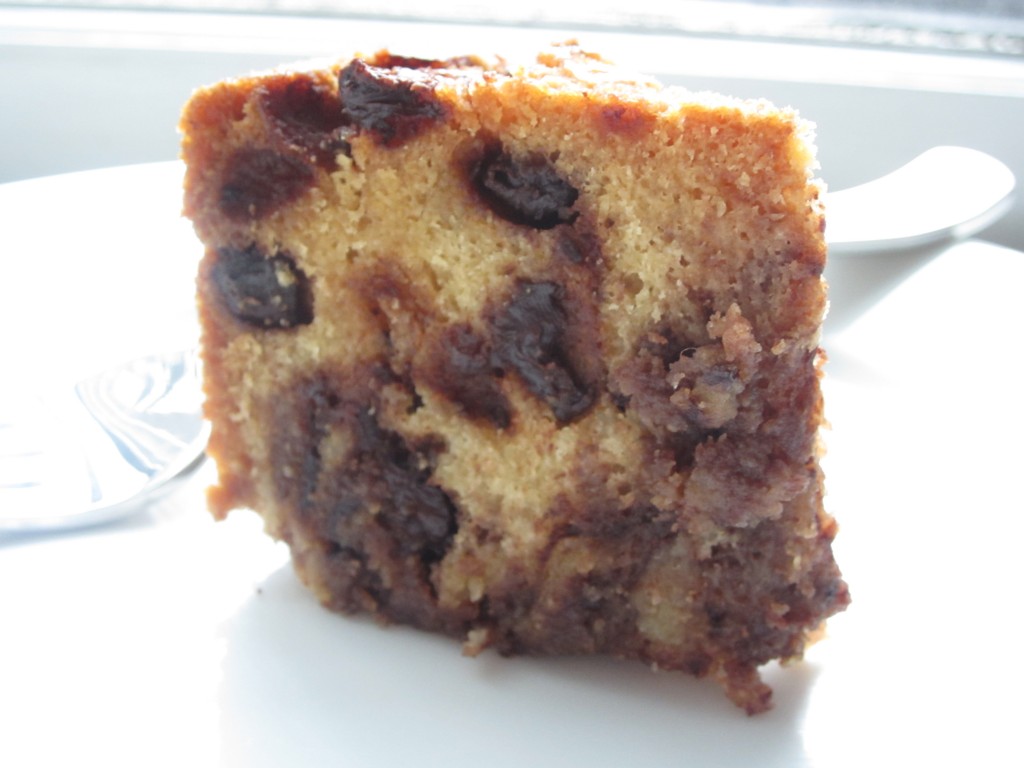 Cake in a slow cooker?  Sounds a bit strange right?  I mean, my adventures with my slow cooker have only featured stews and soups and chillis.  It's hard to imagine "slow cooking" a cake.  Now, imagine slow cooking a pound cake!  I can count on one hand the number of times I've eaten pound cake in my lifetime (I mean, we call it Pound Cake for a reason). And, I'm certain most of those cakes were of the pre-packaged variety: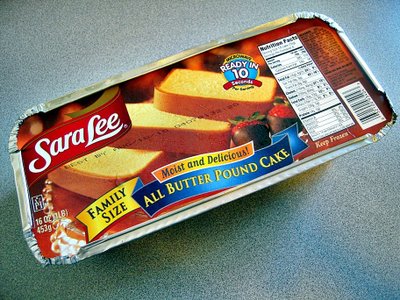 But, when I came across this recipe over at The Naptime Chef, I just had to try it! It's first appeal for me is the slow cooker. Remember, anything involving the slow cooker means it's going to be a lot easier to prepare because the slow cooker does most of the heavy lifting.  All you have to do is throw the ingredients together in the porcelain pot and let the cooker work its magic. You don't even have to stand around and wait.  Second, anything with Nutella as an ingredient always perks my interest.  Last week we made Nutella Peanut Bars for Valentines, this week we're making Pound Cake with Nutella Swirl.  Honestly, what could sound more heavenly?
And fattening….
Obviously, this particular cake is not suitable for anyone still devoted to uphold their New Year's Resolutions of no desserts or healthy eating.  If you even glance at the recipe, 2 sticks of butter and 6 eggs would send most people running for the hills.  And quite honestly, I wouldn't opt to eat a pound cake myself but, I knew my kids would LOVE it.  And, they really don't eat too many sweets during the day so I figured this cake would be a nice big sugary treat for them.
Baking this cake revealed another kitchen "first" for me too.  One ingredient I didn't have stocked in the pantry is Cream of Tarter.
Cream of Tartar – NOT FOR FISH!
I had never heard of Cream of Tarter and of course headed straight for the fish section at the grocery store searching for tartar sauce or its equivalent.  To my surprise and embarrassment, the fish expert sent me to the spice section at the other side of the store.  I was certain he had made a mistake and felt foolish for the wild goose chase.  But, sure enough, in the midst of the myriad spice bottles, I found the bottle of Cream of Tartar.  I now understand that Cream of Tarter is essentially an acid salt that is used as a major component in baking powder to help insure baked goods will rise.
So, after my quick spice lesson and lots of cracked eggs, I happily dumped the batter in the slow cooker.
That was too easy.  Next step, three heaping tablespoons of nutella to be swirled within the batter and then, you're done.
For the next three hours, your pound cake will start to take shape in the crock pot as you absorb the insane buttery sweet aromas.
Our pound cake cooked for 3 1/2 hours and was ready right in time for dessert.  Unfortunately, like most everything cooked in the crock pot, the finished product doesn't lend the most beautiful presentation.  I wish I could've placed the caked on a cake stand and centered it in the middle of the table.  Instead, I had to essentially cut and scoop slices out from the crock as if I were serving bread pudding.  But, looks don't matter.
Served this dense cake warm with a heaping scoop of vanilla ice cream and you'll get smiles all around.
The best part?  It's portable.  Have to go over a friend's house for dinner, take your porcelain pot with you and share the pounds!
Slow Cooked Nutella Swirl Poundcake
Ingredients:
2 cups all-purpose flour
1/2 teaspoon cream of tartar
1/4 teaspoon kosher salt
1 cup unsalted butter
1 cup granulated sugar
6 eggs
1 tablespoon vanilla extract
2 tablespoons nutella
1/2 cup chocolate chips
1 teaspoon honey
Instructions:
1. Spray in the inside of a slow-cooker insert with cooking spray. Stir together the flour, tartar and salt in a small bowl and set aside.
2. Melt the butter in a large bowl and stir in the sugar and vanilla extract. Stir in the eggs. Then add the flour mixture until just combined. Stir in the chocolate chips and honey.
3. Pour the mixture into the slow-cooker and spread it evenly with a spatula. Dollop the nutella on top of the batter and use a butter knife to swirl it into the batter. Cook on high eat for three hours, or until a cake tester comes out clean.
Notes:  I would cut the spoonfuls of nutella down to 2.  The cake is extremely dense and rich and too much nutella combined with the 1/2 cup chocolate chips is super super sweet.  It also makes it difficult to determine when the cake is ready.  I kept putting the toothpick in the middle and it kept coming out smeared with nutella so it looked as if the cake wasn't baking in the allotted 3 hours.
Know your slow cooker,  After 3 hours check the batter with a toothpick.  Many slow cookers will require 3 1/2 hours bake time.
The extra chocolate chips could be optional.