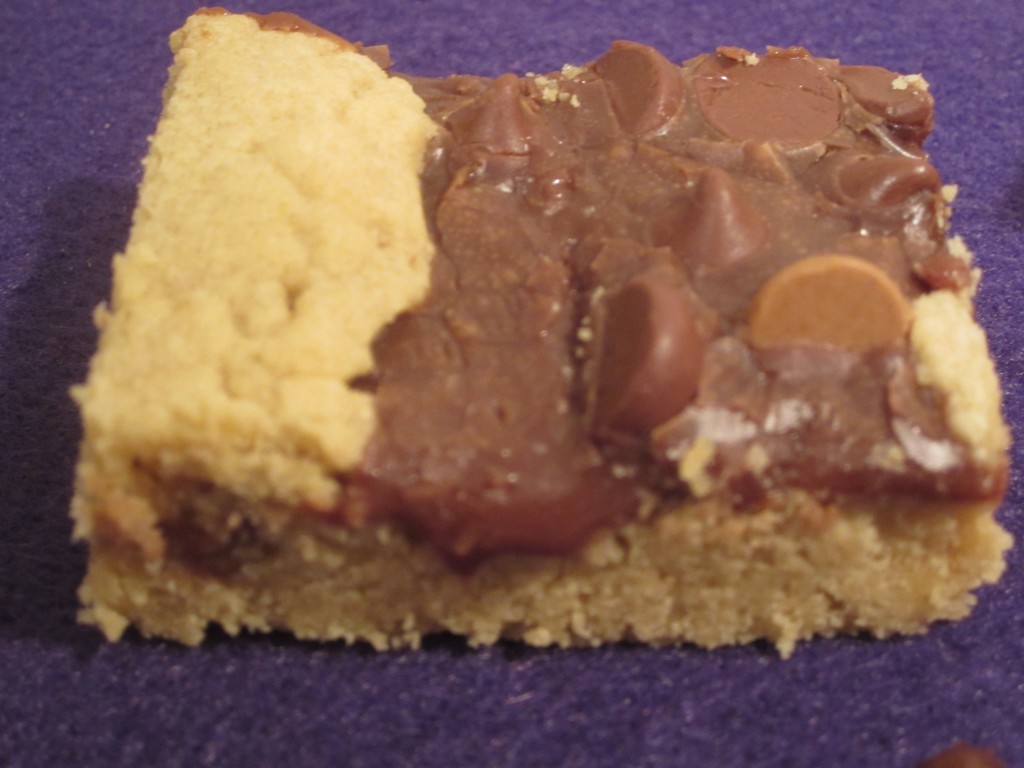 If you're going to break all those New Year's resolutions for Valentine's day, you should definitely do it while eating Nutella Peanut Bars. Last week we celebrated National Nutella Day all week long.  We remade our favorite homemade nutella, ate nutella and challah for breakfast, enjoyed nutella and strawberries for snacks, and we earmarked this amazing nutella-based sweet from Country Momma Cooks to bake for Valentine's Day.
Valentine's Day was the only holiday for which Mom didn't seem to feel the need to bake or cook.  Like most everyone else, she'd pick up her Hallmark cards for us us and a big bag of conversation hearts and we'd spend the night together professing our love for each other (or at least that's how I remember it.)
Desserts containing generous portions of Nutella combined with sweetened condensed milk and peanut butter chips are not appropriate for anyone without a very prominent  sweet tooth.  These bars are sinfully sweet, so sweet you might only be able to eat just one, especially if they're still warm from the oven.  They're simple to make, only requiring 10 minutes prep time and a total of 20 minutes baking time.   Walk into a party with these sweets and you'll definitely garner attention and get credit for baking something "different" – a nice diversion from the over-served brownies.
I've baked these bars twice in two days.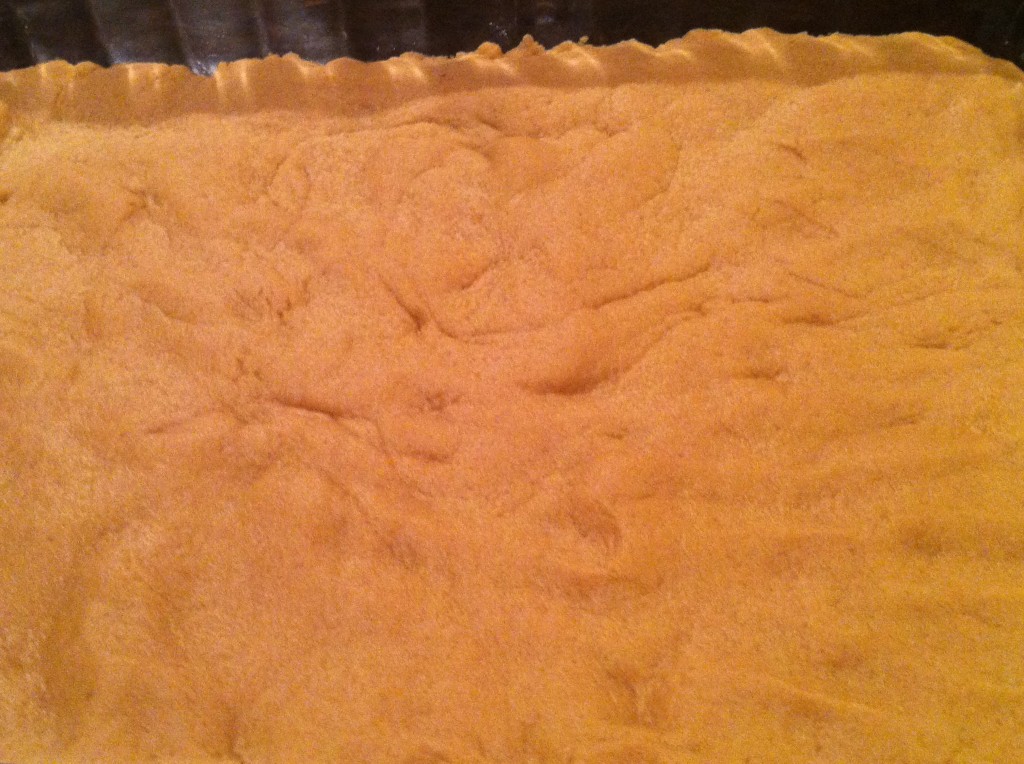 Base layer dough with pudding mix
Layer 2: Nutella and peanut butter chips
The original recipe calls for banana pudding mix to be added to the "cookie" part of the bar.  While an interesting twist, I'd recommend using vanilla pudding mix to appeal to more people.  I'd also reduce the amount of condensed milk from one 1 can to 1/2 a can to reduce some of the overwhelming sweetness.
The bars are just as good soft and goey, fresh from the oven as they are having been frozen and hardened or hours.  It's a matter of personal preference.  We opted for the frozen version since the nutella tends to melt very quickly at room temperature.
Just remember to cut your bars into very small pieces so you can mentally prolong your enjoyment.  My kids ate three to four pieces in one sitting alone.
You'll be amazed at how quickly these will get devoured!
Nutella Bars
makes 18 bars
Ingredients:
2-1/3 c. all purpose flour
1 tsp baking soda
1/2 tsp. salt
1 c. unsalted butter(softened)
1 c. brown sugar
1-3.4 oz package banana cream pudding mix
1 egg
1 tsp. vanilla
1-12 oz package peanut butter baking chips
1- 14 oz can sweetened condensed milk
1/2 c. Nutella
Instructions:
Preheat oven to 350 degrees
1.  Mix flour, soda and salt in a bowl and set aside.
2.  In a large mixing bowl cream together butter, sugar and dry pudding mix.
3.  Add egg and vanilla stir until smooth.
4.  Add flour mixture to butter mixture, mix until thoroughly combined.
5.  Press half of the dough into a 9×13″ cake pan.
6.  Bake @350 degrees for 10 minutes.
7.  Blend sweetened condensed milk and Nutella together set aside.
8.  Remove pan from oven and spread sweetened condensed milk/nutella mixture
over the top, then sprinkle with peanut butter chips. Now spoon the remaining
dough on top in small mounds.(Not completely covering)
9.  Bake and additional 10-12 minutes until golden brown.
Notes:
I substituted vanilla pudding mix in place of the banana mix.
I used half a can of sweetened condensed milk instead of the full can.
The second time around, I used a mixture of peanut butter chips and chocolate chips to reduce the peanut flavor.