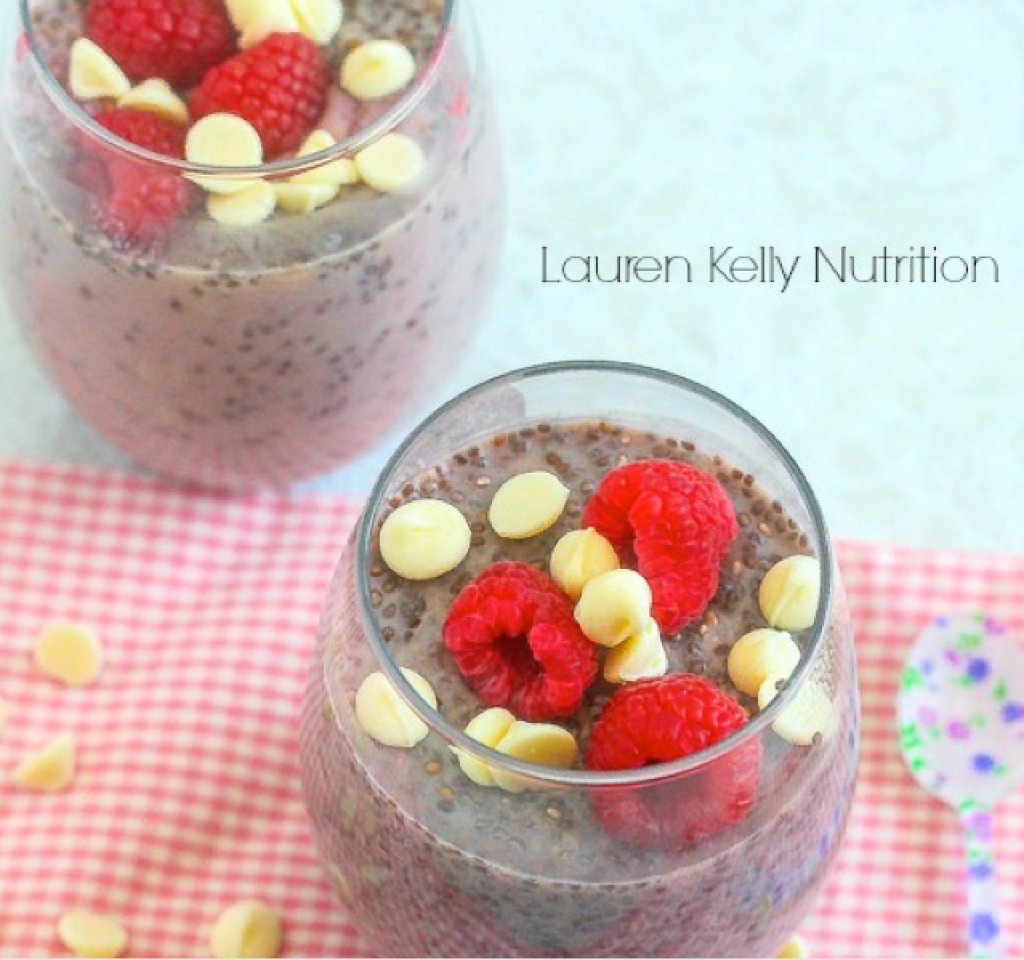 Let's celebrate spring with a nutritious chia pudding recipe that's ideal for breakfast, a snack, or even dessert.  Lauren Kelly, ofLauren Kelly Nutrition Lauren Kelly Nutrition, is sharing her delicious recipe for White Chocolate Raspberry Chia Pudding.
Here's what she has to say:
I know many people are trying to reduce dairy in their diets due to it being inflammatory in our bodies. Replacing regular milk with Almond Milk is a simple way to do this! I use Unsweetened Vanilla Almond Milk for most of my recipes, including my overnight oats, smoothies and chia puddings. I am not dairy free, but I do like to keep a proper balance of most food groups.
Too much of anything is not good for you, and many people eat too much dairy. I use Silk Almond Milk because it has more calcium than regular milk, as well as fewer calories and great taste. Silk is also gluten-free, plant based, verified non-GMO, Carrageean free and contain no artificial colors or flavors. There's no guilt in this almond milk, people!
I usually make 5 or 6  servings of this recipe and keep them in the refrigerator for the week. It's nice having healthy snack optins readily available in the refrigerator so you're not tempted to eat something that isn't "good for you."
Enjoy!
White Chocolate Raspberry Chia Pudding
Author:
Lauren Kelly Nutrition
Recipe type:
breakfast, dessert, snack
Who says desserts can't be healthy AND delicious? This chia pudding is packed with antioxidants, protein and fiber and takes just a few minutes to make.
Ingredients
4 tablespoons chia seeds
1 cup Silk unsweetened Vanilla Almond Milk
1 teaspoon 100% maple syrup (optional)
1 cup raspberries, pureed
1 teaspoon pure vanilla extract
2 tablespoons white chocolate chips ( I used vegan white chocolate chips)
Instructions
Place all of the ingredients in a small bowl and mix well.
Cover with a lid.
It may look watery, but allow it to sit overnight (or at least a few hours) for it to thicken.
Top with additional chocolate chips and raspberries if desired right before serving.
Enjoy!