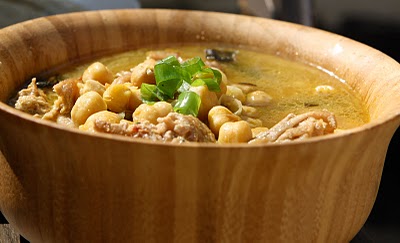 It's Seriously Soup day today, featuring one of my favorite bloggers, Serena, who authors a blog called Seriously Soupy.  Serena started Seriously Soupy as a creative outlet for herself after her first daughter was born, which combined her passion for cooking with an interest in learning more about soups and soup making.  Since it started, she has given soup tours and taught soup classes and has a catalog of over 100 soups on the site!  You can join Serena on her Soupy journey at SeriouslySoupy.com and twice a month you can find her here, at My Judy the Foodie, sharing her wisdom and helping demystify the world of soup.
I'm thrilled to have Serena submitting for us today since there's yet another winter storm upon us in the northeast and more forecast for later this week.
Here's what Serena has to say:
With this wintry weather, I can only think about staying warm with a nice bowlful of soup. A few months ago I made Hummus Soup, three ways, where I experimented with the concept of hummus in soup form. What resulted was a unique combination of soup ideas including an Eggplant and Hummus Soup, Roasted Red Pepper and Hummus Soup and this Turkey and Chickpea Stew.
Providing a great source of protein, the hummus and turkey also feature a unique flavor combination that, at its base, features chickpeas, tahini, lemon juice, and garlic.
Enjoy and stay warm!
Turkey and Chickpea Stew
Ingredients:
1/2 package of ground turkey (or whatever meat you prefer)
2 cloves of garlic, minced
fistful of scallions, chopped
2 tablespoons of olive oil
1 clove of fresh ginger root, minced
1 teaspoon of red pepper flakes — add more for a spicier soup
pinch of salt
pinch of pepper
hummus soup (broth and whole chickpeas) — don't blend.
Instructions:
Add olive oil, scallions and garlic to a frying pan, along with ginger and red pepper flakes.
Let cook for a minute or so and add the ground turkey.
Add the tahini, salt and pepper and cook – checking on the turkey periodically.
Turn off the flame and add the turkey to a bowl. Pour the broth from the hummus soup and chickpeas into a bowl — since this is a chunky stew, I didn't blend the hummus.