I'm sure many of us are aware of Life is Good®, the apparel-based accessories and lifestyle brand known for its optimistic T-shirts and hats featuring the smiling stick figure named Jake.  They donate 10% of their net profits to children in need too.  I have a few t-shirts myself; they're upbeat, bright, and always bring a smile to my face.
This past Thursday, Life if Good spread its good vibes to Penn Station with the "Life is Good Loft. "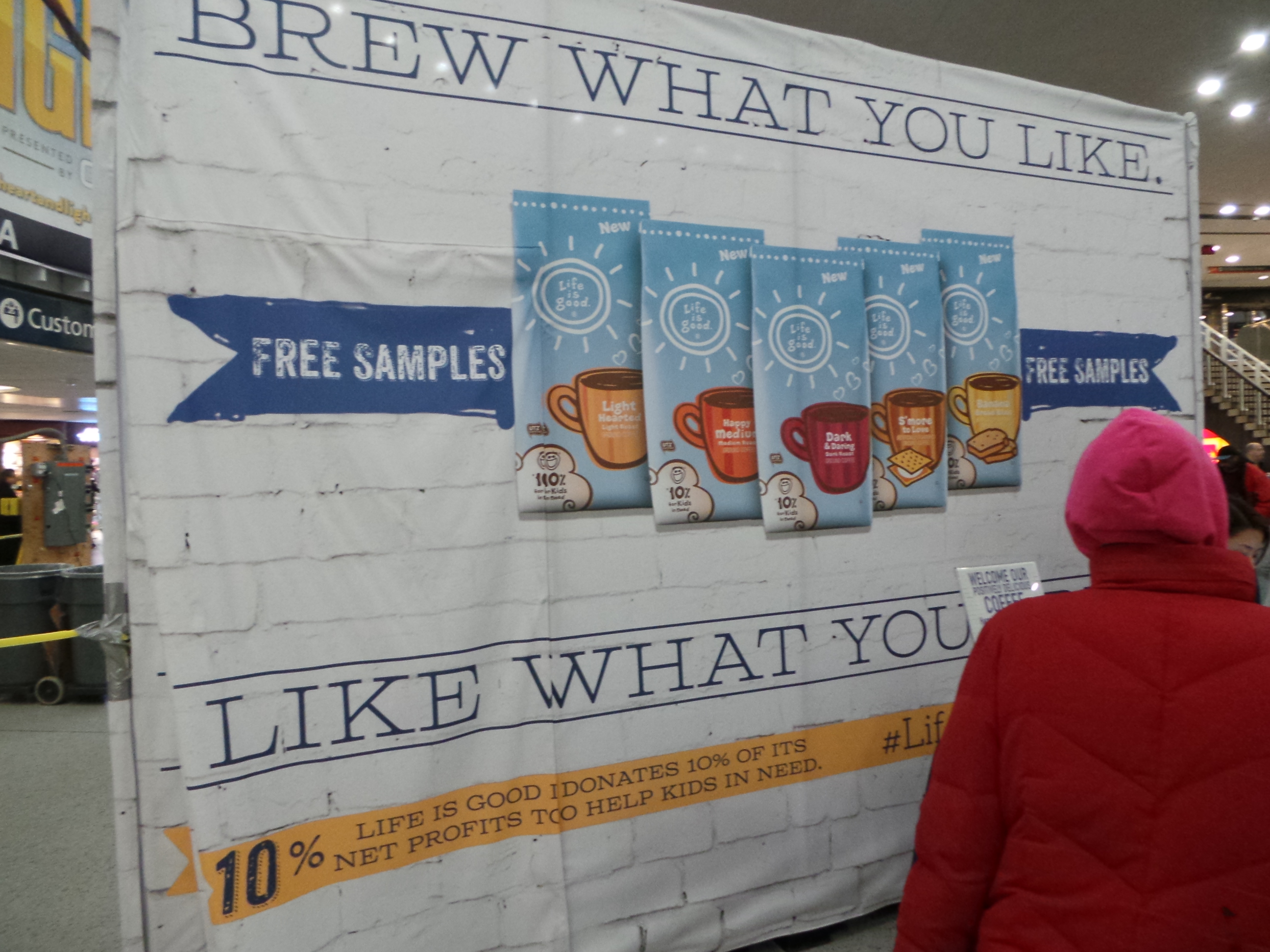 The Loft helped more than 8,000 people greet the stressful morning commute with delicious coffee, instant prizes and $1 off coupons for future Life is good Coffee purchases!
Life is good has partnered with the iconic J.M. Smucker Company to bring coffee-lovers new home-brew options consisting of 5 delicious flavors:
Light Hearted – A smooth, mild, light-bodied taste is the perfect way to start the day.
Happy Medium – A harmonious compromise of light and dark roasts crafted to help you find and savor a deliciously even state of mind.
Dark & Daring – A big and bold blend that knocks your socks off.
S'more to Love – A rich campfire classic that features melty chocolate, graham cracker and fluffy marshmallow flavors.
Banana Bread Bliss – A surprising blend of bananas and brown sugar that delivers the comforts and coziness of home.
I have to admit, I am not a coffee drinker at all.  But,  I did hang out in the lounge in Penn Station and reluctantly tasted the Banana Bread Bliss at the urgency of a complete stranger.  It was wonderfully tasty with an unusual hint of bananas.
What a way to start the day.
Know that Life is Good coffee retails for $7.99 for an 11oz. bag and is available at grocery stores nationwide and at Lifeisgood.com.