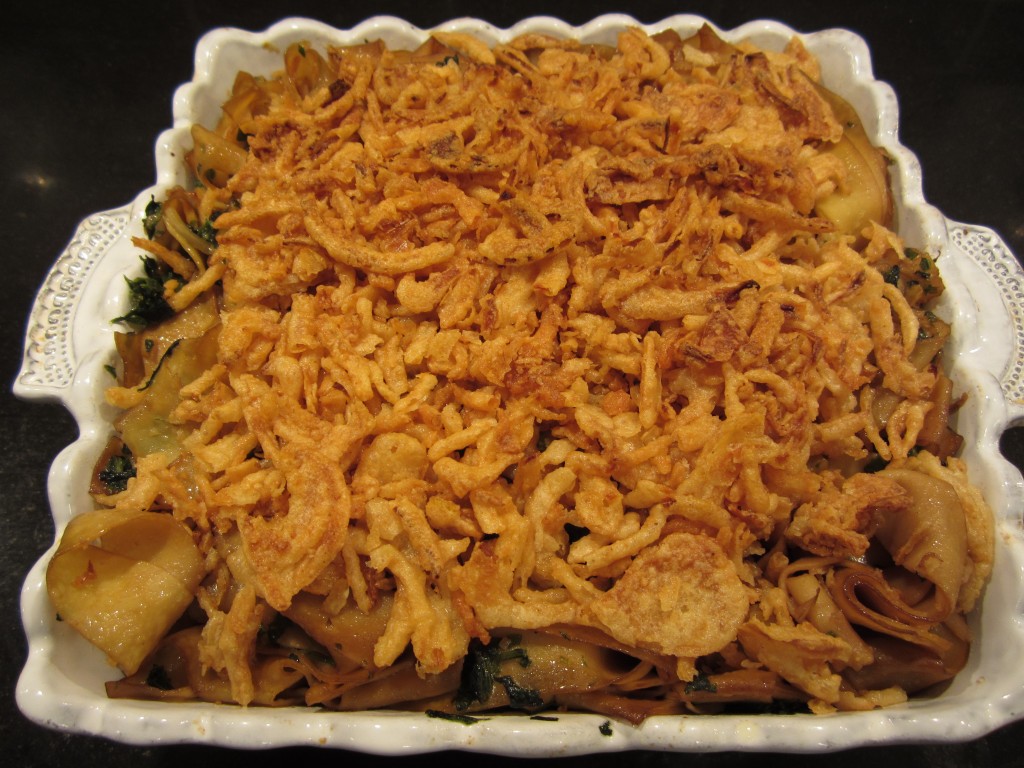 I've realized that since I've been on my comfort food kick these past two weeks, I've never saved more money at the grocery store, partly because all I've been cooking are Mom's casseroles which are extremely economical.  Between the rice or noodles, the veggies and the canned soup, each casserole I've cooked has cost me under $15 in ingredients (except for the Seafood Casserole), takes less than 1 hours of  prep time and, it can feed at least 6 people in one sitting!  Now,what could be better? Cheap, hearty, tasty and easy to make.
I came across one casserole recipe that peaked my curiosity:  Mom's Noodle and Coffee Casserole.  It calls for 2 cups of brewed rich coffee to be mixed with the noodles and onion soup mix.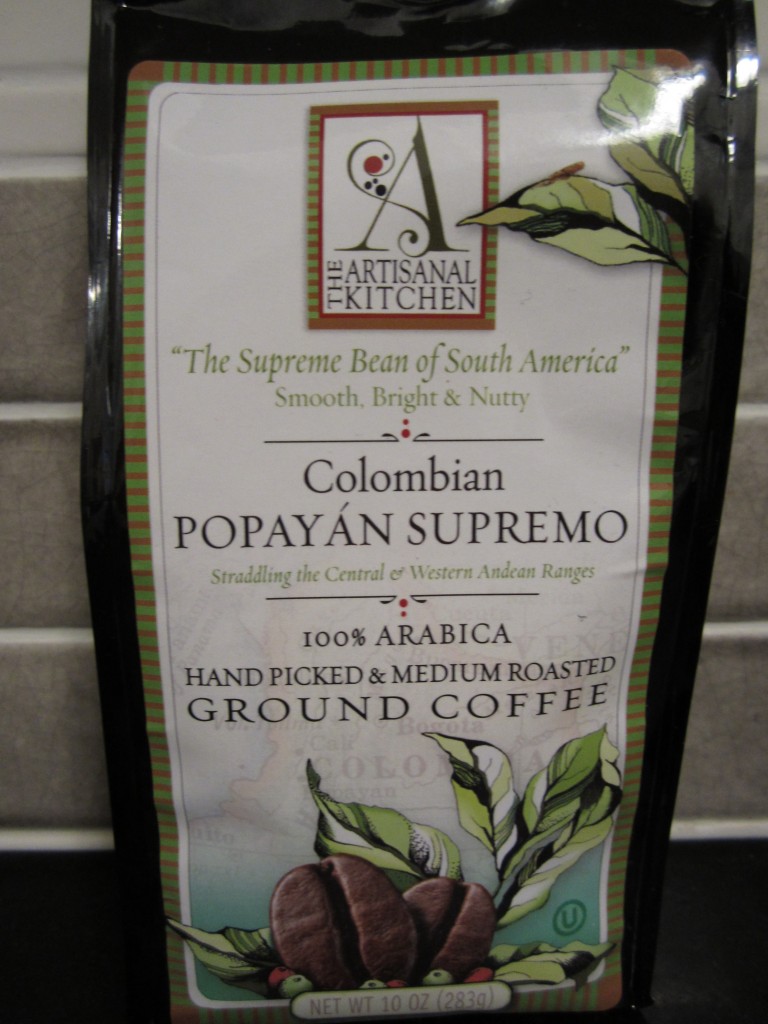 Surprise– 2 cups of coffee for the recipe
It sounded quite bizarre and, with everything about my cooking journeys through Mom's archives, I questioned whether an ingredient(s) got lost in translation during the conversion of her recipe from her faded handwriting.  Coffee, with soup and noodles?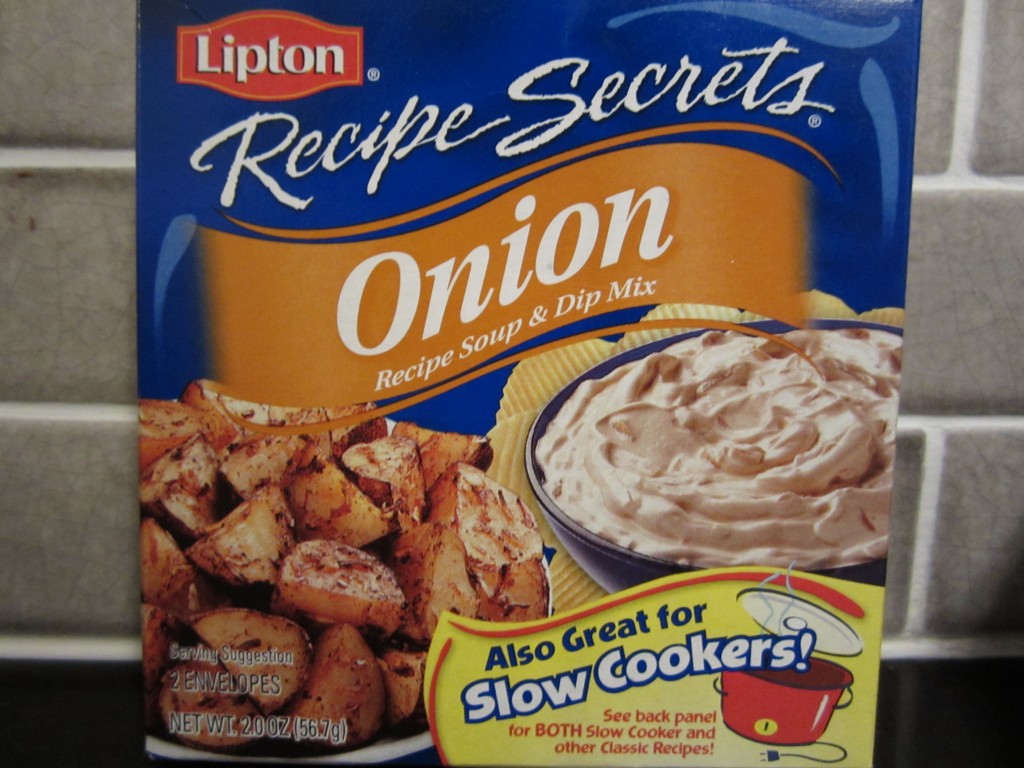 Another secret weapon to the casserole
I had to give it a try even though no one in my household drinks or appreciates the bold flavor of coffee.  I knew with this recipe I was going out on a ledge, and there was no way I was going to divulge any of the ingredients to my children, beyond, of course, the noodles and butter!
Usually Mom's recipes are very vague and missing ingredients and quantities, as witnessed with the Seafood Casserole.  However, in this recipe, Mom made a point to indicate a specific type of noodles, Kluski Noodles, to be used.  I therefore assumed it was extremely important to locate the exact noodle type. I had never heard of Kluski and quickly searched the internet for answers. Kluski is a generic Polish name for all kinds of dumplings without a filling. However, at times the word also refers to all varieties of noodles as well. Traditional Kluski noodles are similar in shape and taste to dumplings, made of chunks of boiled dough.  However, after three different people at Whole Foods claimed they had no idea to which I referring, I figured I'd settle for traditional egg noodles, secretly hoping that Mom used the moniker to refer to definition #2 "wide variety of noodles" not "potato dumplings".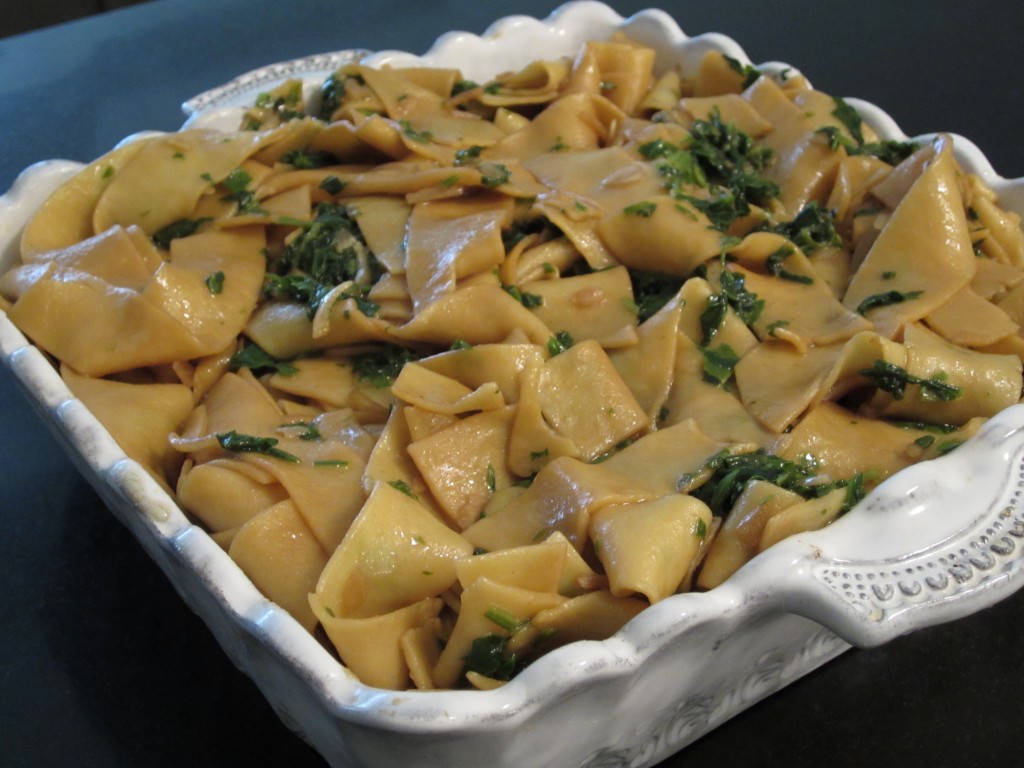 Noodles with coffee and spinach—pre-oven
I have to admit, it was fun to pour in the 2 cups of hot coffee to the mixture of ingredients.  I felt like a kid in a science class working on an experimental substance.  I was very tempted to pour in some hand soap to but, refrained.  The recipe includes french fried onion rings as an optional topping.  I knew I'd need all the help I could get to win my kids over with this dish.  I needed to disguise the coffee and spinach in the casserole, so of course, I opted to generously layer them on top!
Casserole with onion layer–pre-oven
To my surprise, the final casserole was amazing.  The coffee makes the dish taste smoky, almost as if it was "baked" over top a wood-burning stove.  And, I'm glad I cut the amount of chopped spinach down from 2 boxes to one.  The veggies weren't overpowering but, rather, a nice compliment to the noodles and coffee and butter.  I also took a mushroom break since the past two casseroles I've made this week contain mushrooms.
All in all, a yummy casserole with an interesting twist.
But, beware, I didn't factor in the side effects of the caffeinated coffee.  My kids were bouncing off the walls until well after 10:30pm, on a school night.
I'd suggest using decaf coffee or, serve it on the weekend…
Coffee and Noodle Casserole
serves 6-7
Ingredients:
1 10oz. package of Kluski noodles (I used regular egg noodles)
2 sticks of butter (I used 1 1/2)
3/4 lb. fresh-sliced mushrooms
2 packages of frozen chopped spinach (I only used 1 box)
2 packages Lipton's dry onion soup mix (1 box)
2 cups rich brewed coffee (maybe use decaf)
1 can French Fried Onion Rings (optional)
Instructions:
Preheat oven to 350 degrees.
Cook noodles according to instructions.  Drain.
Melt butter and saute mushrooms.
Mix spinach, mushrooms, dry onion soup mix, and coffee together and then add noodles at the end.
Pour into 9×9 casserole dish.
Bake for 30 minutes and then cover top of casserole with french fried onion rings.
Continue baking casserole for another 30 minutes more or until onion rings darken.
Enjoy.