This post was sponsored by Keurig.  All opinions expressed are, as always, my own.
If you're a coffee lover, you're going to be ecstatic about the Keurig 2.0 Brewing System.
Actually, even if you're not a coffee lover (like me), you'll find good use for your Keurig. I did! Get ready to make terrific hot and cold beverages from the most advanced beverage system Keurig has ever built.
If you're novice to the world of Keurig, say goodbye to messy coffee grounds and filters. With the use of handy "K-Cups," this machine neatly brews a perfect cup of coffee, tea, hot cocoa or iced beverage in under one minute–simply at the touch of a button. It also accommodates three different cup sizes for your drinking preferences.
So, I guess you're wondering if this appliance can get any better? Of course.
The Keurig 2.0 is the first Keurig brewer with the ability to brew both single cup and four-cup carafe coffee.
So whether you're trying to accommodate a group of people at a meeting, you're hosting a dinner party or you simply want a single-serve drink, your needs are met.
I first laid eyes on the Keurig 2.0 at the Kidvuz Holiday Party back in December.  I was treated to a hot cup of hot chocolate as I talked to some of the brand representatives.  I was surprised to hear that this machine can brew more than 400 beverage varieties (including both hot and iced beverages) from 60+ celebrated brands including, Starbucks, Dunkin' Donuts, Snapple, Lipton, Swiss Miss and more (look for Keurig Brewed® seal). This feature is especially advantageous for families. My son and daughter were able to enjoy Keurig-brewed cups of hot chocolate and immediately after, my husband brewed a carafe of coffee— all in under one minute. Because of this versatility, we've given this appliance sacred placement on our all-too-small kitchen counter.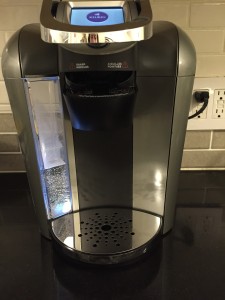 The new brewer features advanced technology that reads each K-cup lid to insure that it delivers a perfect beverage every single time.  This helps Keurig deliver on its consumer commitment to produce excellent quality beverages, simply and consistently.
Other brewer features include a 60-ounce water reservoir, 2.4 inch interactive black and white touch display, and a strength control setting for brewing bolder coffee.
Check out this video to see for yourself:
From the moment I received my Keurig this past weekend, we ran out to our local Starbuck's (which is thankfully only one short block away here in NYC) and stocked our kitchen drawer with K-Cups.  Next up, we're going to sample the iced tea K-cups.  Ah,the brewing possibilities seem endless.
our kitchen drawer packed with K-Cups!
For more product information, you can go to www.keurig.com.