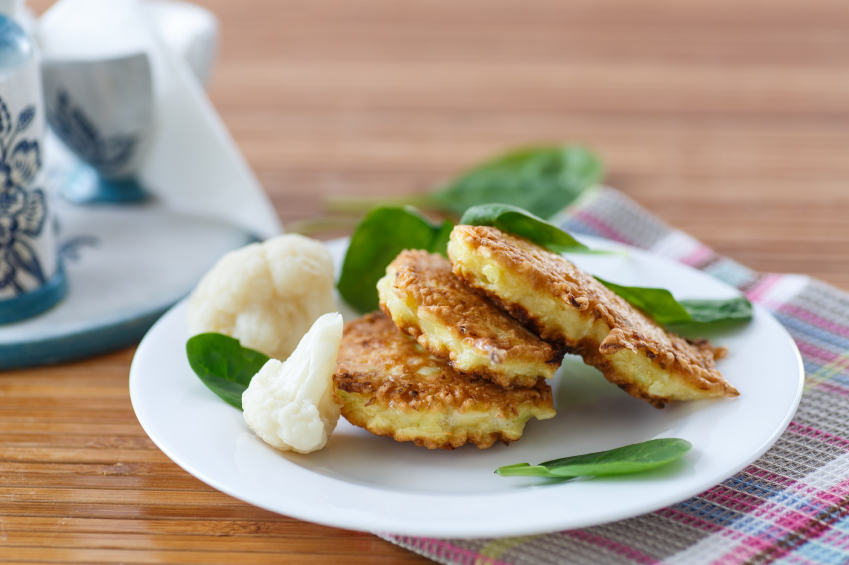 If you've ever searched for creative ways to integrate new vegetables into your dinnertime rotation, this recipe is key.
Since starting this blog, over the past three years I've succeeded in getting my kids to eat (and like) a plethora of veggies. Never would I have guessed that my kids would willingly eat kale and Brussels sprouts. They also like broccoli, carrots, snap peas, edamame and more. However, I've always had my challenges with cauliflower.
Whether it's the somewhat obnoxious smell when the veggie is cooking or it's the less than desirable off white color, my kids have never fancied cauliflower.
You can imagine my sheer delight when I found this recipe for Cauli-tots or a cauliflower version of potato tots.   And, that's exactly how I described them to my kids and that's exactly how got them to take their first bites.
My son, my predictable 8-year old loved them. My 12-year old daughter needed to make some adjustments and sprinkled some grated Parmesan cheese on top as well as some of the extra tomato sauce from the lasagna to which she exclaimed, "TASTY."
Try it for yourself, they're too tasty to pass up.
Cauliflower Tots
adapted from Skinnytaste
serves 4-5
Ingredients:
2 cups cooked cauliflower florets, finely chopped
1 large egg
1 large egg white
1/2 cup onion, minced
1/2 cup  sharp cheddar cheese, shredded
1/2 cup Panko breadcrumbs
salt and pepper to taste
cooking spray
Directions:
Preheat oven to 400°F.
To cook the cauliflower florets, steam a little over 2 cups raw cauliflower florets in a little water covered for for 4 to 5 minutes or until tender but not mushy, then drain well and dry on paper towel, then using a knife finely chop and set 2 cups aside.
In a medium bowl, combine all of the ingredients and season with salt and pepper to taste.
Spoon 1 tablespoon of mixture in your hands and roll into small ovals. Place on non-stick cookie sheet and bake for 16-18 minutes, turning halfway through cooking until golden on each side.
Sprinkle Parmesan cheese on top while tots are warm.
Enjoy.