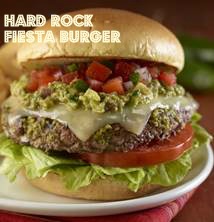 If you're going to be around a grill this weekend, and hopefully even poolside, it's important that you're fully armed so you can tackle the grill with confidence and ease.
I'm thrilled to share some tips from the culinary experts at Hard Rock Cafe.  Having spent many business trips out west at the Hard Rock Hotel in Las Vegas, I've eaten my fair share of larger-than-life, juicy burgers.  What's the secret to some of their great burgers and can an average cook replicate their flavor?
Follow these tips:
Always prep beforehand to minimize stress.  Form your burger patties and make sure the meat is room temperature before it goes onto the grill.
For the best bun, you must use a fresh bun and lightly butter it before briefly toasting it on the grill.
The grill should be in the 550 degree range to sear meat well- the time it takes to cook will depend on the temperature of the grill and thickness of the burger.
Add salt no more than two minutes before grilling to avoid drying out the meat.
You can flip the burger a few times, but, no more than three.  Don't press the burger to make it cook faster because you want the juices to remain sealed in.  DON'T, DON'T cut into the burger to  determine doneness.
Get creative at the grill by using fresh vegetables and good cheese as your toppings.  Try this Hard Rock Fiesta Burger recipe:
Hard Rock Fiesta Burger
Ingredients:
8 ounce ground chuck (or beef choice aux choix)
1 teaspoon seasoning salt
2 tablespoons Jalapeno salsa
2 thin slices Monteray Jack cheese
I hamburger bun
1 tablespoon fresh guacamole
1 tablespoon Pico de Gallo
2 leaves romaine lettuce
1 slice beefsteak tomato
Instructions:
Shake half the seasoning on the burger and place season side down on the grill.
Grill to desired temperature.  After grilling, spread jalapeno salsa over the patty and layer cheese slices on top.
Top with lettuce, tomato, guacamole and pico de gallo.
Enjoy on a lightly buttered slightly grilled bun
.