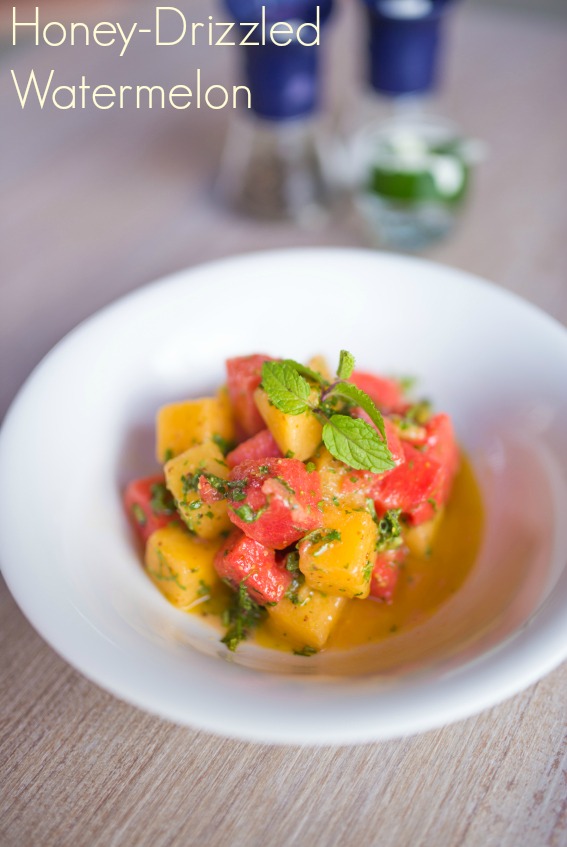 Eating al fresco is a guarantee for us in the summertime. On the weekends, if it's not raining, you can usually find me cooking at the grill and eating at the outdoor table underneath the generous umbrella.
Another summer-must: enjoy the myriad seasonal fruit for dessert. If I'm not actually making the dessert, we head over to the local farmer's stand to treat ourselves to one of the freshly-bake crumb pies that are beyond tasty. Our family fave: Triple Berry Crumb Pie.
This weekend I experimented (again) with watermelon.  Like Silver Queen Corn, watermelon was synonymous with summertime when I was a kid.  Mom would cut up the fruit into pizza-pie slices  and, before eating, we'd commence our family ritual: initiating ourselves into the highly-exclusive "third-eye club"  by which all members placed a watermelon seed between our eyes. It was fun to see who's seed could stay affixed to the forehead the longest.
I've always been intimidated by watermelon, especially when someone shows up with it and nonchalantly hands it over like a medicine ball saying "here you go" —I've never really known, nor have I felt comfortable, cutting a watermelon until I watched this video:
Ok, I'll admit that I'm lazy and usually purchase pre-cut slices from the market.  And, now that I have mastered my
Watermelon, Feta and Balsamic salad
as well as the
Watermelon Gazpacho
recipes I was looking to put a different spin on the fleshy fruit.  My son actually gave me the idea to work with watermelon and honey as he douses honey on everything from his pancakes and waffles to his apple slices.
I simply opened my fridge and started experimenting.  The end result was a simple watermelon dessert that is both refreshing and sweet and, best
part of all, not in the least bit filling.
Honey-Drizzled Watermelon Cubes
serves 5-6
Ingredients:
Watermelon cubes
honey
fresh lime juice
Sea salt
mint leaves
Instructions
Drizzle cubes with honey and fresh lime juice.
Add a pinch of sea salt and mint leaves.
Enjoy.