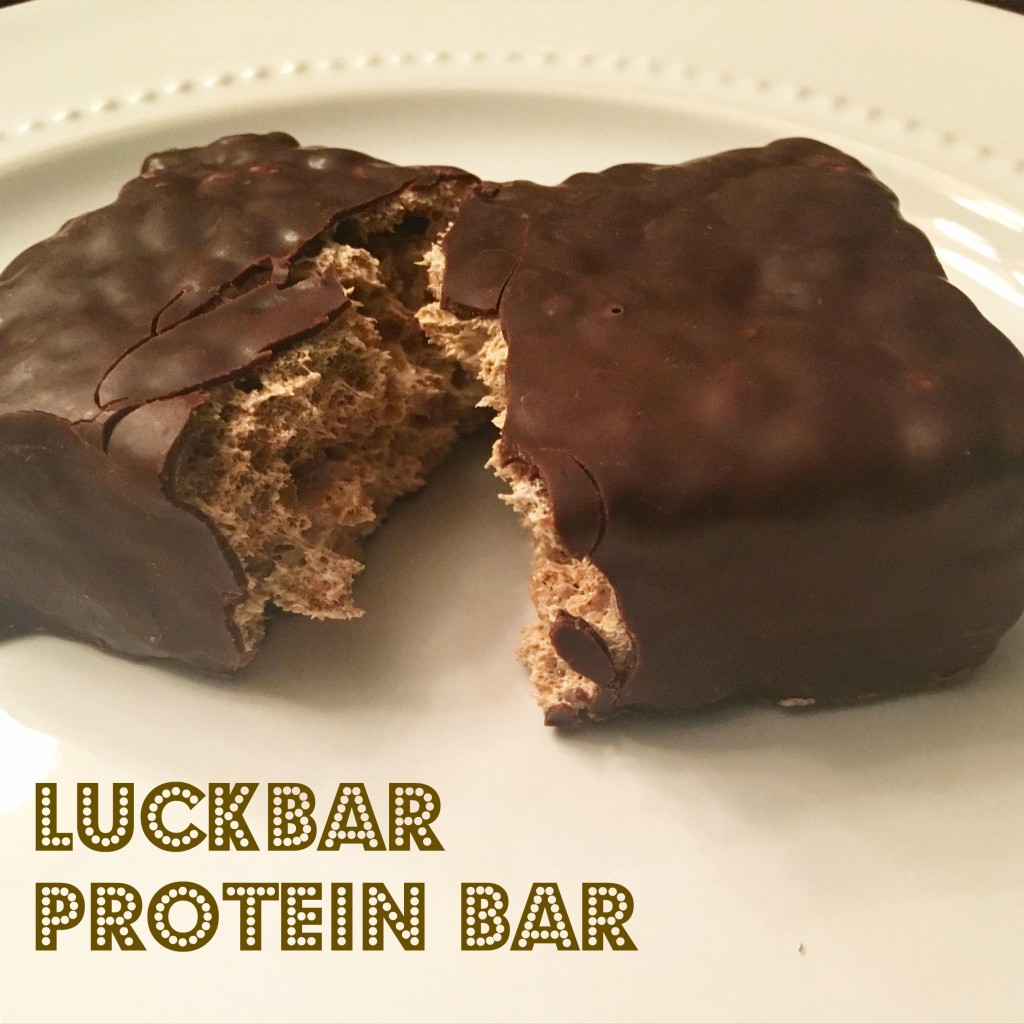 It's safe to say that MOTHERS are the best experts about their own kids!
Mothers are on the front lines, constantly dealing with real-time challenges requiring quick fixes. Sometimes the best kid-focused products in the marketplace are those that were born from mothers simply having an "aha" moment while watching their kids.
Luckybar™, the recently-launched protein bar for kids, was actually founded by a mom (Jamie), and crafted by a doctor!
Picture yourself on an airplane with two very hungry children. One child is an adventurous eater and the other, quite finicky. Sound familiar? The only item you have in your purse to offer your ornery chair-bound kids is a protein bar. You reluctantly hand it over and to your surprise, BOTH children love the bar! Better than that, you realize that the bar has more protein than 2 eggs – quality nutrition camouflaged in great taste. From this realization, Jamie set out to create a protein bar that would help provide better nutrition for kids everywhere— Luckybars were born!
What makes Luckybars™ unique?
They're packed with 13 GRAMS of protein! No other kid's targeted protein bar has nearly the same level of protein. In fact most have higher sugar than protein values. NOT Luckybar™!
Each artisanal bar is made by a team of dedicated and caring experts who ensure the highest quality and standards of excellence are met:
They're Gluten-Free
They contain no preservatives
They're NON-GMO
They're low in carbohydrates
They're low in sodium
They're low in sugar
They're completely PACKED with PROTEIN
The numbers speak for themselves. When you're considering your children's snacks/meals, look how Luckybars™ stack up: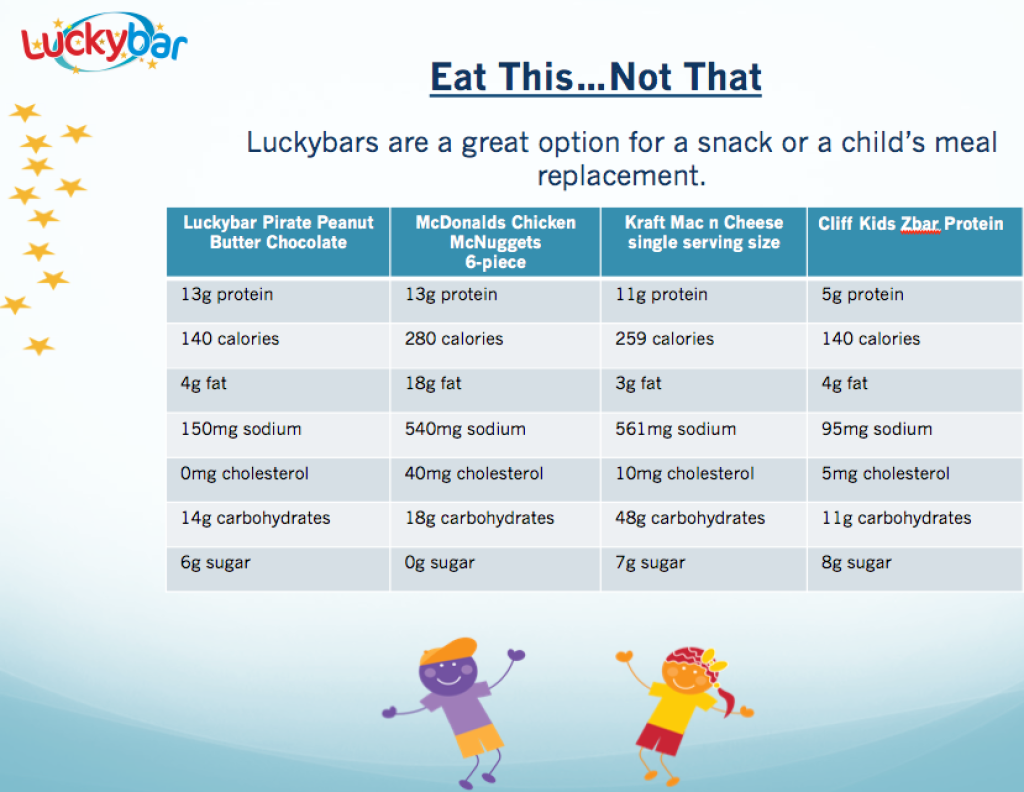 While the nutritional benefits of the bar should be one of the most important attributes for parents, so is the likeability factor with kids. Kids are tough critics. Let's face it, if something doesn't LOOK good, it might never get tried.
Because a MOM designed these bars, they're each packaged with kid-friendly designs and stories that actually make eating them FUN. Every box of 12 bars also comes complete with a 12-star reward system of stickers. AND, the bars are only 35 grams in weight, making them more manageable for those smaller hands!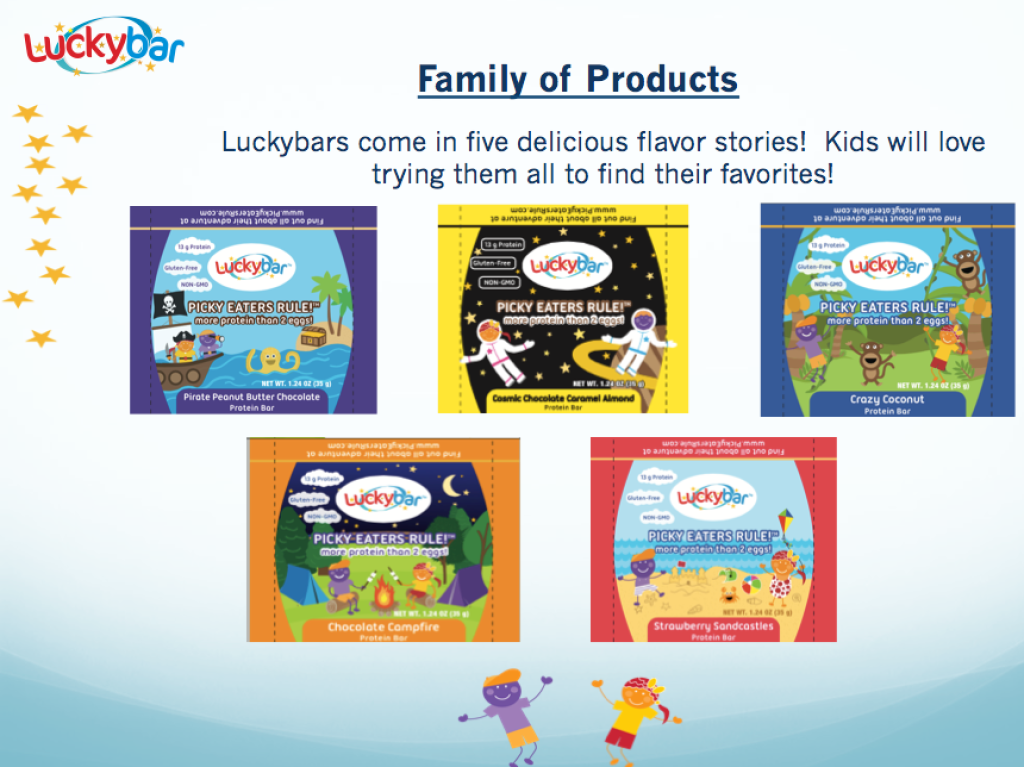 Seriously, who can refuse bars that come in five fun flavors:
Pirate Peanut Butter Chocolate
Cosmic Chocolate Caramel Almond
Crazy Coconut
Chocolate Campfire
Strawberry Sandcastles
Full disclosure, the adults who tried the samples at our headquarters enjoyed the bars as much as the children too.
So, have we whet your snack appetite yet?
Want to get your big and little hands on a couple of boxes of these bars? Well, you're in luck. You can stock up for the holidays.
For one day only, Thursday, December 17th, Zulily  will be featuring Luckybars™ for sale. Take advantage!
Be a Luckybar™ trendsetter before they're a mass-market hit in the New Year.
For more product information, go to www.PickyEatersRule.com!
Happy healthy snacking!
Disclaimer:  I received samples and was compensated for writing this review.  However, all opinions are, as always, my own.