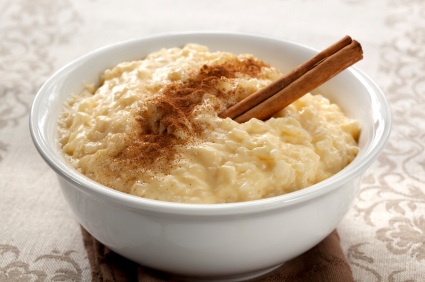 Today I wish I could curl up with my mom in bed, close my eyes and just breathe, calmly. However, I'll settle for the next best thing: making a big vat of Old-Fashioned Rice Pudding to nourish and comfort my soul.
For a dish that tastes so decadent and creamy, it's hard to believe how easy Rice Pudding is to make.  Using staple ingredients that can be found in any stocked pantry and refrigerator, you don't need any culinary skills to whip up the best batch of pudding.  Honestly, this recipe only requires stirring the rice on the stove top with boiled milk and eggs and sugar!
In just 45 minutes you will have created the best, most delicious creamy rice pudding.
While many serve it cold, today I'm craving it warm with a heaping portion of cinnamon and raisins on top.
Whichever way it's served, you have a winner.

Old-Fashioned Rice Pudding
Author:
Patti- Comfy Cuisine
Prep time:
Cook time:
Total time:
A decadent rice pudding that is as tasty as it is filling.
Ingredients
1-1/2 quarts milk (6 cups)
½ cup rice
½ cup sugar
2 eggs
1 Tbsp. vanilla
Cinnamon
Instructions
In a medium saucepan, combine rice, milk and sugar and bring to a light boil, stirring often (I added a pinch of salt).
Simmer for 45 minutes, or until rice is tender, stirring occasionally.
Beat 2 eggs with an additional ½ cup milk and stir into mixture. Cook for 3 minutes, stirring constantly until thickened.
Add vanilla.
Cool and sprinkle with cinnamon.
Notes
I added in a ⅔ cup of golden raisins to the pudding mixture 2 minutes before it was removed from the stove top. I also used generous portions of cinnamon. My kids were divided, one preferred the pudding cold and the other enjoyed it heated.