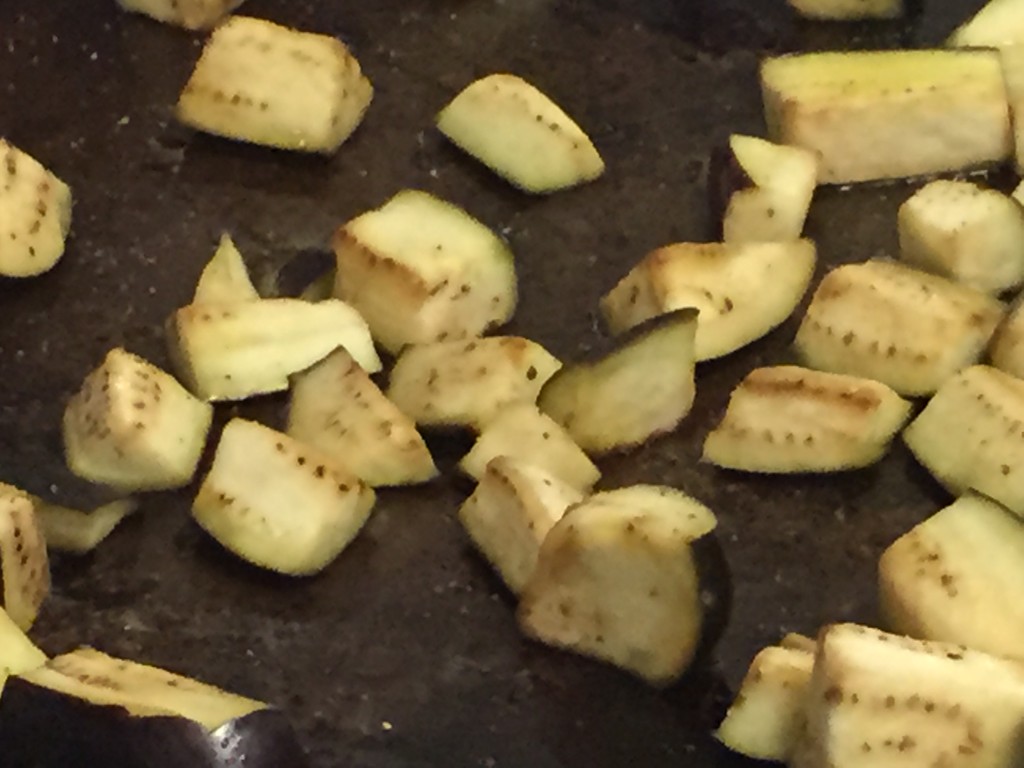 I've enjoyed eggplant slices roasted on the grill, as the "meat" of a vegetarian sandwich, pureed into a silky, smooth dip and as the main course in Eggplant Parmesan. Admittedly, I've only been served these dishes.
However, much like my recent love affair with avocados, I never actually prepared eggplants for myself or my family—I was completely intimidated and merely courted them in the aisles of the supermarket. It was finally time for me to take this egg-shaped glossy purple fruit into my own hands.
So, last night I prepared eggplant for the first time!
I love that there can and will always be firsts in your kitchen, no matter how long you've been cooking. According to my foodie friend, eggplant is the apparently the new cauliflower so, I'm happy to be joining the nightshade movement (albeit, a little delayed).
Typical of the way I approach most things in life, I decided to ease into my eggplant journey  and start with a very basic recipe: Roasted Eggplant. We're so lucky to have the internet as a very quick and easy resource for an query. After very little reading, I learned the proper Roasted Eggplant prep: drawing out the moisture to reduce the bitterness and to give the pieces a very nice texture and consistency for roasting.
So, I salted the individual pieces of eggplant and let them sit for 30 minutes, drained and then rinsed each piece with water.
Then I simply basted the slices with olive oil and graciously added some basil, oregano and grated Parmesan before placing them in the oven to bake.
After 25 minutes, we enjoyed some wonderfully tasty pieces of eggplant that my daughter wrongly assumed were new potatoes. Lucky for me, she got in two forkfuls and liked them before she skeptically asked what she was eating.
Next up for the family, Eggplant Parmesan….
Enjoy
Roasted Eggplant
serves 3-4
Ingredients:
1 large eggplant (or two small eggplants)
3-4 tablespoons Extra Virgin Olive Oil
3-4 tablespoons oregano
Grated Parmesan
salt and pepper to taste
Instructions:
Preheat the oven to 400 degrees F and lightly grease a baking sheet.

Slice the eggplant in half lengthwise, then cut each half into quarters lengthwise. Cut each of those in half to make two smaller quarters.

Place slices in a bowl and salt pieces.  Let sit for approximately 30 minutes.  Then rinse to remove salt.

Place the eggplant onto the baking sheet with the skin side down and baste each piece with olive oil and then sprinkle oregano and Parmesan.

Roast the eggplant in the preheated oven until softened and golden brown, approximately 25 minutes.

Remove from the oven and serve hot.