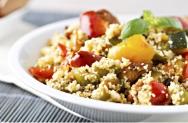 As March is National Nutrition Month, what better way to celebrate than with a delicious and nutritious meal from the National Pasta Association (NPA) that are each under 300 calories!
Add some spice with Warm Moroccan Spiced Couscous Salad which is jam packed with healthy veggies, savory spices. This recipes make it easy to get a nutritious meal with a healthy dose of vitamins and mouthwatering flavor.
Warm Moroccan Spiced Couscous Salad
serves 3-4
Ingredients:
2 tsp. vegetable oil
1 ½ cups/6 oz. sliced onion
2 cups/7 oz. ½" cubed eggplant
2 Tbsp./1 oz. grated ginger
2 Tbsp./½ oz. chopped garlic
⅛ tsp. ground cinnamon
¼ tsp. ground cumin
½ tsp. ground coriander
2 tsp. sriracha or other hot sauce, or to taste
1 cup/4 oz. thinly sliced carrots
1 cup/4 oz. diced red pepper
1 cup/6 oz. Israeli couscous
1 cup/ 2 oz. roughly chopped cilantro
Instructions:
1.       Heat a large saucepan over medium heat. Add the vegetable oil and sauté the onion, seasoning with salt and pepper, until soft and starting to brown (about 5 minutes).
2.       Add the eggplant, stir together with the onions. Cover and cook until softened (about 3 minutes).
3.       Add the ginger and garlic, stirring to caramelize. Sprinkle with salt and pepper to taste.
4.       Add the cinnamon, cumin, coriander, and sriracha. Stir to bloom the spices.
5.       Add the carrots, red pepper, and couscous. Stir to mix everything well.
6.       Add 2 cups water and a pinch of salt. Cover and simmer for 10 minutes or until the water is absorbed. Taste and adjust seasoning.
7.       Stir in cilantro and divide between bowls.