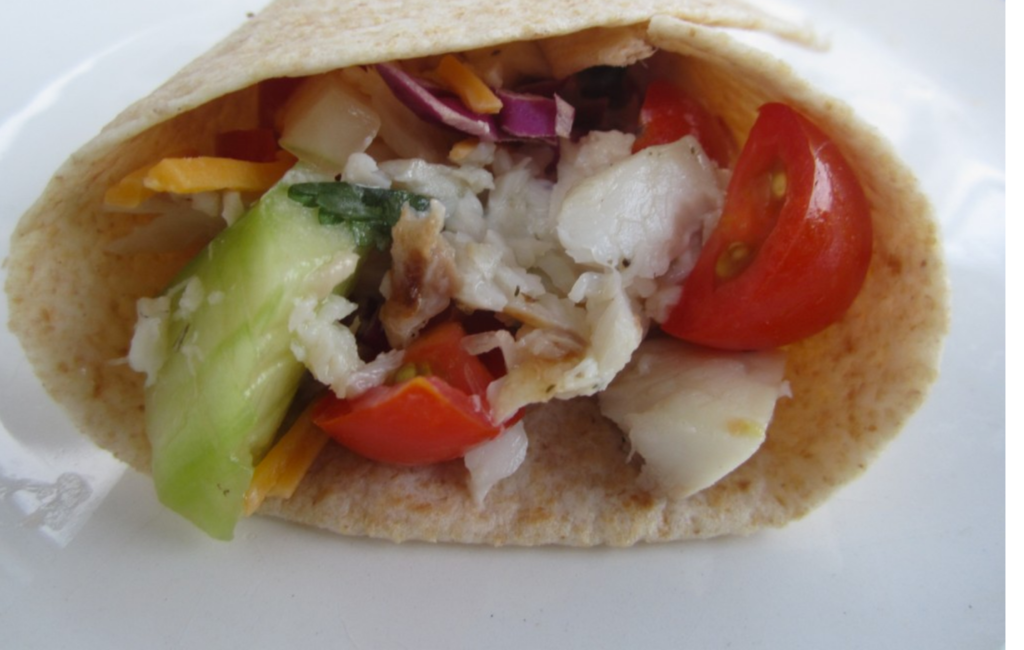 Light, easy dishes go hand in hand with the hot, humid days of summer. For that reason alone, Fish Tacos w/Spicy Tomato Cucumber Salsa are ideal.
It's important to note that any light white fish can be substituted for the Tilapia in this taco recipe. And, you can add any additional toppings you'd like. For my family, cheese is REQUIRED as part of the taco building process and although I suspected my kids would have no interest in cabbage wedges, I kept this ingredient in the recipe as a mini food challenge for us.
The marinade for the fish is very basic yet crucial to the flavor so don't substitute the lime juice. I added in a pinch more salt before I placed the fish in the Ziploc bag to soak up the flavor prior to cooking. There was no way we were going to cook the fish on the stove but rather, opted to grill outside since it was a picture perfect evening with clear skies and a cool breeze. Like most white flaky fishes, it cooked on the grill very quickly so make sure it's the last piece of prep to your taco puzzle.
Tilapia post marinate, pre-grill
I was also adventurous and made fresh salsa. Of course it's so easy to open a can of ready-made salsa but, I have to admit, there's nothing tastier than fresh cherry tomatoes with fresh cucumbers and fresh onions tossed with lime juice, oil and salt. And, unless you don't have 5 minutes to chop the veggies and about 30 minutes to chill the mixture in the fridge, you must try this salsa recipe. I opted out of the chili peppers knowing it could completely derail the salsa's approval rating for my family. We're not spicy people so, I needed to keep it basic.
Our favorite part of the meal was the "fixins" bar I set up in little bowls. I chose these toppings: steamed jasmine rice, fat free sour cream, shredded red cabbage, shredded cheddar cheese and the homemade salsa. I also served two different kinds of tortilla shells – regular flour and whole wheat (for me). There's no surprise the cheese ran out immediately. And, as expected, the shredded cabbage definitely peaked the curiosity of my son. I'm fairly certain its deep purple hue initially won him over.
But, nonetheless, the meal received the coveted two thumbs up even with the cabbage!
The fish tacos were the perfect dish for our summer evening: prep time is minimal, it's light, tangy and tasty.
For me, it's very satisfying serving fish instead of defaulting to chicken or meat for the taco filler.
And, best part, we've got left overs for tomorrow.
Whether you use Tilapia or another flaky fish, this meal is yummy!

FIsh Tacos with Tomato Cucumber Salsa
Prep time:
Cook time:
Total time:
Light and flaky Tilapia tacos. Perfect for a summertime meal.
Ingredients
Tomato Salsa:
1½ cups chopped grape tomatoes
½ cup chopped seeded peeled cucumber
¼ cup fresh cilantro
¼ cup chopped vidalia onions
1 tbsp fresh lime juice
1 tsp olive oil
¼ tsp salt
Fish:
2 tbsp lime juice
2 tsp olive oil
¼ tsp cumin
2 garlic cloves, minced
4 (6 oz) tilapia fillets
¼ tsp salt
Remaining ingredients:
4 (10 inch) tortilla shells
sour cream
shredded red cabbage
shredded cheddar
jasmine rice
Instructions
To prepare tomato salsa, combine all of its 8 ingredients in a small bowl. Cover and chill for at least 1 hour.
To prepare fish, combine 2 tbsp lime juice, 2 tsp olive oil, cumin, and garlic in a large zip-top plastic bag. Add fish to bag; seal. Marinate 15 minutes, turning once.
Spray a large skillet with cooking spray and heat to medium-high heat or, heat grill to medium. Remove fish from bag; discard marinade. Sprinkle both sides of fish with salt. Cook fish for 4 minutes on each side or until fish flakes easily when tested with a fork. Flake fish into large chunks.
Warm tacos in a 200 degree oven or toaster oven. Then make the tacos: spread the rice, fish, salsa, cabbage, sour cream and cheese onto warm tacos. Fold in half and devour immediately.
Save
Save