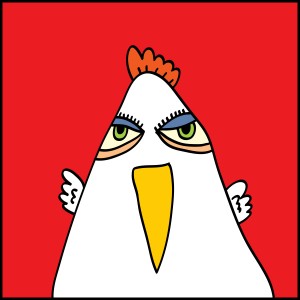 For this week's Friday-Food-Frenzy, we're all about chicken.  My mother's Chicken with Mango Chutney was her most celebrated chicken salad dish served on numerous occasions and featured in the Cooking Club Cookbook.   However, as I weave my way through her myriad recipes, I'm learning she often had many different versions of a dish.  With a quick substitution, Judy's Chicken Salad with Mango Chutney becomes Judy's Chicken Curry Salad.  Take away the curry and add some mayonnaise and some grapes and voila, Judy's Traditional Chicken Salad.  While I don't actually remember eating any salad other than Mom's Chicken Salad with Mango Chutney (or maybe it's soo good, nothing else compares or makes an impression), I found two additional chicken salad recipes that are perfect as summer salad dishes.  And, since both my children could eat chicken for breakfast, lunch, and dinner, it's nice to start new recipes with a home court advantage!
Print these recipes, put them in your back pocket, know that you're armed with some salad ideas for the weekend.  And, most importantly, enjoy!
 Chicken Curry Salad
Ingredients:
1 teaspoon soy sauce
2 tbsp. grated  onion
1/2-3/4 tsp. curry powder
1/2 tsp. salt
1/2 c. mayonnaise
2 tsp. lemon juice
2 tablespoons slivered almonds
1/2 tsp. Dijon mustard
3 c. cubed cooked chicken
2 stalks celery, chopped
1 c. green seedless grapes
2 tablespoons oil
Instructions:
In a  saucepan with oil, add the onions and cook over low heat for 3 minutes.
Add in the salt and curry powder. Remove the mixture from the heat and let it cool. Stir in the mayonnaise, lemon juice, and mustard and soy sauce.
 Dump the cubed  chicken into a serving bowl and add the curry-mayonnaise mixture and the celery.  Toss well.  Add in slivered almonds and toss again.
Chill at least one hour before serving. Enjoy!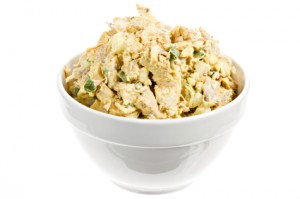 Chicken Salad
Ingredients:
3 1/2 cup cubed chicken
1 1/2 cup diced celery
3/4 cup chopped green onions
1/2 cup chopped walnuts or almonds
3/4 cup mayonnaise (to taste)
2 tablespoons lemon juice
salt and pepper to taste
Instructions:
In large bowl, toss cubed chicken with celery, onions and nuts.
In separate bowl, mix together mayonnaise, lemon juice, salt and pepper.  Add to chicken mixture and toss well.
Garnish salad with parsley sprigs, green onions and paprika.
Chill at least one hour before serving.  Enjoy!
Well?  Did you try them?  We'd love feedback after you've cooked, served and eaten.