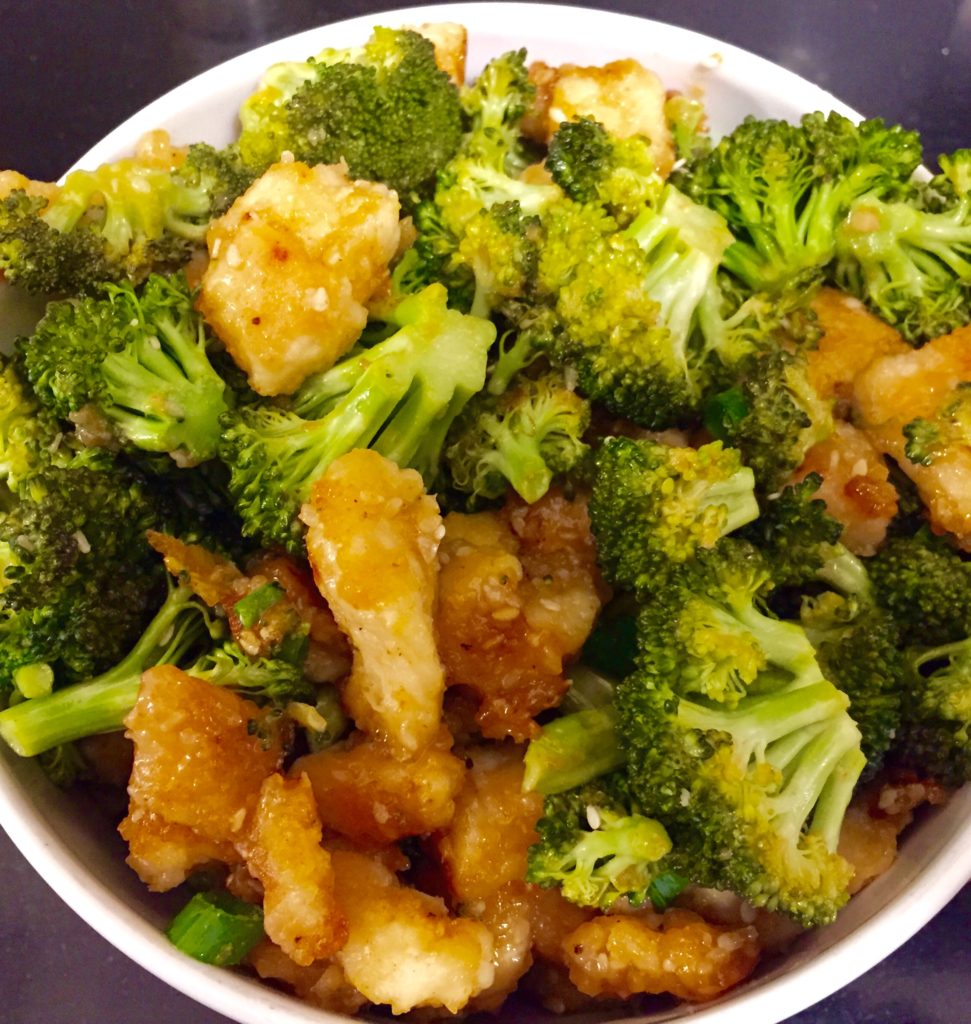 Taking matters into my own hands, I figured I'd try to recreate our favorite Sesame Chicken recipe from our local Chines restaurant.  Living in NYC, it's way too easy have to have food delivered or take out and you can get quite lazy about cooking. But, when you actually read the ingredient list for this recipe, there aren't many items that you probably don't already have in your stocked pantry, and the cooking instructions are simple.
Who doesn't want to have another celebrated chicken recipe to add to their meal repertoire?
I'm not going to deny that I try to limit the number of times a cook a chicken dish for my family.  It's the most obvious fall back.  However, if you can keep your chicken dishes interesting, tweaking them just enough to get a raised eyebrow, chances are you might have found a new hit!
I did last night.
It's hard to make this recipe without the beautifully blended aromas of honey, sesame oil and garlic wafting through your kitchen.  The second the front door opened my kids asked, "what smells so good?"
I had never sauted my chicken coated in corn starch. However, cornstarch versus flour is the better option for a crunchier skin. While corn starch is most often used as a thickening agent for sauces and soups, when it's used to saute chicken, it helps with browning and creates a super crisp crust that seals in the juices of the chicken.
The sauce is wonderfully tasty, just make sure you don't overdo it on the ginger (like I did).  Next time, I might double the recipe for the sauce as it reduces a lot while on the stove (and it's always good to have extra sauce on hand!)
Hope this recipe makes it to your family's favorites!

Sesame Chicken
Author:
adapted form Epicurious
Prep time:
Cook time:
Total time:
Ingredients
Ingredients
1½ cups rice
1¾ teaspoons kosher salt, divided, plus more
8 cups broccoli florets
6 tablespoons cornstarch
½ teaspoon freshly ground black pepper
2 pounds boneless skinless chicken thighs, breasts, or a mix, trimmed, patted dry, cut into 1½" chunks
4 tablespoons vegetable oil, divided
5 tablespoons honey
4 tablespoons low-sodium soy sauce
3 tablespoons rice wine vinegar
1 tablespoon Sriracha
1 large clove garlic, finely grated
1 teaspoon finely grated ginger
1½ teaspoons toasted sesame oil
2 tablespoons toasted sesame seeds, divided
2 scallions, thinly sliced
Instructions
Cook rice with a pinch of salt according to package directions.
Steam broccoli until crisp-tender, 5–6 minutes. Drain and set aside.
Whisk cornstarch, pepper, and 1½ tsp. salt in a large bowl. Add chicken and toss to coat.
Heat 2 Tbsp. vegetable oil in a large skillet over high. Add half of the chicken and cook, turning occasionally, until chicken is cooked through and a light brown crust forms, about 5 minutes. Transfer chicken to a plate. Heat remaining 2 Tbsp. vegetable oil; cook remaining chicken and transfer to plate.
Combine honey, soy sauce, vinegar, Sriracha, garlic, ginger, sesame oil, 1 Tbsp. sesame seeds, and remaining ¼ tsp. salt in a medium bowl. Transfer sauce to skillet and cook 1 minute to reduce slightly.
Return chicken to skillet, toss in sauce to coat, and cook until sauce is reduced and thickened, about 2 minutes. Fold in reserved broccoli, toss to coat, and remove from heat.
Top with scallions and remaining 1 Tbsp. sesame seeds.
Serve over top rice or with rice on the side.
Notes
Feel free to substitute traditional white or brown rice for quick-cooking rice. We used saffron rice!

You can make this meal gluten-free by substituting Tamari for the soy sauce.