Last week I attended the lunch event for the book launch The New Atkins For a New You Cookbook hosted by famed Chef Donatella Arpaia and Colette Heimowitz, VP of Nutrition and Education for Atkins.  I must admit, I was definitely a bit skeptical supporting the Atkins brand, as my current impressions are still steeped in the controversy that swirled around in the early 1980's when the diet was deemed the bacon, eggs, and cheese fad diet.  I was all ears as I entered the room, as I cynically thought to myself, no carb-loving mom would ever survive on this plan.
However, the next hour and a half proved to be quite the learning curve as guests were not only treated to some of the most delicious food featured in the book, but also insightful talks from Colette and Chef Donatella Arpaia, who has already lost pounds and inches on the diet after having had a baby in September.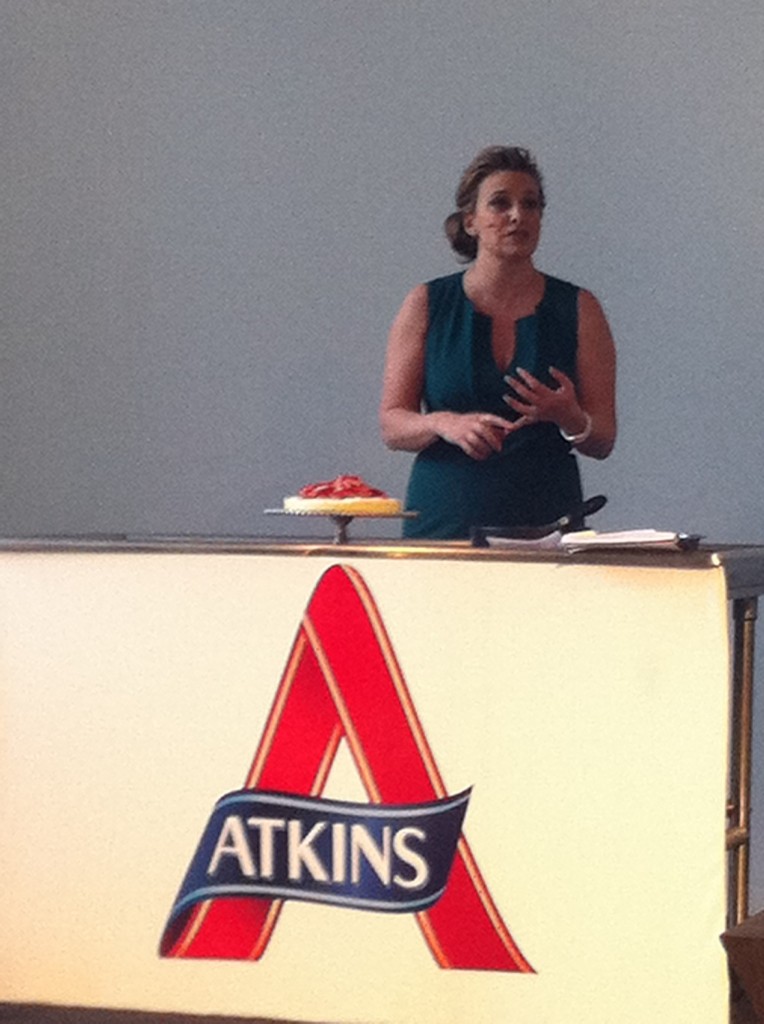 Chef Donatella Arpaia sharing her weight loss successes with the audience
The main message that echoed throughout the afternoon is that Atkins is more than just a diet – it is a balanced lifestyle that focuses on weight management from Day 1. Due to the fact that the diet consists of four carefully created phases, from the onset of Phase 1, Atkins reveals how many carbohydrates each person can take in before their body starts converting it to fat.  This is unique as other diets have a one size fits all ideology where the carbohydrate limits are standardized and not individually tailored. Therefor, the plan can be customized to fit any lifestyle, vegetarians and vegans too!
Chef Donatella further applauded the diet for allowing her to resume enjoyable eating without making her think or crave food all the time (quite an accomplishment for someone who's trade is centered around food, Italian food!).  She treated the group to some amazingly tasty recipes she hand-picked from the cook book, all of which can help even the busiest people (like Donatella- celebrity chef, mom, restaurateur) get low-carb meals on the table in minimal time with very little effort.  However, she urged everyone to make sure their kitchen is equipped with a good chef's knife— it's like finding the right partner.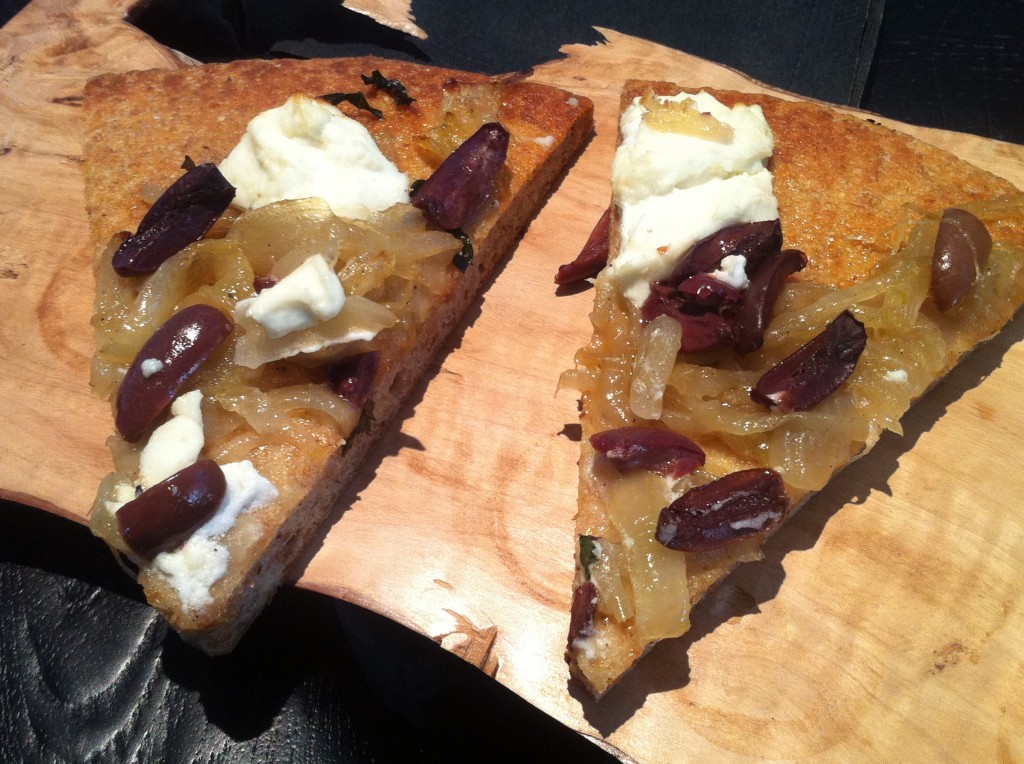 Amazing goat-cheese, olive and onion whole wheat pizza (Atkins compliant)

Amazing Atkin's-approved desserts
Even if you're not at all interested in following the diet plan, but you're simply seeking recipes that are quick, simple, accessible and tasty, you'll find them in the cookbook.
The book features over 200 delicious low-carb recipes (that have never before been published in print or online) that apparently can be made in 30 minutes or less, perfect for all of us harried mommas!  From Breakfast & Brunch Dishes (doubt Mom's Breakfast Casserole will be listed) to Snacks & Appetizers, to Vegetables & Sides, to Meat & Fish Entrees to Vegetarian Entrees to Desserts, the book contains color-photos and easy-to-follow instructions for those kitchen-clueless like myself.  And, it's also very comforting to know that each recipe is specially-developed, tested, and nutritionally analyzed to be in full compliance with the diet.  I also love the "tips" that are added to many of the recipes.  It's one thing to simply cook from instructions in a recipe, but, to learn something new while you're cooking is invaluable…
Did you know Haas avocados have fewer carbs and are less watery and rich in flavor versus other avocados?
Did you know Kale tastes best after it has been hit with frost, meaning at its peak from Oct-March?
Did you know you should never refrigerate a tomato as it changes their texture and mutes their taste?
My take away from the day: one really can eat delicious food all day (including snacks) and still lose weight.
And, if weight-loss is not your goal, the cookbook can help map out the perfect plan for a lifetime of healthy, tasty, enjoyable eating!
Well, what are you waiting for?
Discosure:   Thanks to an invitation from @themoms, I attended the Atkins luncheon and learned many valuable insights regarding healthy eating and meal prep.  I was not compensated for writing this post. However, I did receive an amazing bag filled with: The New Atkins Cookbook, sample Atkins bars, and various kitchen utensils.  All opinions expressed in this post are my own.