Continuing on my quest for comfort food, I found the perfect breakfast egg casserole recipe in Mom's collection.  You heard right, a casserole for breakfast time, not dinner.  It makes sense as breakfast is the most important meal of the day.  Why not serve a hearty dish to kick of the long day?
Growing up, Sunday mornings were reserved for our sit down breakfast/brunch together.  During the week, we were always racing against the clock to gobble up our breakfast before we had to finish getting ready for school.  Inevitably, on the school days we were running late (which seemed to become every day), we had very little time to actually enjoy a relaxing breakfast- and quite often Dad had morning meetings. So, Sunday morning became the designated time for our civilized family-style breakfast.  As always, Mom was the masterful chef and our meal usually consisted of some hot dish for which there was no time to prepare and enjoy during a frenetic school morning.
Mom's Egg Casserole is as simple as it sounds– baked eggs in a dish.  But, what makes it tastier than a simple egg dish is the addition of the cheese croutons, shredded cheddar cheese and cooked bacon.  These ingredients provide a nice variety of taste and texture to the somewhat bland egg base.  When soaked with the egg, the croutons become soft and sponge-like, creating the binding ingredient to the dish.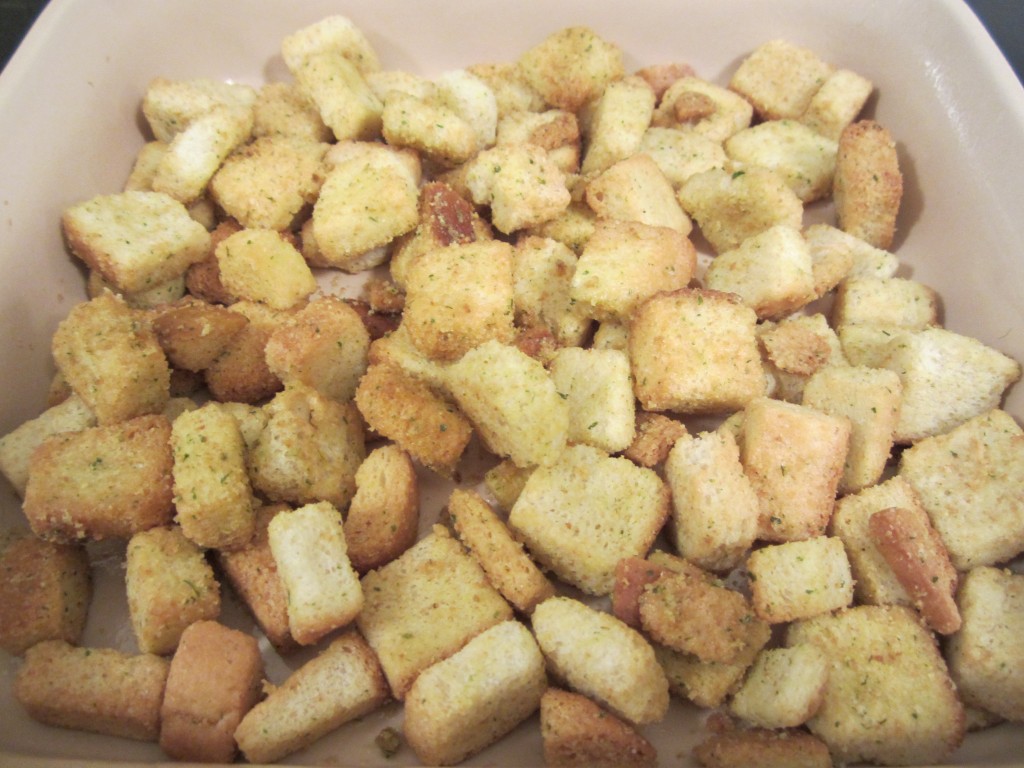 Cheese croutons lining the casserole dish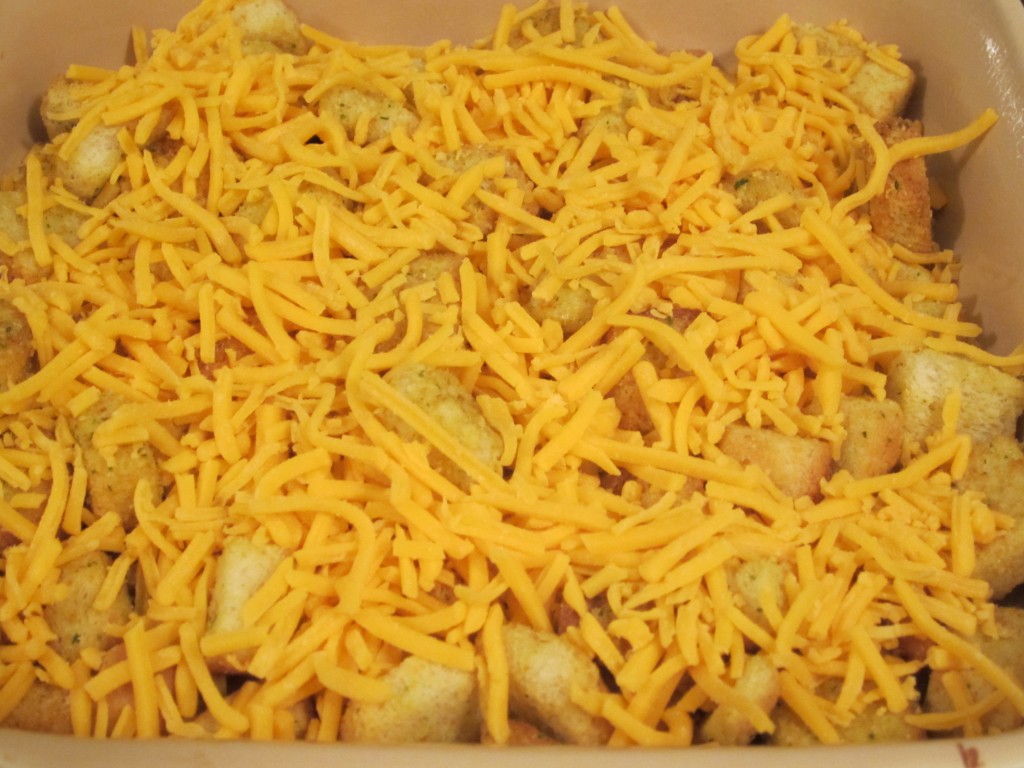 Second layer of shredded cheddar cheese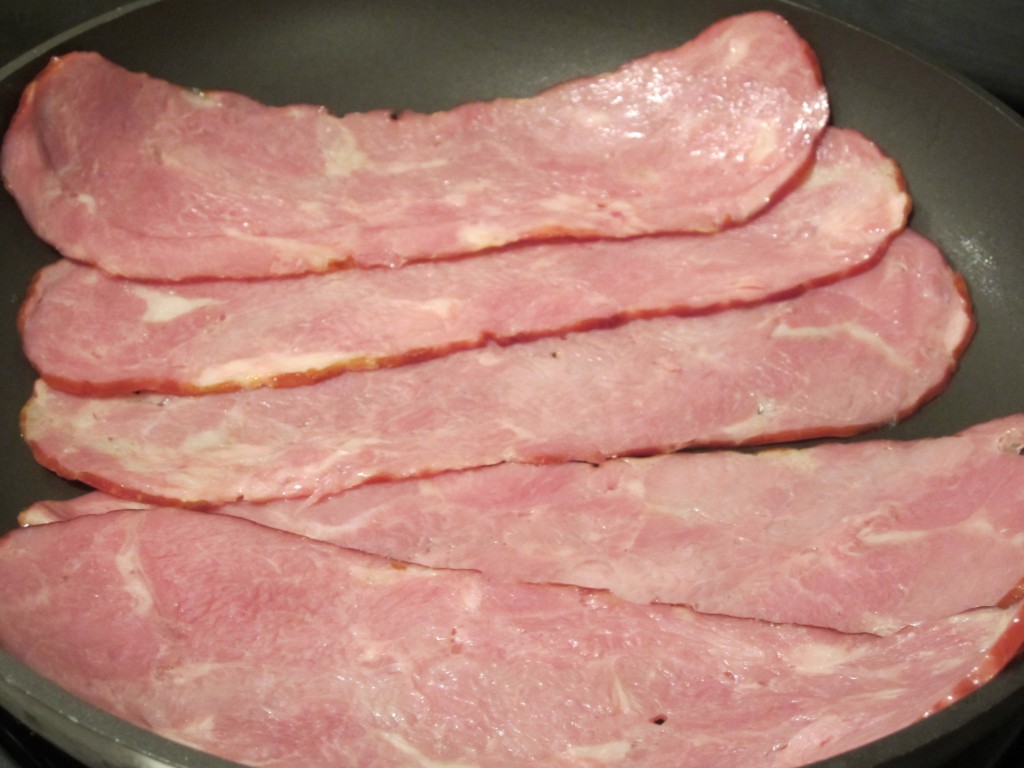 Turkey bacon cooking on the stove – to be crumbled and sprinkled on top casserole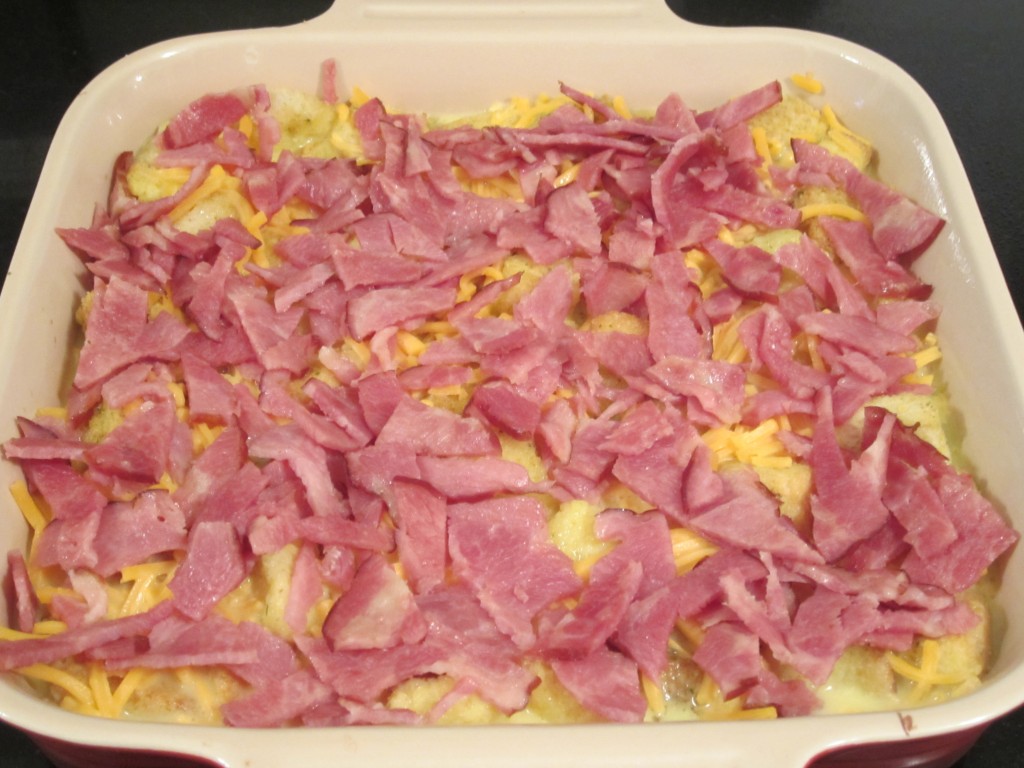 Casserole with addition of egg mixture and bacon topping – ready for oven
After only 10 minutes of preparation and 1 hour of baking, a beautiful and colorful casserole dish will grace your table to provide some much-needed diversity to your breakfast repertoire!  And, in our case, our dinner repertoire too–Wednesday night is Breakfast-for-Dinner-Night!
So, the next time you find yourself defaulting to the pre-packaged instant oatmeal pouches or the quick fix a la carte bowl of cereal, whip up some egg casserole.
You won't regret it, and neither will your family.
The Egg Casserole receives 2 Thumbs Up from the judges
Egg Casserole
serves 6-7
Ingredients:
1 bag cheese croutons
1 cup shredded cheddar cheese
4 eggs
2 cups milk
1/2 teaspoon salt
1/2 teaspoon dry mustard
pinch of pepper and onion powder
6 piece bacon
Instructions:
Preheat oven to 325 degrees.
Layer 1 cup of cheese croutons in the bottom of a greased 9×9 casserole dish.
Sprinkle 1 cup of shredded cheese on top croutons.
Mix together eggs, milk, salt, mustard, pepper and onion powder in a bowl.
Pour mixture over top croutons and shredded cheese.
Cook 6 pieces of bacon on the stove top.
Crumble bacon pieces on top casserole.
Bake in oven for approximately 1 hour.
Notes:  To be a tad bit healthier, I used turkey bacon in place of regular bacon. Mom's recipe calls for 1 cup of cheese and 4 eggs, I added another half cup of cheese.  You could easily add another egg.  In place of croutons, you can use any bread, even old stale bread!