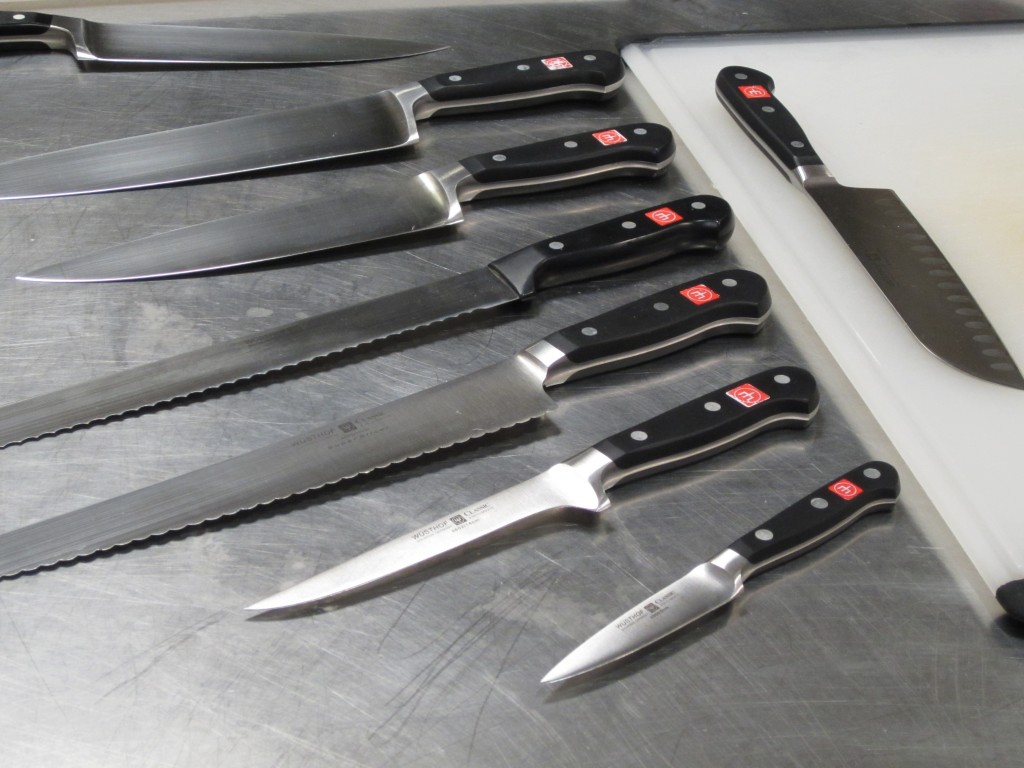 Have you ever fashioned a knife like scissors to saw open a UPS delivery box?
I have.
Are all your kitchen knives thrown in a drawer, unprotected?
Mine are.
Do you even know the proper way to hold a knife?
When to use a certain knife?
How to sharpen a knife?
When I realized that I had been using a knife whose tip had been lost a couple years ago as I was hacking through duct tape on a package, I decided to take a class called "Knife Skills 1" at the Institute of Culinary Education.
Up until My Judy the Foodie, my experiences with knives were crude to say the least.  My first visceral reaction to knives came as a result to the ever-popular Ginsu commercial that premiered on tv in 1978.  On the screen appeared a man wearing a karate uniform who used a knife to cut through, "a nail, a tin can, a radiator hose and it still cut a tomato paper thin."  While I now realize the commercial was trying to highlight the knives' ability to stay sharp for a lifetime, I only viewed the knife as a powerful weapon with potential to cause serious injury.  It was the nasty tin can, the nail and the radiator that completely erased any safe connection between a knife and a tranquil kitchen setting for me— I was eight at the time.
At 25 years old, I received my first legitimate Cutco 5-piece Kitchenette Set and tray from Mom for my wedding shower.  That was 15 years ago.  I still haven't had these same knives sharpened.  I've somehow "lost"one knife, and you now know one is missing the tip.
Evey Saturday I hear the familiar old fashioned school bell sound early in the mornings.  It's the knife sharpening guy who drives around my neighborhood in a beat up truck to sharpen knives while you wait on the street.  I don't know what scares me more, the screeching sound from his knife machine, the fact that there are pictures of scissors and skates and lawnmowers on the truck, or the fact that people are walking on New York City streets wielding bags with large knives.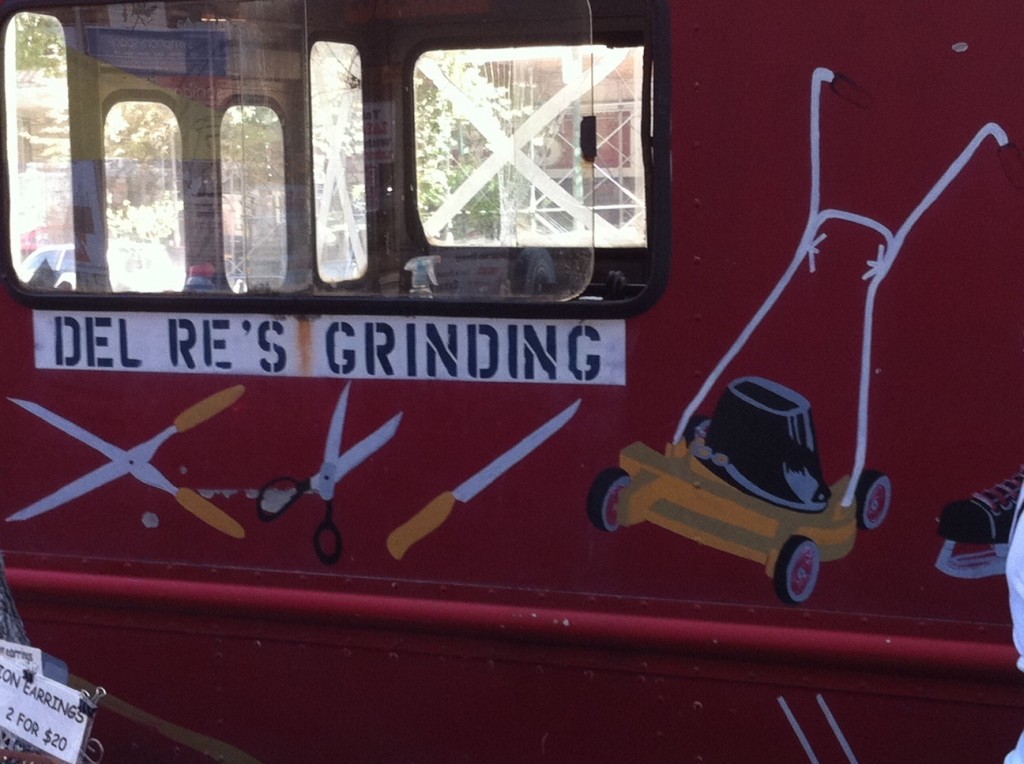 Knife Sharpening truck that roams the streets of Manhattan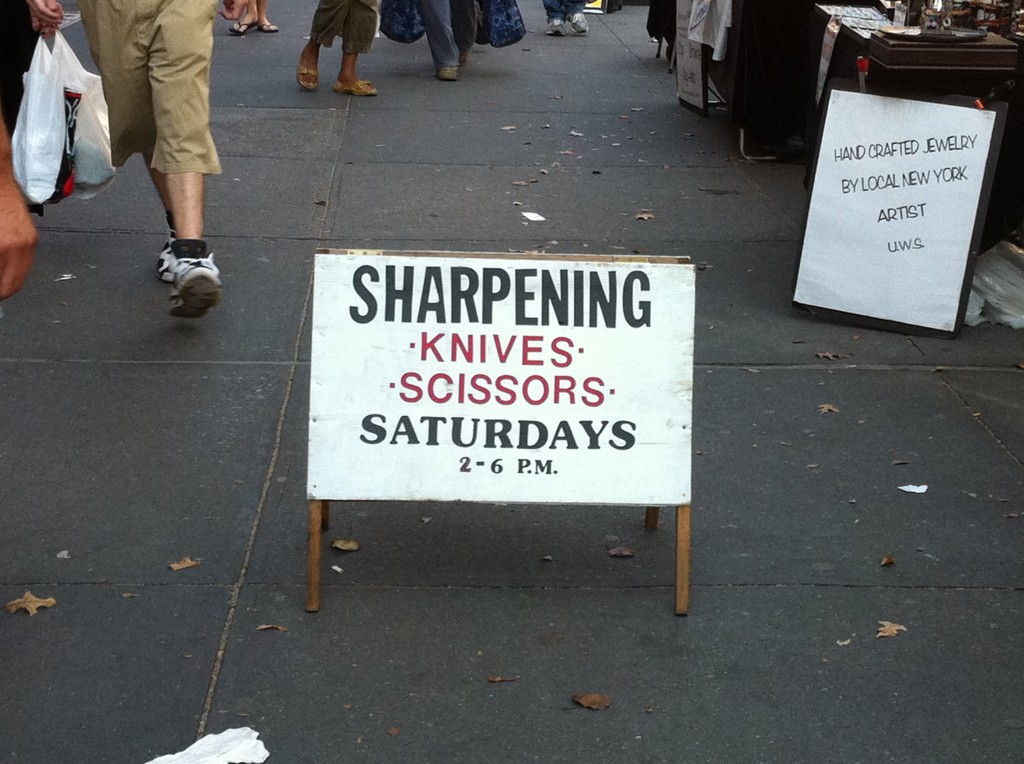 People line up on the street with bags full of random knives to be sharpened
 Here's what I still don't understand.  In nursery school/kindergarten, all of our kids had to practice and learn the proper pencil grip.  Then they learned how to use the pencil to formally write.  The same should be true for knives.  Why aren't we required to take a crash course on proper knife use?  Don't you think it's a hazard to use knives without any prior knowledge?
I was so ripe for the Knife Class but, was definitely anxious too.
The class at ICE only has room for 12 people, which is a good thing because there's only one instructor to keep an eye on 120 fingers.  Each participant has their own station with cutting board and two very intimidating knives.
I was relieved to find that everyone looked just as tense as me while the knives were displayed in front of us. But our instructor, Brendan, immediately calmed us down while carefully explaining his three key objectives for the class:
Basic technique and short cuts
Increase comfort when using knives
Proper hand placement and knife safety
Brendan appropriately started the class by highlighting two key points: $400-$500 worth of food are thrown away per family per year.  Of that, at least $100 of food gets thrown away during the prepping phase alone simply because people don't know how to cut effectively.
Then began the most interesting 3-hour tutorial on Everything You Want to Know About Knives but were Afraid to Ask.
Did you know that:
Contrary to popular belief, bigger knives are safer than smaller knives?  With smaller knives you need to make more cuts and they're much lighter so you wind up applying more pressure when cutting.
You should never put knives in a drawer without a protective sheet or holder (yikes).
You should sharpen your knives, preferably with a sharpening steel, before every single use (woops).
Apparently you only need 3 maybe 4 knives in your kitchen (I have about 10 strewn in three different drawers):
The 8" Chef's Knife – should be regarded as your "Fisher Price: My First Knife." I spent most of the time in class working with the 8" Chef's Knife as it's the all-purpose knife used for slicing, dicing and most cutting techniques.
Pairing Knife– used for peeling and other small intricate work (hulling strawberries or cutting small garnishes)
Serated Utility Knife – ideal for cutting bread and other foods with a hard surface like watermelon, squash, pineapple.
Boning Knife – removes bones from cuts of meats.  It's thin, flexible blade allows it to get into small spaces (for poultry and fish).  A stiff boning knife is good for beef and pork.
A wood cutting board is the best type of board because it's soft, has bacteria resistant properties, and can always be sanded down and refinished.  Other types of boards are much more porous and therefore harbor bacteria.
We learned and practiced proper body posture and knife gripping which is an integral part to the desired cutting techniques. 
Within 45 minutes I was practicing different vegetable cuts with the pairing knife on large carrots: Large Dice, Medium Dice, Small Dice, Brunoise, and Julienne.
My new handiwork: dicing and slicing…Julienne cuts followed
I learned how to cut through onions without shedding one single tear.  Now I need to go back and attempt a tear-free Slow-Cooked French Onion Soup.
At the end of three hours, I wanted to go head-to-head with that man from the Ginsu commercials.  I gained so much ease with the cutlery simply because I'm slightly more aware and knowledgeable.
I now think about where a knife could go if it slips.
I'm more relaxed and know how to tuck my fingertips back when I'm cutting.