This week I took a risk in the kitchen.  Don't get me wrong, when I first starting cooking, even boiling water was a hazard.  Now that I've slowly gained more confidence, I decided to venture out of my chicken and pasta comfort zone to try to create a fish dish.
My challenge was two-fold: preparing the fish and encouraging my kids to get up the nerve to try it even though they firmly believe that  all fish "stinks" and has a "weird" texture.  The last time I served fish, it was in the form of Mrs. Paul's Fish sticks. My daughter was highly suspicious of the "chicken of the sea" and  knew I couldn't tell a lie.  Upon learning she had actually eaten fish, she swore it off for the past two years.
But, when I discovered an incredibly simple recipe for Broiled Tilapia Fillets, I knew I had found the right bait with which to lure my kids.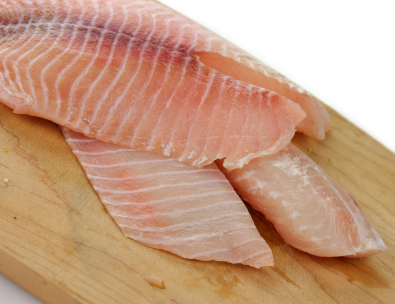 Tilapia Fillets — a cheaper alternative to many other fishes
A light, lean, white fish, Tilapia is becoming more popular because it is relatively cheap, neutral in flavor and is one of the most sustainable fish around. Since it doesn't have a high fat content flavorful seasoning plays an integral role.  But, regardless, Tilapia is not a "fishy fish."
The recipe for Broiled Tilapia Fillets only contains four ingredients that can be found in any well-stocked pantry. All you have to do is combine the ingredients and marinate the fish for only 10 minutes prior to broiling.  It's that simple.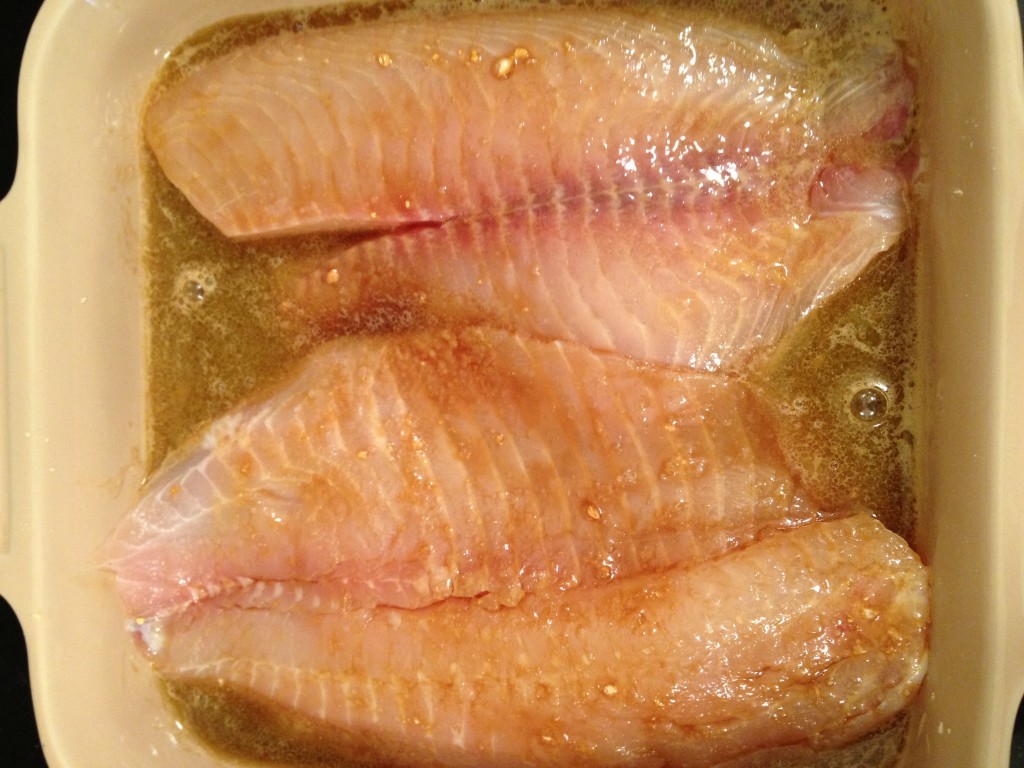 Tilapia Fillets marinating in soy, lemon, butter and garlic
I love the discovery that comes with cooking new foods.  How lucky was I that my 9-year old daughter had spent the entire school year studying ancient Egypt?  I learned that Tilapia is one of the world's oldest delicacies. It can be traced back over 4,500 years through hieroglyphs and carvings depicting this small fish that indicate it was the food of Egyptian Kings and Pharaohs.  This would definitely be my hook!
I strategically served the Tilapia Fillets with baked new potatoes and sugar snap peas, two family faves I hoped would help support my fishy efforts.  When the kids rushed to the table for dinner, my daughter flat out told me she "doesn't eat fish" or "anything that is supposed to live in the water."  Even after serving her the smallest possible piece  (literally the size of my  thumb) while pleading that Tilapia is merely a carrier for the yummy seasoning, she didn't change her mind.  My son, however, ate his piece and asked for a second.  He claimed his pieces of fish tasted like Chinese food?  Must've been the soy sauce…
I am definitely serving this dish again.  It was quick and easy, requiring minimal prep.  You can even buy flash frozen Tilapa so you can make this on the fly.  With just the right amount of flavor, this dish is mild, delicate and tasty!  I'm not giving up.  Tilapia will be back on the rotation soon enough and I'm confident my daughter will come around….sometime before college!
Enjoy.
Broiled Tilapia Fillets
(adapted from about.com)
serves 4

Ingredients:
1 1/2 pounds fresh Tilapia (or frozen, thawed)
1 teaspoon garlic powder
1/4 cup melted butter
1/4 cup lemon juice
1/4 cup soy sauce
paprika
salt and pepper to taste
Instructions:
Place Tilapia fillets in a shallow dish and sprinkle with garlic powder.
Combine melted butter, lemon juice, soy sauce and pour over Tilapia then turn to coat.
Let stand for 10 minutes.
Place fish on broiler pan then broil about 4 inches from heat for about 5 minutes on each side, or until fish flakes easily with a fork.
Sprinkle with paprika, salt and pepper.