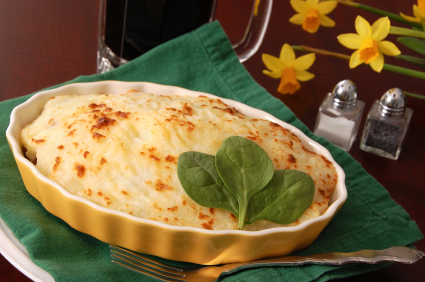 For my first blog entry almost a year ago (when the only 2 people reading this blog were my kids), I attempted to cook and write about Mom's infamous Cheeseburger Pie.  It was without a doubt my favorite dinner dish served.  The flavorful ground beef combined with heaping portions of shredded cheddar cheese, all sealed together with batter and baked to pie perfection- amazing!  As a kid, I had no idea I was eating Mom's cheesy, no potato version of Shepherd's Pie.  To me, Cheeseburger Pie was like a virtual trip to Wendy's without leaving the comforts of our own kitchen.
As I expected, my kids LOVE this meal. In fact, it's a two-serving dish for both. Not surprisingly, they favor my recipe tweaks with the substitution of ground chicken or ground turkey filling in place of the ground beef.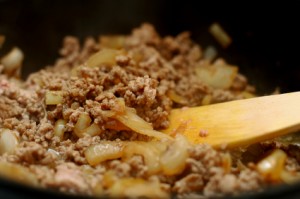 Ground beef and onions on the skillet
Either way, this is a dish not-to-be-missed.  It's perfectly simple to make (I can now say that with confidence). With only four ingredients, it shouldn't require any trips to the market (except for maybe the Bisquick mix).
The batter for Cheeseburger Pie
It's ideal for weekday dinnertime because in under one hour, you'll have a hearty, hassle-free meal on the table!
So, what are you waiting for?  Get cooking.
Cheeseburger Pie
Makes 6-8 servings
Ingredients:
1 lb. (or more) ground beef*

1 ½ c. chopped onions
½ t. salt
¼ t. pepper
1 c. shredded cheddar (4 oz.)
1 ½ c. milk
¾ c. bisquick baking mix
3 eggs
Instructions:
Preheat oven to 400 degrees
Lightly grease 10x 1 ½"* pie plate. If using 9" pie plate, decrease milk to 1cup, baking mix to ½ cup and 2 eggs.
Cook & stir ground beef & onion until beef is brown; drain.
Stir in salt & pepper. Spread in pie plate.
Sprinkle with cheese.
Beat remaining ingredients until smooth, 15 seconds, in blender.
Pour into pie plate.
Bake until golden brown and knife comes out clean – approximately 30 minutes.
Let stand 5 minutes before cutting.
* Ground beef can be substituted with ground chicken or ground turkey.  For chicken or turkey as the meat base, use 1 packet of Ortega Taco seasoning when cooking on skillet(follow directions on packet).
Dish additions: 1 cup corn and/or 1 cup peas to ground meat prior to pouring into pie plate.