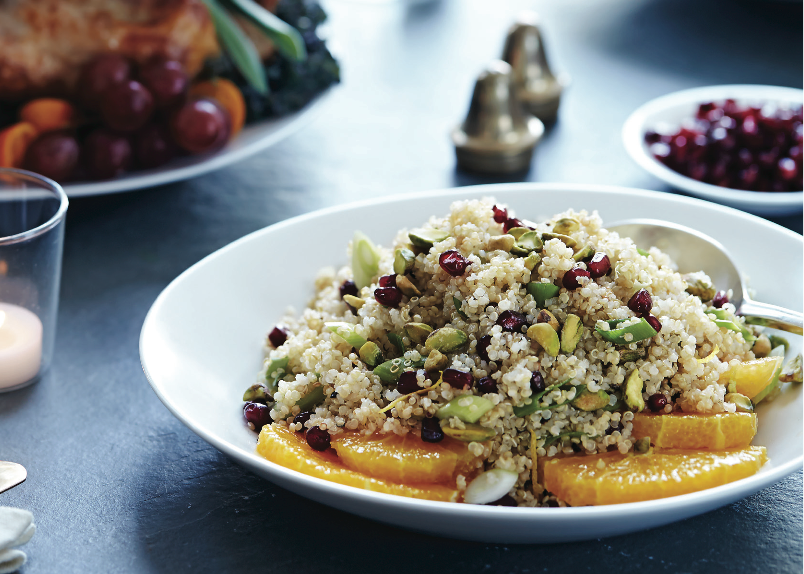 One reason I love Thanksgiving weekend is that I don't cook at all.  We're about to head down to Baltimore to visit our respective families and the minute I step out of the car, I assume the role of guest for the entire weekend.  It is a bit odd, the one non-denominational holiday that revolves around food and I'm not cooking at all.  But, I've come to relish in the fact that while other kitchens are brimming with activity and wafting with the aromas from the delicious medley of food, my kitchen is completely closed.
While I'm not cooking, I am psyched to share one of my favorite recipes with you from Stanley Tucci.  This dish is actually his wife's gluten-free Quinoa With Pomegranate & Pistachio recipe.  It makes a tasty non-traditional side dish to complement the traditional offerings at your  festive meal.
Healthy and full of flavor, the recipe is ideal for parents and kids alike who are following gluten-free diets.  It can easily be customized with your favorite cheeses (feta, goat, etc.) and/or spices.  This is an ideal light holiday side dish (in place of stuffing) to complement your turkey or meat.
I know you'll enjoy.

Quinoa with Pomegranates and Pistachios
Prep time:
Cook time:
Total time:
Hearty side dish bursting with fruity and nutty flavors from the pomegranates and pistachios.
Ingredients
· 2 cups quinoa
· Salt and pepper
· 3 tablespoons extra-virgin olive oil
· 1-1/2 tablespoons freshly squeezed lemon juice
· 6 tablespoons pomegranate seeds, plus 2 tablespoons for serving
· 3 tablespoons salted pistachios
· 3 scallions, chopped
· 1 orange, peeled and sliced into rounds (optional)
· Extra-virgin olive oil, for the orange
Instructions
Rinse the quinoa in cold water to remove its bitterness.
Bring 4 cups of salted water to a boil. Add the quinoa, reduce the heat to low, cover, and simmer for 15 to 20 minutes. Dress with the olive oil and lemon juice, season with salt and pepper, and set aside to cool.
Gently mix the pomegranate seeds, pistachios and scallions into the quinoa. Taste and adjust the seasoning.
Serve with sliced oranges dressed with olive oil, if desired.