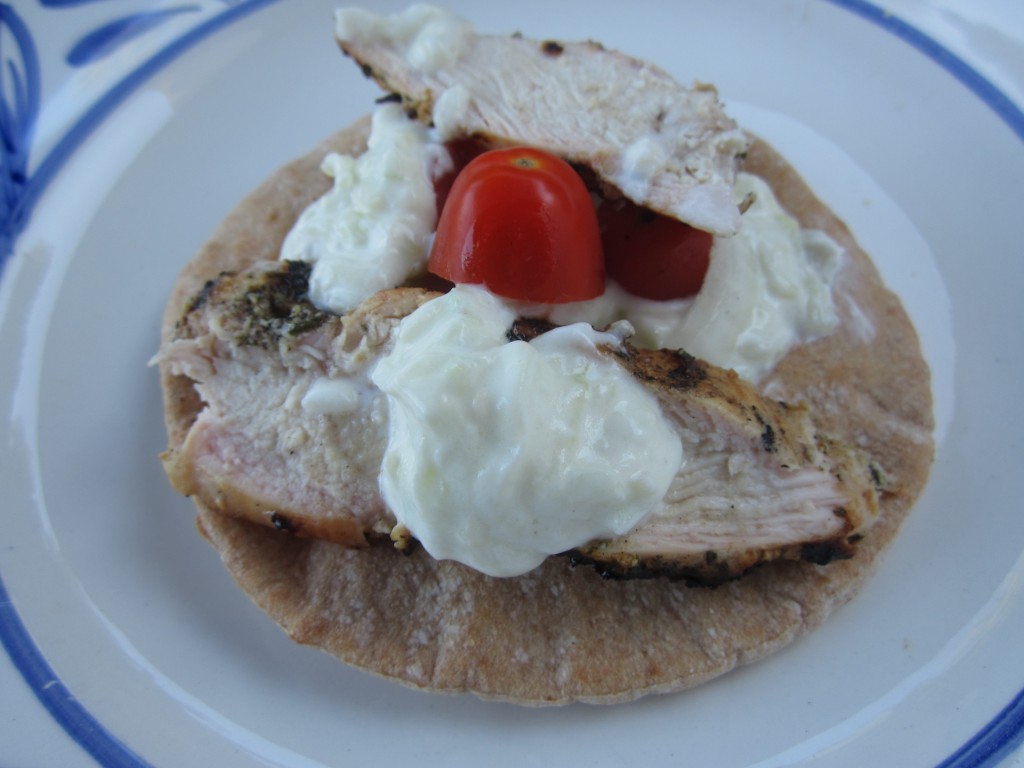 My family loves Greek food and especially tzatziki sauce.  Just one dollop of this lemony, garlicky yogurt sauce has completely changed our chicken landscape.  And, when it's made with freshly-picked veggies, it just tastes that much sweeter.  Ironically, while I love tzatziki sauce (so much so that I would use it as a face mask every night), I've never made a batch at home.  Not really sure why- probably kitchen confidence again.
Ok, just one look at the massively phallic cucumber growing in my garden was the inspiration I needed to get my cukes on. And, I had a sneaking suspicion that once I made my first batch of this tasty, zesty sauce, there'd be no stopping.  After all, ever since I whipped up my first mocajete full of homemade guacamole, I make it on the fly, every weekend.  Same goes for pesto, I've got three Ball jars filled with pesto made from freshly-picked basil from the garden.
Oh, don't get anxious.  You don't need to have a vibrant garden bursting in your yard to get you motivated. You just need to believe that anything made in your home WILL TASTE BETTER than the store bought variety.  And, I must admit, it is quite comforting knowing all the ingredients in a dish.  Hopefully that alone will get you to your local store to pick up the very simple list of tzatziki ingredients (if you don't already have them in your stocked pantry and fridge).
Making the tzatziki sauce is simple and requires little time.  The one important step in the prep process is to make sure that you completely squeeze the shredded cucumbers and pat down the pieces to remove all the excess liquid.  That's the most involved step.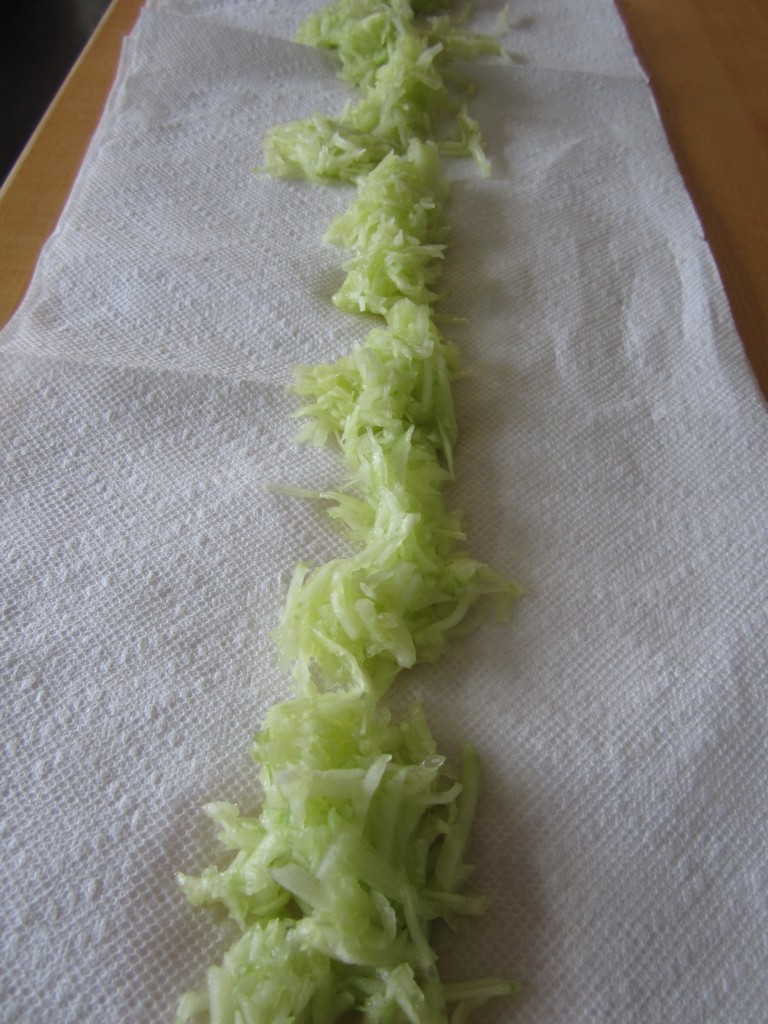 Shredded cucumber awaiting pat down
The rest of the ingredients get mixed together in a bowl and set in the fridge to let the flavors combine.  And, if you're not a big garlic fan, you must not use many cloves.  I made the mistake of grinding up one too many cloves and it completely overpowered the entire sauce since most of the other ingredients are quite benign and bland.  Start with a small amount of garlic at first and then add in more if you want an extra kick!   But, don't forget garlic is also an ingredient in the chicken marinade so, you don't need to overcompensate with the tzatziki sauce.
Final creamy, zesty tzatziki sauce
I marinated the chicken for a few hours and decided, since it was gorgeous outside, to grill my breasts.  While very tasty, this marinade might cook better in a skillet or even baked in an oven.  On the grill, the yogurt kept dripping through the slats which caused MAJOR amounts of smoke.
Despite the garlic overload and the smoke signals wafting from the grill, the Tzatziki Chicken sandwiches were a hit!  I served the chicken sliced on top of a whole wheat pita, covered with tzatziki sauce and garnished with sliced grape tomatoes and slivered onions.  My son ate his sandwich like a gyro and I ate mine open-faced.
This dish is a nice change-up from the rubber chicken dinner rotation.  And, it's a great choice for either lunch or dinner!
Opa!
Chicken Tzatziki
adapted from Elly Says Opa
Ingredients:
Tzatziki
1 cucumber peeled and seeded
8 ounces Greek yogurt (I used Fage yogurt because it had less fat than Chobani)
2 cloves garlic finely chopped
1 teaspoon white wine vinegar
Pinch of  salt
Grind of fresh black pepper
Squeeze of fresh lemon juice
1 tablespoon extra-virgin olive oil
Chicken Marinade:
3 cloves garlic finely chopped
2 tablespoons lemon juice
2 teaspoons red wine vinegar
2 tablespoons extra-virgin olive oil
1 tablespoon Greek yogurt (again, I used Fage)
1 tablespoon dried oregano
Salt and pepper
1 1/4 pounds boneless breasts
Extras for sandwich: 
Pita Bread
Grape tomatoes
Onions (red)
Instructions:
For the Tzatziki sauce:
Shred the cucumber and then wrap shreds in paper towels. Squeeze to remove liquid, and discard paper towels.
Mix cucumber, yogurt, garlic, vinegar, salt and pepper to taste, lemon juice and olive oil in a bowl. Refrigerate for at least 1 hour before serving.
For the chicken marinade:
In a medium bowl, whisk together garlic, lemon juice, vinegar, olive oil, yogurt, oregano, and salt and pepper to taste.
Add the chicken and make sure the marinade coats each piece. Cover the bowl and refrigerate for an hour to marinate.
To cook the chicken:
Remove from refrigerator, and cook chicken on skillet or in oven.. When chicken is FULLY cooked through, let cool and then cut chicken into strips or square chunks.
For sandwich construction:
Heat the pitas (or not, as you wish).
Top pitas with chicken, sauce, diced tomatoes and onions.