It's hard to believe edamame has been around since the 13th century and I'm finally starting to experiment with it in my house only as of this year.  While I've always loved boiled, salted edamame as an appetizer at Japanese restaurants, somehow, they never made it on to my own kitchen table.
Edamame's Japanese translation is "branched bean." I've learned that they're actually young, green soybeans when they're picked so they're soft rather than hard and dry like mature soy beans.  And, if you want to get really fancy (and lazy), you can even buy edamame hulled from their skins at Trader Joe's and other specialty food stores.  In fact, we grabbed a package of hulled froze edamame from our freezer to help soothe my son's black eye last week!
There are no edamame recipes in Mom's archives.  In fact, I don't think I even tried edamame until college. But, then it was love at first taste.  And, with a little sea salt, these beans can go a long way- not to mention all of the high nutritional and health benefits they boast*:
Just one half cup of these green beans is equal to 9 grams of fiber.  In layman's terms (for me), that's the same as four (4) slices of whole wheat bread!
They're a natural source of antioxidants
They contain no cholesterol
They have very little saturated fat
They contain 30% protein–80% higher than mature soybeans
*I would be remiss if I didn't interject somewhere in this post that, unless you are buying organic edamame, soy in all forms is almost certainly genetically modified in this country : (
But, with this type of introduction, how can you possibly pass up the opportunity to make a Dry-Roasted Edamame and Cranberry Mix?  It's easy, tasty AND healthy(er).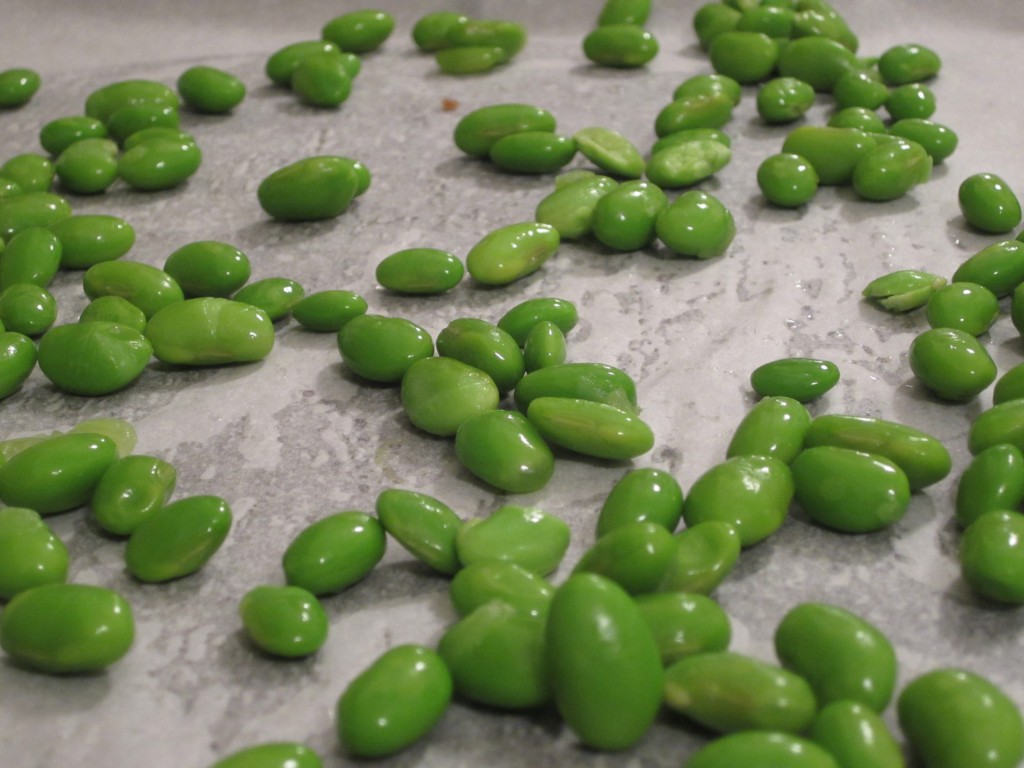 Slightly-oiled edamame ready for the oven
No excuses.
My kids LOVE(D) it.  The combination of sweet and salt and crunchy appeals to their varied palates.
I found this recipe in Whole Living Magazine while I was in an airport last week.  The line at the register was so long, I didn't have time to buy it so I literally took a picture of the recipe with my iPhone (knowing I just had to make it as soon as I landed).  And I made it. And it was great.  And I will be making it again and again and again with little tweaks along the way.
I promise you'll love this healthy snack mix.
Enjoy!
Dry-Roasted Edamame with Cranberry Mix (slightly adapted from Whole Living Magazine)
Ingredients:
1 cup frozen shelled edamame, thawed
1 teaspoon extra virgin olive oil
Coarse salt
1/4 cup dried cranberries
Instructions:
Heat oven to 425 degrees.
Arrange edamame on baking sheet and drizzle with olive oil and salt.
Roast stirring occasionally, until crisp and golden on the outside (approximately 20 minutes).
Let cool.
Toss with cranberries and store in an airtight container for up to 5 days.
Notes:  I added in a 1/4 cup of pumpkin seeds and a 1/4 cup of golden raisins.  It's important to store in an airtight container or else the mix will become soft and mushy!